---
Promotional Images
By this conversation between me and Nerdtastic1221 we've came up with different views for the same problem. As noted by him most of the galleries here on the wiki have Promotional Still Images listed under Screenshots sections. Since I was the one of the main editors for the Spider-Man/Gallery page, I could shape it the wright way: by adding Still images under the proper Promotional section as they should be. By reading our conversation (and the links I showed him ) you can see that by definition Screenshots and Stills are different things. Nerdtastic1221 justified keeping things the way they are because that's the way we always did and that's why we shouldn't change. Several times we did structural changes here (for the best) and we also did changes that included editing lots and lots of articles (like the addition of the Citizenship and Affiliation categories). That's why I propose to proper rearrange the Gallery pages and rightfully ajust this little mistake we have on our wiki. I would be glad if I could count on your help like I did with the Citizenship and Affiliation categories since I'll need all of it.--Blaublau94 (talk) 17:04, August 7, 2017 (UTC)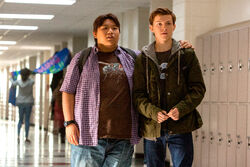 My argument is that this is a still image from a movie scene, it is a taken from a scene being filmed with the actors. In my mind this allows it to be included in the screenshots section. The screenshots section is for images from the movie/tv show scenes themselves, regardless if they were literally taken from the completed shot or not.
I believe the promotional section of the gallery should be reserved for posters or posed images of the cast.
Backing me up is the fact that in the wiki's entire history, these sorts or images have always been included in the screenshots section of the galleries.Nerdtastic1221 (talk) 17:28, August 7, 2017 (UTC)
I would say there's a difference between a set picture and a still, and a still has more relevance in the screenshots section. I honestly believe that the promotional section should be reserved for posters, and cast photoshoots like the recent ones from the Inhumans. On another point, for ease of use on this wiki, it is vastly easier to find a still image from a movie/tv scene when it's in the screenshots section in the correct order. And as Shabook says, why does anyone want to try and redefine this? If anything should be changed (which it doesn't need to), then perhaps consider changing the word screenshots to stills, but that is still basically pointless.Nerdtastic1221 (talk) 15:36, August 8, 2017 (UTC)
I agree with Blaublau94. Just because the wiki has always done something doesn't mean it needs to stay that way. Stills released by Marvel are mostly set photos (the ones that aren't are usually the ones that have CGI, in which case they are actually screencaps). By the strictest definitions of canon, which is what we usually abide by, set photos would therefore not be canon and shouldn't appear in screenshots or on in universe pages and should just be in the promotional galleries. Coluanprime (talk) 18:17, August 9, 2017 (UTC)
Mythological Characters Category
I was thinking that, since a lot of characters that are consider mythological exists in the MCU, like Bast and Hanuman, but even "physical" characters like Thor and Loki, the category "Mythological Characters" could be created (since Characters suitable in this case). --Elledy92 (Elledy92) 11:17, February 28, 2018 (UTC)
Medicines Category
I'd like to suggest the creation of a category for Medicines, as a subcategory of Items. This category could at least include GH.325, Ghost Infection Antidote, Terrigenesis Vaccine, Rapid Bone-Healing Pills, Resurrection Elixir and Sufentanil. I'm not sure whether the Tetrodotoxin B would fall into this.--TraceFinder (talk) 12:45, March 9, 2018 (UTC)
Category for Actors with Upcoming Roles
Category for Cloak and Dagger's visions
Gifs
Alternate Reality for Agents of S.H.I.E.L.D. Future
Now that Agents of S.H.I.E.L.D./Season Five is over, it is clear without a doubt that episodes Orientation Part One to Past Life all take place in an alternate bad future. That means that every character that first appear in them, such as Deke Shaw, Flint or Sinara are not from the main MCU timeline, but more importantly, the characters who got into that future by taking the slow path (Leo Fitz, Elena Rodriguez, Robin Hinton) are going to have different lives from now on, requiring to split their articles into alternate counterparts. Should we treat it like Framework and create alternate selves pages for everyone involved, including alternate histories of events, locations and objects? HBK123 (talk) 09:52, May 19, 2018 (UTC)
---
---
Actors with Roles in Comic Book Adaptations outside the Marvel Cinematic Universe
In the past few weeks, I've been doing a thorough review of the more than 5000 articles in the Actors category, and while doing so, I realized something a bit troublesome. So far, actors and stunt performers have Trivia points detailing their roles in each and every movie labelled as "comic book adaptations". Does this mean that, in order for article to be complete and consistent with each other, do we have to keep an eye on EVERY movie remotely based in anything written inside a strip searching for actors and stunt performers that may have appeared in one the many MCU products?
I can understand the Trivia value of the appearances of an actor in other films based on Marvel characters, and even in DC as Marvel's main competitor. In some cases, these roles have been documented to in casting a particular actor in a role, or their willingness/reluctance to accept their role in the MCU. And that is why they are "Trivia-worthy".
However, how does it affect an appearance in, let's say, Fear the Walking Dead, Teenage Mutant Ninja Turtles, Atomic Blonde, Happy! and many others, to the Marvel Cinematic Universe?
So, unless there is a very good reason on why to keep these and waste time and effort instead of focusing on the actual purpose of this wiki, most of this Trivia points are going to disappear. Anyone?--Shabook (talk) 15:21, September 20, 2018 (UTC)
Timer
I noticed that the countdown timer for Captain Marvel on the front page is now counting up. Is there a way to stop this?
Skovox (talk) 01:22, March 9, 2019 (UTC)
Infinity Stones Enhancement
So in Captain Marvel we find out that she got her powers from the engine powered by the cosmic power of the Tesseract. So just like Scarlet Witch and Quicksilver, Carol's power comes from the infinity stones. Although kree blood was given to her, (like an Inhuman) she is seen manifesting her power before the transfer, showing the true origin of it.
So I was thinking that maybe adding an "infinity stone enchancement" chategory and description would serve the wikia while still being canon. What do you think? --Vagon23 (talk) 16:32, March 9, 2019 (UTC)
Characters of unknown species
Hi, I was wondering if I would be allowed to create a category for characters whose species are not specified. I've noticed a lot of characters on this wiki whose species are not mentioned and I just wanted to group them together. I also wanted to ask permission just in case. Humanoid21 (talk) 19:19, March 9, 2019 (UTC)
I agree with this idea! Bpste1 (talk) 07:59, April 25, 2019 (UTC)
For the film, it is currently protected, limiting creation of the page to admins. Now, i have created the article here. Given that its mostly finished and will be produced after 2021, what can be done to ensure it is published? — MechQueste talk 13:17, March 28, 2019 (UTC)
Two things
First, my friend who used to be on this site posted something about Captain Marvel, about like a Rotten Tomatoes score or something, but it was deleted, and when he asked the admins, they wouldn't even tell him why. That doesn't sound fair. If there was a reason for it, he deserves to know so he won't do it again, he is not the type to deliberately break rules, he is one of the kindest people on this site. But he is no longer here because he doesn't find it to be a very decent community for this reason and the one below.
Second, they didn't take such action against someone repeatedly complaining about Captain Marvel being female, which was pretty much a display of sexism, which I would think isn't appropriate for this site. I don't know where this was said, I was just informed about it. KillRoy231 (talk) 23:42, March 31, 2019 (UTC)
What did your friend post about Captain Marvel? And what action did this site 'not take'? Bpste1 (talk) 13:43, April 24, 2019 (UTC)
Update Template
With new seasons for TV series getting closer, I was wondering if we shouldn't implement an "Update" template (like it's done on other Wikias or Wikipedia), which would be put in articles which are not Stubs, but need new information because of newly released episodes/movies. For example, the articles about Cloak and Dagger, or the S.H.I.E.L.D. agents, which will soon need to be updated with the new seasons arriving.
I was thinking we could create a tag similar to the Delete tag, which could be put on top on articles and in which the editor which puts the tag can indicate from which episode/movie the article needs to be updated. As for the quote, we could use what Tony says to Bruce in Avengers: Infinity War ("God, we haven't caught up in a spell, have we?").
That way, an article could follow this kind of process: Redlink (no article) -> Upcoming content (if known before release) -> Stub (after release) -> Update (no longer stub but still needing updating) -> Expand (in necessary sections) -> Complete article--TraceFinder (talk) 14:00, April 1, 2019 (UTC)
I agree with you! Great idea! --Vagon23 (talk) 18:45, April 1, 2019 (UTC)
New [ENDGAME SPOILER] Category
After Endgame, we know that many characters travelled through time for the stones. I suggest creating a new 'Time-Traveler' category. Such characters would include Tony, Cap, Widow, Hawkeye, Nebula, Rhodey, Rocket, Thor, Thanos, Gamora, the Black Order, and Doctor Strange (from his solo film).
Any community/admin thoughts on this? --Bpste1 (talk) 07:58, April 25, 2019 (UTC)