Maria Elizabeth Castle was the wife of Frank Castle.
Biography
Meeting Frank Castle
While at the park with her friends, Maria heard Frank Castle trying to play a song on his guitar. However, Frank was so bad that Maria eventually went up to him and asked him to play a different song. A smitten Frank then flirtatiously said to her that he did not do requests. Soon after, the two began a relationship.[1]
First Pregnancy
Three months later, Maria got pregnant with their first child, a daughter. While not wanting to give the child up and wanting to raise her with Frank, she told him that she understood if he did not want to be in the child's life. Frank, however, asked her to marry him that same day much to the chagrin of many of his friends. Eventually, the two got married.[1]
Second Pregnancy
Afghanistan
.
[1]
Central Park
After Frank returned home, he took Maria and the children to Central Park with Billy Russo to have a picnic. While Lisa was riding the carousel horse, Maria remarked that the kids were growing up fast and were getting too old to go to the park. Russo called the two over with Frank Jr. to get the food, with Maria and Frank stating that Frank Jr. and Billy were two peas in a pod.
Russo told the family that he was named after Billy the Kid who was an orphan and survived with his wits and bravery. Lisa asked him how he knew that he was named after Billy the Kid if he was an orphan, causing Maria and Frank to chuckle with the family. Russo replied that Lisa was too smart to be Frank's daughter and he didn't know the answer. Maria told Billy that they were all the family he needed.[2]
Unbeknownst to the family, William Rawlins decided to have Frank Castle and his family killed by having three gangs (the Kitchen Irish, the Mexican Cartel, and the Dogs of Hell) meet in a shootout to look like it was the cause of their death. Maria and her children were killed, alongside an innocent undercover cop. However, Frank survived the gunshot wound to the head.[3]
Frank's Dreams
Shot by Castle
After Maria's death, Frank began to have nightmares featuring her. In them, Maria would wake Frank, call him "sleepyhead" and kiss him. She would then turn around to be shot in the head by a masked soldier. The soldier unmasks himself to reveal that he is Frank, showing that he is to blame for the death of his family.[4]
Thanksgiving Dinner
To be added
Torture of Frank Castle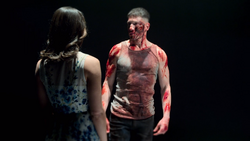 Amidst his torture by William Rawlins, Frank frequently dreamed of his time with Maria. After having his cord cut by Russo, Frank had a vision of Maria who asks him to come home while holding his hand. After releasing her hand, Frank replied that he was home and killed Rawlins.[5]
Relationships
Family
Allies
Trivia
Maria's favorite flowers were peonies.[1]
Appearances
Behind the Scenes
References
External Links