Jurassic World: Dominion Dominates Fandom Wikis - The Loop
Play Sound
Sister Margaret "Maggie" Grace is a nun at Clinton Church, who briefly had an affair with Jack Murdock, giving birth to Matt Murdock. A short time later, she was forced to abandon her child due to her own mental illnesses. Many years later, Grace was reunited with her son after he had been saved from the ruins of Midland Circle, as Grace and Paul Lantom helped Murdock regain his strength and enhanced senses, in order to continue his battle against Wilson Fisk. However, just as Murdock had gained his confidence, he learned the truth about his mother, causing him to abandon her, as Grace was then forced to care for Karen Page, as she was attacked by Benjamin Poindexter who then proceeded to murder Lantom before being stopped by Murdock. Eventually, Murdock defeated Poindexter as well as Fisk, avenging Lantom's death, as he and his mother made peace with each other, while Grace remained at the church.
Biography
Early Life
Meeting Jack Murdock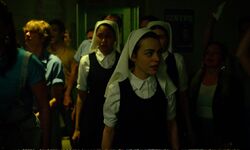 Grace was raised Catholic at a young age in New York City. During a visit at the boxing arena, she met Jack Murdock and provided aide between rounds, wiping his sweat and squirting water. The two became romantically involved, conceiving a son they named Matthew. After the birth, Grace suffered from postpartum depression, believing she had turned away from God and retreated to Saint Agnes Orphanage to live as a nun.[2]
Family Reunion
Matt Murdock's Recovery
Grace had been given the heavily injured body of Matt Murdock by Father Paul Lantom, tasked to patch and heal his wounds under secrecy.[1]
Meeting Karen Page
To be added
Aiding Murdock
Following the Attack on the New York Bulletin Building, Matt Murdock made his way back to Saint Agnes Orphanage, where his wounded were tended to and stitched by Grace. As Murdock berated himself for believing he had trumped over Wilson Fisk, only to put his friends' lives in danger and cause the death of Jasper Evans, Grace assured him that she was the idiot for advising him to work with his friends. With Murdock ranting on the assassin having the same Daredevil suit, Grace reminded him that the unique suit could not be bought at a Sears, causing Murdock to realize that Melvin Potter is involved.[3]
Mother of the Devil
To be added
Providing Sanctuary
To be added
Search for Daredevil
Walking back to the Clinton Church, Maggie witnessed as civilians ran from the building and man in the Daredevil suit leave the scene. With the arrival of NYPD officers and FBI agents outside the church, she approached Ray Nadeem, Brett Mahoney, and Benjamin Poindexter, informing them that she had spotted Daredevil leave the area, though the agents contradict her account.
Entering the church, she knelt in the aisle and prayed for forgiveness for her abandonment of Matt Murdock and for protection before she was approached by Nadeem and Poindexter for permission to search around the entire building.[4]
Guiding Her Son
To be added
Personality
To be added
Abilities
Facilities
Relationships
Appearances
Trivia
Behind the Scenes
References
External Links