Jurassic World: Dominion Dominates Fandom Wikis - The Loop
Play Sound
Luca Russo was an agent of the Italian authorities and a contact of Phil Coulson. He betrayed Coulson's Team to Ian Quinn and Cybertek, who had him on their payroll for their smuggling operations, and was killed for this by Melinda May.
Biography
Turning Traitor
Dealing with Cybertek
Russo worked for the Italian authorities, during which time he met Phil Coulson from S.H.I.E.L.D.. However, Russo was later approached by representatives from Cybertek, who recruited Russo to keep their police forces away from them, while they transported their technologies through Europe, as Russo had gotten well paid for doing this, becoming corrupted.[1]
Working with Phil Coulson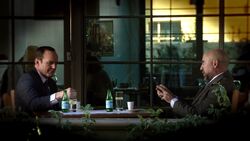 Russo was later contacted from Cybertek, as he was ordered to assist them with the transport of the Cybertek Prosthetic Leg which they had intended to give to Deathlok, as Russo agreed to ensure that nothing stopped the technology from getting where it needed to go. However, Russo was also contacted by Phil Coulson, who had arrived in Europe on a mission to capture Ian Quinn, and had requested Russo's help to get some of his agents in an undercover mission to board a train that was crossing the Italian countryside carrying the technology that Russo had already by ordered to protect.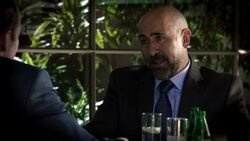 Meeting Coulson for the coffee in Italy, Russo attempted to dissuade him from attempting to stop their transport of Cybertek's technology, complaining that S.H.I.E.L.D. would be taking over the Italian police's investigation into Quinn and Cybertek, although Coulson just claimed that Russo should instead just consider the situation as their gift from S.H.I.E.L.D., who would take the responsibility away. Unable to stop him, Russo helped Coulson's Team infiltrate the train, only for him to also inform Quinn of their situations, as Carlo Mancini and Sofia were informed that S.H.I.E.L.D. agents would attempt to stop them.[1]
Betraying S.H.I.E.L.D.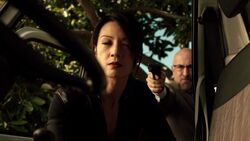 With Phil Coulson's team onboard the train in the attempt to stop Ian Quinn's plans, Russo showed his true loyalties as he betrayed them, ensuring that Carlo Mancini and Sofia were able to force the agents off the train and continue with their mission, as Russo was updated about their situation. Once Melinda May was forced to escape the train due to also being discovered, Russo and all his men were able to sneak up on her while she was attempting to gain a new escape route, with Russo holding May up at gunpoint, before striking her across the face, which had knocked her out.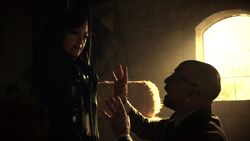 Russo and his team then proceeded to drag the unconscious into a nearby barn, where she was tied up before they threw water at her. Greeting May, Russo told her to regain her bearings, before he then explained how he had been secretly working for Cybertek to move their technology through Italy without any incidents, promising that Cybertek would reward May if she betrayed Coulson. However, this proved to be a mistake when Russo stabbed May into the shoulder, giving her the adrenaline that she needed to break free, slashing at Russo's face before killing his men, while Russo had escaped.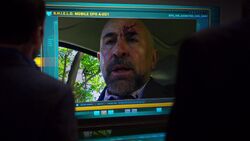 Having managed to get away from May, Russo then managed to get back into contact with Coulson, who expressed his shock at seeing Russo's cut face. With Coulson unaware of his betrayal, Russo was able to lie and claimed that he had been discovered by Cybertek and this resulted in most of his men being killed, while Coulson noted that most members of his team had not been accounted for. Russo then agreed to meet Coulson onboard their Bus, with Russo claiming that he intended to help them to figure out how Cybertek had discovered their plans, although in reality Russo had planned to kill Coulson.
Maintaining his innocence to their entire situation, Russo then drove himself to the Bus, where he had intended to shoot and kill Coulson and Grant Ward, as he kept his gun hidden behind his back ready to shoot them down before they understood his betrayal. However, just as Russo was claiming that they had been able to locate all the other members of Coulson's team and he could help them track down the Cybertek train, May managed to return just in time, as she threw her knife into Russo's back, killing him, with Coulson and Ward were still in complete shock and utter confusion about the entire situation.[1]
Personality
To be added
Abilities
To be added
Equipment
Weapons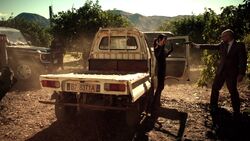 Beretta 92FS Compact: Russo used this sidearm to ambush and incapacitate S.H.I.E.L.D. agent Melinda May. Russo later approached Phil Coulson while holding this pistol concealed behind his back, intending to execute the S.H.I.E.L.D. agent, but he was killed by May before causing any harm.
Knife: Russo used a blade to torture Melinda May while he briefly held her in his captivity.
Relationships
Allies
Enemies
References