Spider-Man: No Way Home Trailer Dropped - The Loop
Play Sound
Lisbon is the largest city and capital of Portugal.
History
Lisbon Assignment
Victoria Hand and John Garrett were stationed together in Lisbon during their careers as S.H.I.E.L.D. agents, getting to know each other, with Garrett feeling emboldened enough to start calling her "Vic", even though she despised that nickname.
Garrett acknowledged that Hand was a spoilsport and an authoritative person; thus, at first, he found hard to believe Phil Coulson's conclusion that Hand was the actual identity of the Clairvoyant.[1]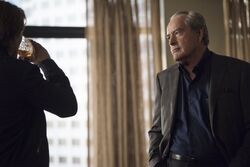 In 2015, Werner von Strucker, the son of the former leader of HYDRA, Baron Wolfgang von Strucker went into hiding, in order to avoid becoming brutally punished by Grant Ward, HYDRA's leader at the time. Strucker sought out the aid of Gideon Malick, an ally of his father's, as Malick promised that he would help Strucker. However, Malick instead immediately betrayed Strucker, giving his location to Ward, who had sent Kebo and several other HYDRA agents to his location to torture and kill Strucker.
Eventually, Strucker was found and tortured by and several HYDRA thugs, who tied him up and began cutting into his chest. However, S.H.I.E.L.D. agents Melinda May and Bobbi Morse arrived at the scene and a battle took place, with Strucker being stabbed in the chest by Kebo during the ensuing chaos. Ultimately, Kebo was killed by Morse, and Strucker went into a coma after suffering numerous wounds. Before he passed out, Strucker was able to tell May that Andrew Garner was actually Lash, much to May's considerable shock.[2]
References
External Links