The Sandman Will Keep You Awake - The Loop
Play Sound
A Life-Model Decoy, or LMD, is an android designed to replicate every feature of a living person. They were originally designed by S.H.I.E.L.D. to be distractions and life-saving substitutes of their agents. The program was later reactivated and used to help the agents of S.H.I.E.L.D. to fight Malachi and his Chronicoms.
History
Original Program
Billy and Sam Koenig participated in the original Life-Model Decoy Program of S.H.I.E.L.D. as programmers and technicians. However, despite their efforts, they never managed to create a fully functional android, so the project was eventually abandoned by S.H.I.E.L.D.[1]
Tony Stark was evidently aware of the project as he jokingly purported himself to be his own Life-Model Decoy, analogous to an answering machine, to Phil Coulson when he arrived at Stark Tower to collect Stark for the Avengers Initiative in light of the destruction of Project P.E.G.A.S.U.S.[2]
Updated Program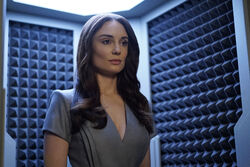 Holden Radcliffe created a body for the artificial intelligence that served as his assistant, Aida, based on the old S.H.I.E.L.D. program, believing that it would prevent the deaths that Leo Fitz and Jemma Simmons, of whom he had grown fond, had to witness.[3] Aida was programmed as a decoy target for agents.[4] Her skills at being a decoy were proved while fighting Eli Morrow when she was shot twice in the chest.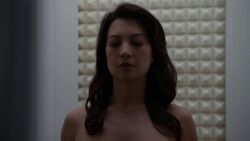 Aida also created an LMD of Agent Melinda May, which took the place of the real one. As part of her mission, the May LMD interacted with her fellow S.H.I.E.L.D. and assisted in defeating Eli Morrow before returning to the Playground where she continued flirting with Phil Coulson, much like the real May.[5] However, this May LMD soon found herself discovering her true robotic nature, much to her great horror as she was unaware that she was an LMD. May eventually learned that her true mission was in fact to steal the Darkhold from S.H.I.E.L.D. in order to return it back to Radcliffe.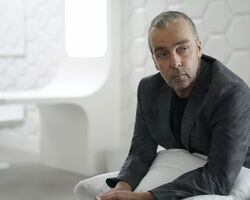 Aware that his deception would soon be discovered as Aida had tried and failed to take the Darkhold for him, Radcliffe also created an LMD of himself, which he allowed to be captured while he made a deal with Ellen Nadeer and the Superior. While being questioned however, Radcliffe's LMD was soon discovered by Leo Fitz who proceeded to shoot it in the head.[6] Fitz questioned the LMD about Radcliffe's true location, eventually discovering the machine's Quantum Brain. Unable to get the information and unwilling to risk the damage it could do, the Radcliffe LMD was ultimately destroyed along with the original Aida body, with them both being burnt to ashes to avoid the risk of them being repaired.[1]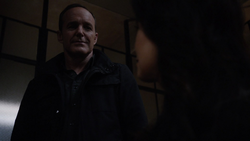 During the rescue of Jeffrey Mace who had been captured and tortured by the Superior, the elusive leader of the Watchdogs, the key agents of S.H.I.E.L.D. were captured by Aida who was able to send in the LMDs of Phil Coulson, Jeffrey Mace, Alphonso Mackenzie and Leo Fitz to dismantle S.H.I.E.L.D. from the inside. While Mackenzie, Mace and Coulson's LMDs focused on killing Inhumans, the Fitz LMD attempted to take control of Jemma Simmons, however he failed and was destroyed, forcing the remaining machines to change their mission tactics.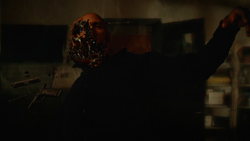 However before long, Daisy Johnson discovered her own fleet of Daisy Johnson LMDs and joined forces with Simmons to fight back. In the resulting battle, the Mace and Mackenzie LMDs were both destroyed by Quake. As a final plan, Coulson sent the Melinda May LMD to threaten the agents with a bomb, however the May LMD chose instead to rejoin S.H.I.E.L.D. and self-destructed, destroying the Coulson and Fitz robots in an explosion which also destroyed much of the Playground. The army of LMD of Johnson had survived at the explosion and all escaped.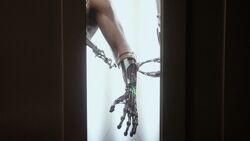 Aida also built a robotic body for Anton Ivanov, leader of Watchdogs whose body had been damaged beyond repair while fighting against Quake, with his head being persevered and in full control of the robotic body.[7] Aida later built for Ivanov several bodies and eventually managed to become a real human being. In the final battle against S.H.I.E.L.D., several LMDs of Anton Ivanov were destroyed by Phil Coulson, Melinda May, an Aida heartbroken by Fitz and Ghost Rider, but the real Ivanov escaped. One Daisy LMD was been destroyed by Ghost Rider, forcing Aida to flee. All Sergei Mishkin LMDs were destroyed by Ghost Rider.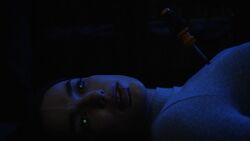 A LMD of Jemma Simmons was created to trick Aida and make her believe that she had killed the real Simmons to make Fitz suffer when she actually destroyed the android. Aida was finally killed by Phil Coulson briefly possessed by the Spirit of Vengeance, leaving Anton Ivanov and the rest of the Daisy Fleet as the only surviving LMDs.[8]
Deactivation
Due to the death of Aida and the disappearance of the Darkhold, Anton Ivanov became unable to create more LMDs, being only able to build Sleeper Mechs, android bodies without human faces.[9] In the end, Ivanov was destroyed by Yo-Yo Rodriguez, which caused the deactivation of the Sleeper Mechs. Without Aida or Ivanov, the rest of Daisy Fleet remain inactive meaning apparently the end of LMDS.[10]
Chronicom Advanced LMD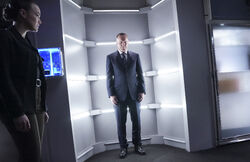 The LMD program was reactivated by Enoch, Leo Fitz, and Jemma Simmons, who created an LMD of Phil Coulson to help S.H.I.E.L.D. to fight the Chronicom Hunters, serving as the team historian.[11] Coulson was activated without Director Alphonso Mackenzie's permission, and became overwhelmed with the missing two of years of information that was given to him. Mackenzie shut him down, and later decided to allow Coulson to be activated, so long as it was what he wanted. Coulson agreed and became the team's S.H.I.E.L.D. historian, using the real Coulson's knowledge of S.H.I.E.L.D. history to help them on their mission.[12]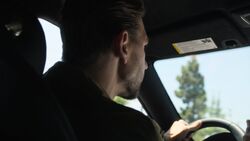 When Simmons promised to give Piper whatever she wanted for protecting her daughter, Piper asked her to bring James Davis back as an LMD, as Simmons did the same for Coulson. Simmons followed through with the request, resurrecting Davis' mind and putting it into another advanced LMD that had been created. Once Davis was activated, he continued to serve with S.H.I.E.L.D..[13]
Powers
Android Physiology: LMD's physiology are superior than a normal human being. LMD's can also process a quadrillion functions per second, making them much smarter than a biological human brain can process, but they could be on par with brains like Fitz-Simmons'.

Enhanced Strength: LMD's have some degree of enhanced strength. This was shown by most LMD's, Aida was able to kill a human by snapping their neck with a single hand, as well as lift and pin Melinda May against a wall with one hand as well. Aida was also able to punch through a man's stomach while protecting Holden Radcliffe.
Enhanced Durability: LMD's have some degree of enhanced durability, the superior's LMD was able to withstand multiple gunshots to the chest without any significant damage, this level of durability has been shown in most LMD's. However, they were vulnerable, if there were delicate ones in which his enemies could take advantage of them or if they were close to the fire, as they burned to ashes in contact with it.
Longevity: All Life-Model Decoy were created to last much longer than any other android and humans who become that type of android lose their ability to age, being trapped for eternity at the age they died and their own life can last for many thousands of years. They are also immune to biological diseases, although they are susceptible to computer viruses.
Notable Life Model Decoys
Holden Radcliffe's Life-Model Decoys
Chronicom Advanced Life-Model Decoys
Former Life-Model Decoys
Appearances
Appearances for Life-Model Decoys
In chronological order:
Trivia
In the comics, Life-Model Decoys are androids used by S.H.I.E.L.D. to substitute Nick Fury who would have often used the LMDs in his battle against HYDRA.
References
External Links