The Kree Warrior was a recreation of a real Kree warrior by the energy from the Grey Monolith, who tried to kill Deke Shaw and Daisy Johnson before being destroyed by Johnson. Another recreation later appeared and attempted to murder Shaw once again before being destroyed as well.
Biography
Realised Fear
First Attack on Deke Shaw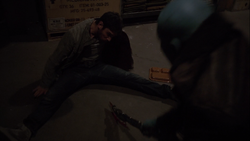 A recreation of a Kree warrior was generated by the Fear Dimension as the realization of Daisy Johnson's and Deke Shaw's fears. The warrior violently attacked Shaw with a Kree Battle Axe, wounding in the arm. Shaw managed to avoid most of the strikes, but he fell onto the ground. The warrior struck again, nearly fatally hitting Shaw, but it was ultimately destroyed by Johnson who shot it in the head, causing the warrior to vanish.[1]
Second Attack on Deke Shaw
Another recreation of a Kree warrior was created while Deke Shaw discussed with a recreation of his mother. The Kree Warrior thrust his Kree Battle Axe into Shaw's mother's stomach, instantly destroying it and causing Shaw to relive the moment when his actual mother was murdered. The Kree Warrior then turned to Shaw and attacked him, but Shaw seized a knife and ultimately stabbed the recreation, causing it to vanish as well.[2]
Equipment
Kree Battle Axe: On the two occasions it appeared, the recreation of the Kree Warrior wielded a Kree Battle Axe it used to attack Deke Shaw, wounding him in the arm during the first fight. The Kree Battle Axe also caused the destruction of the recreation of Shaw's mother.
Relationships
Enemies
References
Community content is available under
CC-BY-SA
unless otherwise noted.