Jurassic World: Dominion Dominates Fandom Wikis - The Loop
Play Sound
The Kitchen Irish were an Irish mobster group based in Hell's Kitchen, New York City.
History
The Kitchen Irish were present for a drug deal at Central Park, along with the Mexican Cartel and the Dogs of Hell. When the Blacksmith failed to show up, the gangs got nervous and eventually began firing on each other after undercover police officers were discovered among their ranks. This resulted in the death of multiple mobsters, an undercover cop, and Frank Castle's family.[1]
Following the incarceration of Wilson Fisk, Nesbitt met with their members at a bar as they made plans to take control of Hell's Kitchen. Before they could go ahead of their plans, they were massacred by Punisher with Grotto as the only survivor. Grotto was later killed by the Punisher too, leaving the group decimated.[2]
Hunting the Punisher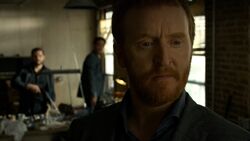 Under the leadership of Finn Cooley, the group begins to hunt the Punisher and is eventually able to capture him. Finn tortures the Punisher for the location of the cash the latter stole from the gang. The Punisher eventually gives up the location, but this turns out to be a trap, as the cash was rigged with explosives. Finn himself is soon killed by the Punisher, who manages to escape his confines. Most of the gang is either killed or incarcerated afterwards.[3]
The Last Irishman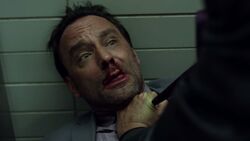 After aiding Daredevil and assassinating Ray Schoonover, the Punisher continued to hunt down and kill the remaining members of the Kitchen Irish until only one member was left alive: Mickey O'Hare. To try and escape the Punisher, Mickey booked a flight to Dublin, Ireland from JFK International Airport. While in a bathroom stall at the airport, he was tracked down by the Punisher and strangled with his own tie.[4]
Attack on Frank Castle
To be added
Members
Appearances
In chronological order:
Trivia
In the comics, the Kitchen Irish is not an organization, but a Punisher MAX story arc by Garth Ennis, involving different Irish Mob gangs fighting for the Nesbitt's legacy.
References
External Links