Kingston is the capital and largest city of Jamaica.
History
Criminal Meeting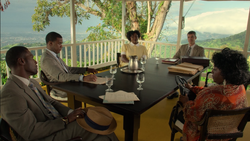 In the mid-80s, the Stokes family traveled to Kingston to discuss a business deal with Gwen McIver. Her son John who worked at the vacation house accidentally listened their talk. Gwen asked for a fair share of Harlem's Paradise out of respect for the friendship between her husband Quincy and Buggy Stokes, but Mama Mabel openly refused. Later that night, the Stokes proceeded to burn Gwen alive inside her own home, although her son survived.[1]
Vengeance for Buggy
Two years later, McIver remained under the care of his uncle, Anansi and his aunt Ingrid Mackintosh and moved to the Trenchtown neighborhood. One day, while assisting his family by selling vegetables, he was approached by Pistol Pete. Unaware of the danger and not recognizing him, McIver was caught unaware as his assassin shot him in the stomach in retaliation for what his father did to Buggy Stokes.[1]
Appearances
In chronological order:
References
External Links
Community content is available under
CC-BY-SA
unless otherwise noted.