We're Getting Mutants in the MCU - The Loop
Play Sound
Kinbaku is the fifth episode of the second season of the television series Daredevil.
Synopsis
A former lover arrives in Hell's Kitchen and turns Murdock's world upside down. Karen digs for the truth about the Punisher.
Plot
Ten years in the past, Foggy Nelson and Matt Murdock crash a faculty party. While Nelson scarfs down caviar in the kitchen, Murdock goes to find the drinks. While approaching the bar, a woman's presence captivates him. A bouncer quietly tells him to leave the party, but the woman tells the bouncer that Murdock is with her.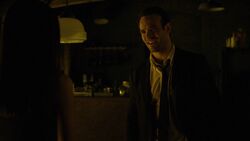 In the present, Elektra Natchios, having broken into Murdock's apartment, sits in his living room drinking a beer. Murdock angrily asks her why she is there, and after pretending to have simply missed him, she admits she's in New York City for a meeting. She asks him to help her by representing her when she meets with the Roxxon Corporation, in which her late father had invested a great deal of money. Although she offers to pay him well, he refuses and orders her to leave.
Murdock arrives at the Nelson and Murdock office the next morning, and Foggy Nelson offers him a piece of peach cobbler, which he sadly remarks is the last payment they've received for their legal services. Karen Page arrives, carrying newspapers and three cups of coffee.
Nelson wants to get down to business, but Page wants to talk about the Punisher case first. She shows them the newspapers and points out that not one of them reported on Castle's military service nor his family. When Murdock is confused about how she knows all this, she admits to breaking into his house, which shocks the two lawyers.
Nelson warns her that it's time to forget about Castle and get to work helping actual clients, and goes into his office. Page apologizes to Murdock for not being able to let the Castle story go, but he assures her that he just wants her to be safe.
They talk about the previous night, with Murdock pretending not to remember anything that happened after they left Josie's Bar, and then he confirms that they are still on for dinner that evening. Nelson emerges from the office saying that the bank reported a large deposit in Nelson and Murdock's account. Murdock, realizing that this is from Natchios, claims that it's from a potential client, and leaves.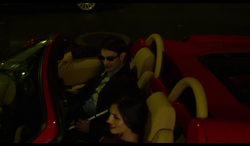 Ten years in the past, Murdock, and Natchios sit at the bar at the faculty party. Natchios is impressed that Murdock is able to tell what kind of a drink he's having but then proceeds to insult him, saying that she can tell by his shoes that he is clearly out of his depth at the party. In return, he analyzes what he can sense about her, telling her that she is filthy rich and very confident but is so bored that she resorts to analyzing a stranger's shoes. She takes his arm and they leave the party, stealing a sports car.
In the present, at the Nelson and Murdock offices, Blake Tower arrives, wishing to speak with Nelson. He orders Nelson to hand over any files he has on Grotto to help with the prosecution of Frank Castle. Nelson agrees to as long as he is serve with a subpoena, pointing out that it would be a severe breach of ethics for him to hand over the files.
Ten years in the past, Natchios and Murdock break into Fogwell's Gym. Murdock tells her about his father's boxing career and how he was killed on orders from Roscoe Sweeney. They get into the ring and she surprises him by attacking him, and he deftly evades the blow, causing her to declare that she knew he wasn't blind. He replied that he was blind but it was complicated, and the two begin to spar, discussing the techniques they use. Eventually, they start kissing and make love in the ring.
In the present, Murdock goes to the Yakatomi Building, where Natchios is scheduled to meet with Roxxon's Board of Directors. He discreetly climbs to a nearby rooftop so he can eavesdrop. Natchios happens to see him while in the meeting. While Natchios asks the board about the company's research and development, she pulls out what appears to be a pen and places it on the table in front of her. Murdock is able to hear a sound emitting from the pen with his enchanted hearing. At this moment, phones begin to ring in the boardroom, and in Japanese, some board members say that the Roxxon servers had been hacked. Natchios is escorted out of the building, being told that something important had come up and they had to reschedule the meeting.
Meanwhile, Karen Page meets with Mitchell Ellison at the New York Bulletin. She confronts him about the paper's article on Frank Castle, notably the exclusion of his military record and his family. Ellison responds that they worked with the information they had, and there was no record of his military service nor his family. He brings her into the Bulletin's archives, which are a mess since all the electronic files had been wiped out during the Battle of New York. He lets her look through the archives on the condition that if she finds anything related to the Castle family murders, the Bulletin would get the exclusive. He smiles and comments that somewhere, Ben Urich was looking down at them getting a kick out it.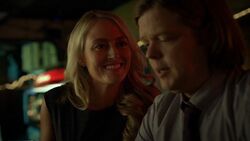 At Josie's, Nelson orders a vodka martini for Marci Stahl, whom he is expecting. When she arrives, it doesn't take her long to figure out that it is not a social call, but that Nelson needs help from her. He asks her if her law firm knows anything about District Attorney Samantha Reyes. She tells him that Reyes had previously tried to indict one of their clients, Jessica Jones. She also predicts that Reyes is trying to convict vigilantes, starting with the Punisher and eventually turning to Daredevil.
At the New York Bulletin, Ellison helps Page find an article about a shootout in Central Park between three rival gangs: The Kitchen Irish, the Mexican Cartel, and the Dogs of Hell. Page realizes that all those gangs had been targeted by the Punisher. Looking at the photo she removed from Castle's home, she realizes that it had been taken at the carousel in Central Park. Taking the newspaper, she leaves to meet Murdock for dinner, and Ellison reminds her that The Bulletin would get the exclusive.
At their date at a nice restaurant, Murdock and Page are awkward, trying to decide what kind of wine to order and asking each other how their day went. Page excuses herself, and the waiter approaches the table with a phone call for Murdock.
It's Natchios, letting him know that she spotted him while at the Yakatomi Building. She tells him he's fired and hangs up.
Ten years in the past, Natchios drive Murdock to a large mansion in the suburbs, which she claims belongs to one of her father's friends who is in Monte Carlo. They break into the house and discuss what their life will be like when he's done with school and they're living the good life. There is a noise from the foyer, and Natchios tells Murdock it must be her father's friend home early. Promising to deal with it, she leaves. Murdock hears a fight and rushes towards them, only to find Nachos having subdued Roscoe Sweeney, the man who ordered his father's murder.
In the present, Page returns to find Murdock has walked away from their table, claiming he doesn't like the restaurant. She takes him to a much more casual Indian restaurant, where the two toast "the cheap stuff" and talk about everything they love about New York City.
After dinner, he walks her home and they begin to kiss passionately outside of her apartment building. She invites him up to her apartment but he declines, telling her that the night had been perfect so far and he wants to keep it that way. They say goodnight and he leaves.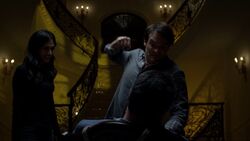 Ten years in the past, Natchios ties Sweeney to a chair and encourages Murdock to hit him. Murdock, full of unreleased fury over his father's death, does. Natchios, clearly thrilled at Murdock's violence, hands him a knife and tells him to kill Sweeney. This is too much for Murdock, and he refuses. He turns away for a moment to call the police, and when he looks back, Natchios is gone.
In the present, Murdock arrives at Natchios' penthouse apartment and asks her why he took her to Sweeney's mansion all those years ago. She claims that she saw glorious darkness inside of Murdock and that's why she brought him to kill the man who had killed his father.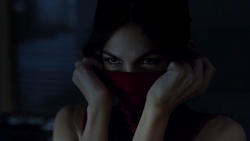 Murdock hears someone approaching, and Natchios casually remarks that it must be the Yakuza while she goes into another room to change into athletic clothing. He realizes that she had manipulated him into coming to her aid, and furiously tells her that she doesn't know him. In response, she opens a bag on the counter which contains his Daredevil armor.
Cast
Main Cast:
Guest Stars:
Appearances
Locations
Events
Items
Vehicles
To be added
Creatures
Organizations
Mentioned
Music
Trivia
"Kinbaku" (緊縛) translates from Japanese to "Bind Tightly" (without killing) traditionally referring to prisoners or criminials during the Edo period, the modern day usage referring to "Bondage".
References
External Links