Joe was one of the hostages who was killed after yelling and saying weird stuff. Later after Frank Castle kills Mazur and his men, Micro informs Castle that he was dead in a wheel barrel.
Biography
"There's a dead man in a wheelbarrow out there."
"Yeah. I didn't do that."
"You do this?"
"Yeah, I did this 'cause they did that."
―Micro and Frank Castle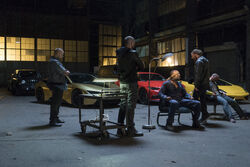 Joe is seen dead on a chair dead when Mazur was interrogating Wilcox and threatened that if Wilcox yelled or said anything weird they would kill them like they did with Joe. Mazur orders his men to get rid of Joe's body then after Mazur's men put Joe's body in a wheel barrel and one of Mazur's men Gabi walks away with Joe's body to dispose of it but a man appears and kills Gabi.
After the gun fight, Micro walks up to Punisher and says that there was a dead man on a wheel barrel, the dead man being Joe. Later Punisher says that he didn't kill Joe and that killed Mazur because Mazur killed Joe.[1]
Relationships
Enemies
References
Community content is available under
CC-BY-SA
unless otherwise noted.