Jimmy was an airman of the United States Air Force.
Biography
Transporting Tony Stark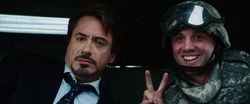 After Tony Stark demonstrated the Jericho in Afghanistan for the United States Armed Forces, Jimmy along with Pratt and Ramirez were assigned to escort him back to Bagram in a Humvee convoy. During the trip, the convoy was attacked by members of the Ten Rings terrorist group to kidnap Stark. He was killed by an explosion as he exited the Humvee.[2]
Relationships
Allies
Enemies
References