Davis is a S.H.I.E.L.D. Agent, working for them before the HYDRA Uprising and returning to the Agency once Jeffrey Mace took over as Director and S.H.I.E.L.D. was reestablished following the signing of the Sokovia Accords which Davis supported.
Biography
Agent of S.H.I.E.L.D.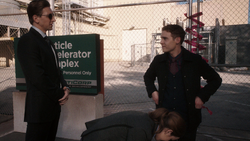 Agent Davis was assigned to a team tasked with the assistance of Agents Leo Fitz and Jemma Simmons in investigating the StatiCorp facility in Batesville, Utah, following the destruction of the Particle Accelerator. After Fitz used the D.W.A.R.F.s to take readings from inside and uploaded the data, he ordered Davis to pack up the rest of the equipment and head back to the Bus.[1]
After a few years, Davis joined Jeffrey Mace's S.H.I.E.L.D.. He checked Yo-Yo Rodriguez's S.H.I.E.L.D. Watch as she entered Zephyr One. She asked how was his wife and Davis said she was growing bigger every day. Rodriguez told him that his wife rather not hear it, so Davis corrected his answer and said she was more beautiful every day. Davis later was in Zephyr One, checking the status of the injured Chinatown Crew members.[2]
Davis joined Agent Alphonso Mackenzie in the mission to rescue Phil Coulson and Melinda May from South Ridge Penitentiary. In Zephyr One, Davis received from Leo Fitz a suitcase with Ghost Infection Antidote. As the team landed with the Containment Module in the prison, Mackenzie sent Quake to led Davis and Prince to find Coulson and May. Davis and Prince used I.C.E.R.s to get to the two. Later, Mackenzie sent Davis and Prince back to the prison to help the police take control of the prisoners.[3]
Relationships
Family
Allies
Appearances
In chronological order:
Trivia
In the press release of the episode The Ghost, Max Osinski was credited as "Agent Red".
References
Community content is available under
CC-BY-SA
unless otherwise noted.