"They fought off the British for 80 years. And won. That is the true birth of the real Jamaica. Resistance. Independence. Fire."
Jamaica is an island country in the Caribbean.
History
John McIver's Childhood
In the wake of murder of Quincy McIver by the hands of Buggy Stokes, Gwen McIver and her son, John left the United States of America and moved to Kingston where they lived with Gwen's sister, Ingrid. While living in Kingston, John befriended with Sheldon and Gideon Shaw. One day, doctors came around Kingston with a free vaccination for the children of his community. John however was the only survivor of the children who took the vaccination.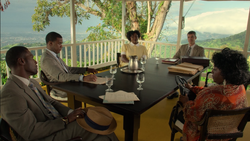 Gwen arranged a meeting with the Stokes Crime Family to negotiate her rights on Harlem's Paradise and the Bushmaster Rum with her counselor, Terence Rogers. While, Mariah and Cornell stayed at the pool, Mama Mabel, Pistol Pete and Benjamin Donovan discussed Gwen's demands with her and Rogers.
At night, members of Stokes family threw molotov cocktail made with Bushmaster Rums into the McIver Residence. With the explosive quickly setting their house ablaze, John and Gwen attempted to make their escape. Despite John's plead for his mother to escape first, Gwen made her son get out of the house. She didn't escape in time as John watched his home burn and crumble before him. Mabel arrived, taunting and throwing the legal papers into the fire. She mockingly apologized to John before leaving.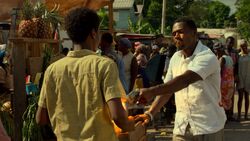 Two years later, John remained under the care of Ingrid and her husband, Anansi. Assisting his family by selling vegetables, he was approached by Pete who shot him in the stomach in retaliation for what his father did to Buggy. Determined not to let his nephew die, Anansi carried John to the mountains to seek the aid of a Maddah Myrie. Once brought inside her shack, Myrie used Nightshade in an attempt to heal him. As he inhaled the smokes of the burning roots, John began rapidly healing from his gunshot wounds.[1]
S.H.I.E.L.D. Mission
Alarmed by John Garrett, Coulson's Team went to Jamaica in search of a mysterious weapon. Grant Ward and Melinda May retrieved the weapon, and, after a fight with the guards, they were saved by Phil Coulson who picked them with the S.H.I.E.L.D. SUV. While going back to the Bus, the trio was pursued by the men who guarded the weapon but they managed to escape just in time.[2]
Appearances
References
External Links
Community content is available under
CC-BY-SA
unless otherwise noted.