Jurassic World: Dominion Dominates Fandom Wikis - The Loop
Play Sound
The Mark XVII Armor (codenamed Heartbreaker) was Tony Stark's seventeenth Iron Man suit and was specialized in artillery level repulsor technology. It was a part of the Iron Legion. It was destroyed by the Clean Slate Protocol activated by Tony Stark.
History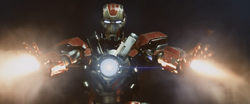 The Heartbreaker Armor was made by Tony Stark after the Battle of New York. As part of the Iron Legion, the Heartbreaker Armor was used by Iron Man and War Machine during their fight against Aldrich Killian and his Extremis soldiers.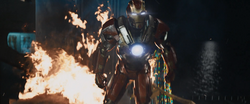 The battle did not go well for Heartbreaker. It first attempted to save Red Snapper from destruction and failed. After Stark donned the Silver Centurion, Heartbreaker was sent to carry Rhodes to the Iron Patriot Armor. However, as they were in flight, Heartbreaker was attacked and Rhodes fell. The armor managed to escape the Extremis Soldiers, it was later destroyed by the "Clean Slate" protocol.[1]
Capabilities
The Heartbreaker armor has an oversized chest RT, which can fire powerful blasts. The Heartbreaker's weapons system is unknown but this suit was built as a tank class having the more powerful repulsor tech and more weapons than any other mark but a downside is a lack in agility and the suit is bulky.
References