Cobra Kai Season 4 - The Loop
Play Sound
An Inter-Dimensional Portal is a portal that acts as a mystical wormhole, creating a gateway between two locations in space-time. The Masters of the Mystic Arts have the ability of opening these portals using Sling Rings. It is also possible to create these portals using either science or other types of magic.
History
Discovery of the Multiverse
The Sorcerer Supreme Agamotto became the first known human to learn about other dimensions. He dedicated his life to protecting the Earth realm from extra-dimensional threats using magic. The Masters of the Mystic Arts also discovered a way to open portals using Sling Rings.[1]
Discovery of the Darkforce
During the 1940s, humans began experimenting with nuclear energy; during one such experiment performed by Isodyne Energy, a rift was created where a substance dubbed Zero Matter entered this dimension. Eventually, the scientists Whitney Frost and Jason Wilkes became infected with the substance.[2] Frost actively sought more of the Zero Matter and reopened the rift; however Wilkes entered the opening.[3] Upon his return, he described his experience in another dimension outside the Earth realm.[4]
Abilisk
In 2014, the Abilisk used its interdimensional abilities to get to the Sovereign planet and feed on Sovereign Anulax Batteries. Upon arriving, it was confronted by the Guardians of the Galaxy.[5]
Ghost Rider's Return to Hell
Robbie Reyes helped S.H.I.E.L.D. to kill Aida. Following the victory, he returned to the Dark Dimension by opening a inter-dimensional portal using his Hellfire Chain.[6]
To be added[1]
Doctor Strange's Training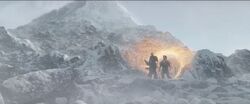 In 2016, during Doctor Strange's trainings in Kamar-Taj, the Ancient One sent him through a portal to Mount Everest so that he could practice wielding Sling Rings.[1]
To be added[1]
Loki's Arrival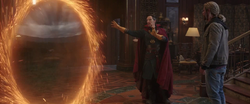 In 2017, Doctor Strange summoned a portal upon Thor and Loki's arrival to New York City, sending Loki to a dimension where he would fall non-stop. Shortly afterwards, Strange opened another portal that transported Thor and Loki to Norway.[7]
To be added
Infinity War
Recruiting Tony Stark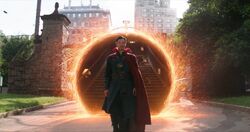 In 2018, Doctor Strange conjured a portal in Central Park so he could speak to Tony Stark and ask for his help. When Stark was hesitant, Bruce Banner walked through the portal to reassure him that they needed him.
Doctor Strange and Wong used portals to combat Ebony Maw, a member of the Black Order, while they were in the streets of Greenwich Village. Strange also sent Bruce Banner through a portal to the Greenwich Village park in order to get him out of the fight.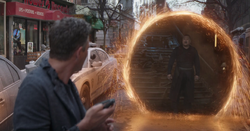 Wong soon arrived at the park and saved Stark, transporting Cull Obsidian, another member of the Black Order, to Antarctica. Wong then told Banner that he had to return to guard the New York Sanctum and went back there through a portal.
On the planet Titan, Doctor Strange used portals in the fight against Thanos. He sent Mantis through a portal to land on Thanos' head when they were trying to get the Infinity Gauntlet off of him. During the fight, he sent Star-Lord and Spider-Man through portals, so that they could attack against Thanos, with Star-Lord using gun blasts and Spider-Man using his powerful kicks.[8]
In 2023, Doctor Strange, Wong, and other Masters of the Mystic Arts summoned portals to transport the Avengers' allies to the ruins of the Avengers Compound to take part in the Battle of Earth. Strange opened a portal from Titan transporting himself, Peter Quill, Drax, Mantis, and Peter Parker to the battle. The other Masters of the Mystic Arts transported T'Challa, Shuri, Okoye, Sam Wilson, Wanda Maximoff, Bucky Barnes, Groot, M'Baku, and the Wakandan army from Wakanda to the battle. Others transported Valkyrie, Korg, Miek from New Asgard. Wong and the others transported the Ravagers and Howard the Duck from Contraxia and Hope van Dyne from California.[9]
Wong's Travels
Cage Fighting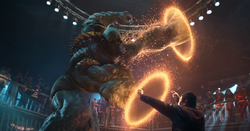 In 2024, Wong used a portal to transport himself to Macau, China to the Golden Daggers Club to participate in cage fights. During one fight, he was partnered up with Abomination and eventually used the portals to defeat Abomination, having Abomination's arm sent through one portal and entering right above him, knocking himself out. Afterwards, Wong summoned another portal to transport himself and Abomination to Kamar-Taj.[10]
Recruiting Shang-Chi
Wong opened up a portal in the middle of a bar in San Francisco, California and asked for Shang-Chi and his friend Katy Chen to accompany him. Wong then led them through the portal and into Kamar-Taj. Later, he summoned another portal to transport them back to San Francisco.[10]
Trips to Kamar-Taj
To be added[11]
Multiverse
Spider-Man's Multiversal Chaos
To be added[11]
Alternate Universe Versions
Strange Supreme
To be added[12]
To be added[13]
Battle for the Multiverse
To be added[14]
Capabilities
To be added
Appearances
Trivia
Wormholes created by either the Bifrost or other means like the Monolith or the Tesseract share a lot of functions with some of the inter-dimensional gates listed here. The difference is that a wormhole can only create a "short-cut" between places inside the universe and not to other dimensions.
Inter-dimensional travel is also possible through other means beside portals. For instance, Ant-Man was able to travel to another dimension without using a portal; he shrunk until he caught a glimpse of the Quantum Realm. The Spirit of Vengeance is also capable of travelling between dimensions without the need for a portal.
References