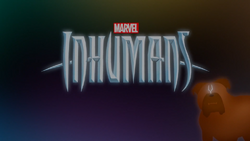 A list of trivia related to Inhumans.
References to the Marvel Cinematic Universe
References to Marvel Comics
Other Trivia
Inhumans initially began as a movie in development by Marvel Studios with a 2019 release date. The film was removed from Marvel Studios' Phase Three slate in April 2016, ant the TV series was announced eight months later.
Inhumans is Scott Buck's second Marvel television series, the first being Iron Fist.