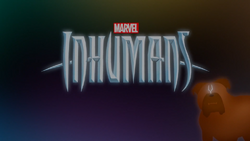 A list of trivia related to Inhumans.
References to the Marvel Cinematic Universe
References to Marvel Comics
Characters from Marvel Comics adapted into the show as main cast are Black Bolt, Medusa, Crystal, Lockjaw, Karnak, Gorgon and Maximus.
The character of Auran, while having the name of that character, has the role of the leader of the Crimson Cadre member and leader of General Ator.
Despite not looking as the more iconic costumes, several of the suits the characters wear take inspiration from certain comics. For Medusa, it is derived from her Earth-10333 outfilt. For Crystal it is from Women of Marvel Vol 1 #1. For Karnak he wears the jacket variation used in modern comics, which debuted in his own comic book series.
Gorgon's second terrigenesis, was also an event that happened in the Marvel Comics Universe. However, instead of Karnak triggering the event, it was S.H.I.E.L.D. that forced him.
Maximus's use of the lower-caste and the members of the Inhuman militia is reflected in the comics, where he uses the Crismon Cadre and the Alpha Primitives against the rest of the Inhuman Royal Family.
Other Trivia
Inhumans initially began as a movie in development by Marvel Studios with a 2019 release date. The film was removed from Marvel Studios' Phase Three slate in April 2016, ant the TV series was announced eight months later.
Inhumans is Scott Buck's second Marvel television series, the first being Iron Fist.