"We should go. This was a stupid idea."
"Definitely."
"No, we're here. Let's just give it a minute."
―Ingrid, Ellen and Maggie Grace
Ingrid is a nun and the friend of Maggie Grace.
Biography
Visiting Fogwell's Gym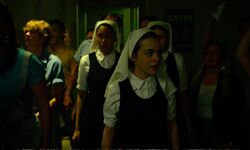 Giving in to Maggie Grace's persuasion, Ingrid and Ellen agreed to attend boxing match with her. Arriving to Fogwell's Gym, Ingrid noted that that was a stupid idea what Ellen agreed but Grace stated that they not going anywere for three weeks. Ingrid then allowed her to stay for minute. Later, Jack Murdock asked Grace to support him in his match. Ingrid attempted to dissuade her reminding her about chastity but Grace did not listen her and agreed to help Murdock.
Helping Maggie Grace
Months later, Grace and Murdock became romantically involved and and gave birth to boy named Matthew. However, Grace suffered Grace suffered from postpartum depression, believing she had turned away from God. Ingrid, together with Ellen and Paul Lantom, went to Jack Murdock's House and took her to the Saint Agnes Orphanage, leaving Murdock alone with his son.[1]
Relationships
Allies
Gallery
References
Community content is available under
CC-BY-SA
unless otherwise noted.