The I.R.I.S. Resolve Imager is a S.H.I.E.L.D. equipment which can scan the retina of a given individual and later reproduce it to bypass retinal scans.
History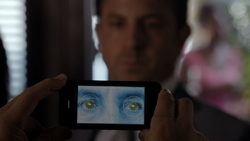 When S.H.I.E.L.D. learned about a painting displaying the Words of Creation on its back, Phil Coulson decided to reclaim it during a fundraising for the reconstruction of the Santa Maria de las Flores church. Melinda May flirted with Gabriel Soto, the organizer of the fundraising and asked Coulson, who posed as her husband, to take a picture of them. Actually, Coulson used the I.R.I.S. Imager embedded in his phone to scan Soto's retina.
As they decided to steal the painting earlier than planned, Coulson and May went down to the basement, where Coulson used the data scanned by his phone to replicate Soto's retinal scan and thus open the doors which would grant them access to the painting.[1]
Capabilities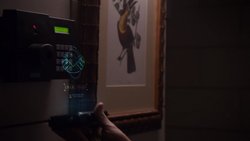 The I.R.I.S. Resolve Imager is an advanced tool which can be installed in a smartphone. When its user activates the camera of the phone, the device looks for the subject's retina and scans it. Once the data are stored in the building, they can be projected as a small hologram in order to replicate the retina and thus bypass any retinal scans.
References
Community content is available under
CC-BY-SA
unless otherwise noted.