Hunter One is a mercenary recruited by Maximus to hunt down members of the Inhuman Royal Family, notably Triton and Gorgon.
Biography
Chasing Triton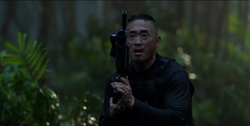 Hunter One was recruited by Maximus and led a team of mercenaries to kill Triton, a member of the Inhuman Royal Family, as part of Maximus' plan to take over the city of Attilan. Hunter One and his squad firstly found Jane, a newly awakened Inhuman, and chased her until she was found by Triton. Hunter One and his soldiers chased Triton and Jane. After they shot Jane, Hunter One and the squad wounded Triton and kept chasing him until they cornered him on the top of a cliff. Upon seeing him fall into the sea, Hunter One considered his mission accomplished and called Maximus to inform him of Triton's demise, although Triton had actually survived.[1]
Fighting Gorgon
As Gorgon had been sent to Earth in an attempt to find Triton, Maximus tasked Hunter One to kill him as well. Hunter One and his squad found the Inhuman and informed Maximus about the situation. In response, Maximus ordered Hunter One to shoot Gorgon. Hunter One and his soldiers sneaked behind Gorgon, but he smelled them coming from afar and used his powerful stomp to knock them on the ground. Gorgon then crushed their weapons and briefly fought them before running away from Hunter One.[1]
Equipment
Relationships
Allies
Enemies
References
Community content is available under
CC-BY-SA
unless otherwise noted.