Holden Radcliffe was the Life-Model Decoy of his creator, Holden Radcliffe, that was captured, interrogated and subsequently destroyed by S.H.I.E.L.D.
Biography
Tricking S.H.I.E.L.D.
Speaking to May's LMD
In order to avoid capture at the hands of S.H.I.E.L.D. in the case that their plan to obtain the Darkhold would fail, Holden Radcliffe and Aida created the LMD Holden Radcliffe. LMD Radcliffe eventually took the place of the real Radcliffe, and was arrested when LMD May, who had discovered the truth about her true nature, confronted him about the fact.[2]
Deception Uncovered
He was placed in a Containment Room at the Playground, where Leo Fitz confronted LMD Radcliffe about his betrayal. Realizing that he was not talking to the real Radcliffe, Fitz took the guard's handgun and shot LMD Radcliffe in the head, destroying him in the process. He is the first LMD to be destroyed.[2]
Leo Fitz's Questioning
He was re-activated by Leo Fitz, who was rejoined by Jemma Simmons and Alphonso Mackenzie, to know where is the real Holden Radcliffe and Aida but he refused to cooperate. Later, Fitz tries to know it as pirating his Quantum Brain, but through Radcliffe's words Simmons understands that Melinda May with them is a LMD. She prevents Daisy Johnson who helps Phil Coulson to neutralize her. Holden Radcliffe LMD is later destroyed for good, melted in a furnace, by Fitz, Simmons and Mackenzie.[1]
Powers and Abilities
Powers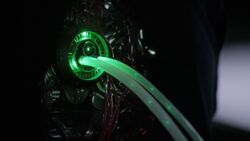 Android Physiology: Being an android, LMD Radcliffe's physiology is superior to that of a human.
Relationships
Allies
Enemies
References
Community content is available under
CC-BY-SA
unless otherwise noted.