The target is a mobile satellite launch platform: The Lemurian Star. It was sending up their last payload when pirates took them, ninety-three minutes ago.Brock Rumlow
The Hijacking and Retaking of the Lemurian Star was a S.H.I.E.L.D. operation organized in order to save the Lemurian Star and hostages from Georges Batroc and his mercenaries.
Background
Hijacking
Retaking
Our mission was to rescue the hostages."
"No. That's your mission, and you've done it beautifully.Captain America and Black Widow
Jasper Sitwell sat among the other hostages as Georges Batroc and Ferdinand Lopez tried to reach their employer about the capture of the ship.
Meanwhile, after being briefed by Brock Rumlow on the Quinjet, Captain America jumped without a parachute from the Quinjet into the ocean. Rising from the water, Rogers used stealth to silently subdue each mercenary he encountered. However, one was aimed to shoot Rogers in the back, but he was saved by the timely arrival of Rumlow, who had just parachuted down. Rumlow rescued Sitwell and the other hostages while Rogers started searching the ship for Batroc.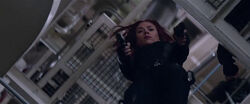 Black Widow, upon landing, began her own mission. Though Rogers was relying on her to secure the engine room of the ship, she used the mission as an opportunity to copy on a USB drive information pertaining to Project Insight. Sitwell was on the ship to protect Project Insight's involvement. Rogers noticed that Romanoff was not committed to the mission, when she explained that his mission was not her mission.

Batroc and Rogers fought briefly, ending in the control room. Batroc abandoned ship and attempted to blow Romanoff and Rogers up, but they managed to escape.[1]
Aftermath
References