"Can't be a standard Magnum under the hood. That's got to be at least a 426 Hemi."
The Hell Charger, also called Lucy[1], is a modified black 1969 Dodge Charger belonging to Robbie Reyes. Hell Charger bears a California license plate bearing the license number 299 ZXB.
History
To be added
Capabilities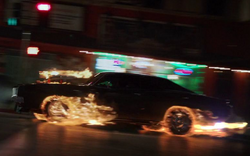 Fire Generation: The Hell Charger's tires and engine are able to generate fire. The vehicle's surface can be heated up at will.
"It heals itself. Scientifically impossible self-healing car."
"That only works when I'm the Rider."
―Quake and Robbie Reyes
Durability: Hell Charger can withstand attacks that would heavily damage or destroy regular cars. It was able to endure a hit from an RPG, which launched the car into the air, and to crash into a Quinjet at full speed without sustaining damage. However, this only happens as long as Robbie Reyes is the Ghost Rider.
Trivia
the Hell Charger is the first vehicle that the Ghost Rider rides that isn't a motorcycle
it is possible that, due to their similar design/modifications, the Hell Charger was based off the black 1970 Dodge Charger seen in the first Fast and Furious film, driven by Dominic Toretto. The film-series is even mentioned when Daisy specifically goes looking around for the Hell Charger in Agents Of Shield's season 4 premiere, implying that the Hell Charger might actually be a movie-replica of Toretto's Charger.
Appearances
Appearances for Hell Charger
In chronological order:
References
External Links