Line 33:
Line 33:
 

***''[[Lockup]]'' <small>(mentioned)</small>

 

***''[[Lockup]]'' <small>(mentioned)</small>

 

***''[[The Good Samaritan]]''

 

***''[[The Good Samaritan]]''

 
+

***''[[Deals With Our Devils]]''

 
 
 

==References==

 

==References==
---
Revision as of 23:37, 14 November 2016
The Hell Charger, also called Lucy[1], is a modified black 1969 Dodge Charger belonging to Robbie Reyes. Hell Charger bears a California license plate bearing the license number 299 ZXB.
History
To be added
Capabilities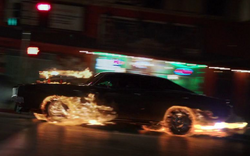 Fire Generation: The Hell Charger's tires and engine are able to generate fire. The vehicle's surface can be heated up at will.
Durability: Hell Charger can withstand attacks that would heavily damage or destroy regular cars. It was able to endure a hit from an RPG, which launched the car into the air, and to crash into a Quinjet at full speed without sustaining damage.
Appearances
In chronological order:
References
External Links