Doctor Strange in The Multiverse o Madness - The Loop
Play Sound
For the dark world within the Dark Dimension, see Hell
Hel is a region of Niflheim that serves as the home of the dead who are neither honored nor dishonored.
History
Hela's Exile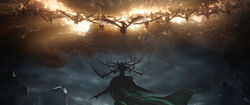 Thousands of years ago, Odin banished his daughter Hela from Asgard and imprisoned her in Hel after a failed coup attempt.[1] Hela later attempted to escape, prompting Odin to send the Valkyrie to stop her. She successfully overpowered the warriors, killing all but one, Brunnhilde. Odin intervened before Hela could escape, defeating her and returning her to her prison.[1]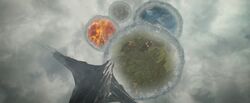 In 2013, Hel was among the worlds labeled by Erik Selvig on his chalkboard mapping the Nine Realms.[2] Hel was also visible among other realms during the Convergence during the Battle of Greenwich.[3]
Hela's Freedom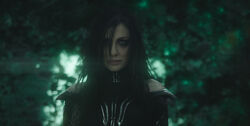 In 2017, Hela was freed from her imprisonment in Hel, following her father's death, as there was no force keeping her at bay. She then stepped out of Hel via a portal-like gateway to Earth.[1]
Appearances
Appearances for Hel
In chronological order:
Trivia
In the comics, Hel is ruled and named after Hela.
Behind the Scenes
References
External Links