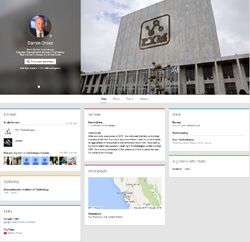 The Google+ profile of Darren Cross was part of the promotional campaign for Ant-Man. It supported the WHiH Newsfront episode WIRED Insider Interviews Darren Cross, CEO of Pym Technologies.
Introduction
After my early successes at MIT, I transitioned into the technology industry in the San Francisco Bay Area where I was honorably made an apprentice of renowned scientist Doctor Hank Pym. Now taking the torch which was passed, I lead Pym Technologies as the current CEO. As a strong advocate of the sciences, I look to pave the way for modern technology.
Posts
Date
Image
Post
November 21, 2014
The ability to create life artificially with such ease? Times are indeed changing.
December 18, 2014
Extremely excited about virtual reality. Perhaps Pym Tech can take VR a step further?
December 31, 2014
The near-future of tech will change the world. And Pym Tech will be a part of that change. Happy new year!
January 18, 2015
Technology will never be the same. @PymTech is working on a historic project that will change the #technological landscape. #NewFrontier
March 24, 2015
Cloning bring up interesting moral and philosophical implications.

http://www.wired.com/2015/03/bad-boy-geneticist-wants-clone-mammoth/

May 19, 2015
Limiting science means limiting humanity.

http://www.buzzfeed.com/azeenghorayshi/is-biotech-headed-for-dystopia

May 24, 2015
I support this, in theory, if we give the people something momentous to spend their dollars on. Perhaps a REAL deterrent of war?

http://www.politico.com/story/2015/05/house-republican-defense-spending-bill-118086.html

June 2, 2015
Nanotechnology is an incredibly interesting field – The future is getting smaller!

http://www.theengineer.co.uk/news/nanotechnology-improves-molecule-identifying-spectroscopy/1020447.article

June 5, 2015
Having multiple scientific minds in governmental positions might do this country some good.
June 12, 2015
Amazing how far we've come with 3D printing. It is not surprising the regulations in place.

http://www.wired.com/2015/06/feds-restrict-3d-printed-gun-files/

July 6, 2015
Outstanding! Science looks to improve the stability of the Bay Bridge. The busiest will now be the safest. #SanFrancisco #ScienceFirst

http://www.wired.com/2015/06/mystery-brand-new-bay-bridges-corroded-steel

July 7, 2015
Exciting things happening in the labs. Look forward to unveiling it soon! #science #pymtech
July 9, 2015
It was a great honor to have the opportunity to speak with +WIREDInsider. Interview will be landing next week.
July 10, 2015
I strive to make Pym Technologies a great place to work. Which will hopefully mean there's no risk of incidents like this: 

WHIH EXCLUSIVE: 2012 VistaCorp break-in security footage involving cyber-criminal Scott Lang

July 15, 2015
I had the privilege of speaking to +WIREDInsider about Pym Technologies and they asked all the right questions. Check out the interview here.

WIRED Insider Interviews Darren Cross, CEO of Pym Technologies

July 16, 2015
Interesting interview. It seems not all men put in our penal system are deserving. #ScottLang
Gallery
Community content is available under
CC-BY-SA
unless otherwise noted.