Jurassic World: Dominion Dominates Fandom Wikis - The Loop
Play Sound
Roberto "Robbie" Reyes is a car mechanic who, upon being murdered by the Fifth Street Locos gang members, was then resurrected by Johnny Blaze and found himself imbued with a power to transform into the demonic Ghost Rider. Seeking vengeance for his death, and his brother's disability following the attack on their lives, Ghost Rider proceeded to track down and destroy these criminals until he was tracked down by Quake, who sought to bring an end to Reyes' massacres. Eventually, Quake had led Reyes to S.H.I.E.L.D. and he assisted them in battling against Lucy Bauer and her search for the Darkhold which contained an ancient power. Learning his uncle Eli Morrow had planned and succeeded in getting his powers, he helped S.H.I.E.L.D. to kill him and the Chinatown Crew, but in the process Reyes had allowed himself to be teleported to Hell. Eventually, Ghost Rider escaped, just in time to help S.H.I.E.L.D. take down the crazed Aida, and rid the world of the Darkhold for good.
Biography
Early Life
Family Struggles
Robbie Reyes was raised in Los Angeles by his uncle Eli Morrow with his younger brother Gabe.[4] Reyes dropped out of Garfield High School in eleventh grade and instead took a job working at Canelo's Auto and Body.[1]
Origins of Ghost Rider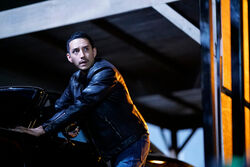 One day, Reyes had decided to steal his uncle, Eli Morrow's, car and take it for an illegal drag race in Los Angeles. While he was quietly pushing the car out of the drive in order not to disturb his uncle, Reyes was caught by Gabe Reyes who questioned what he was doing. Filled with his own ego, Reyes invited Gabe to join him for the race and they went cruising around the neighborhood, with Gabe teasing Reyes that he was not allowed to help him with his homework and Reyes would only help him fail if he tried.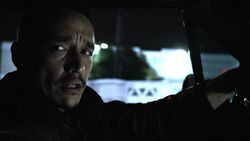 As they drove down the street together, joking and teasing one another as usual, a group of the Fifth Street Locos pulled up in front of their car. When Reyes honked his horn, trying to get them to move out of his way, he was horrified to witness the gang members throwing a molotov cocktail at him and his brother, causing the front of the Hell Charger to be engulfed in flames. Reyes put the car in reverse and used his driving skills to attempt to escape their attackers; however, before long, the Locos caught up with the brothers and fired at their car, causing them both to be hit with bullets and their car to crash.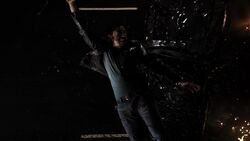 The injuries suffered in the attack caused Gabe to lose his ability to walk, and Robbie was thrown from the car, flying through the air with his body covered in bullet wounds. As he was falling through the air, Reyes' last thought was a plea to God, to the universe, to anyone who would listen, that Gabe be spared. He swore he would give anything to save Gabe, as he blamed himself for the incident. Reyes then hit the ground, the impact killing him. However, in the darkness, Reyes heard a voice which asked him if he wanted a second chance, did he want to punish those who hurt his brother, did he want to avenge his own death. Reyes said "Yes. more than anything yes." and a moment later he was alive again.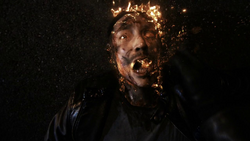 A mysterious stranger on a motorcycle appeared and pulled Gabe out of the burning car to safety. The stranger then approached Robbie, revealing himself to be Johnny Blaze, a demonic being with a flaming skull for a head. Blaze touched Robbie, and transferred the Spirit of vengeance into Robbie, turning him into the new Ghost Rider, before disappearing. It would be over five years before Robbie told Gabe the truth about what happened that night, as Robbie feared that Gabe would not understand.[5] Eli Morrow was later sent to South Ridge Penitentiary on charges of attempted murder of his former employer, but he told Robbie that this person deserved it.[4]
Vengeance Spree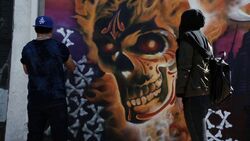 Having gained the power of Ghost Rider, Robbie Reyes used this power to track down and bring vengeance upon those he deemed as guilty and deserving of death. This included members of the terrorist group the Watchdogs, the Fifth Street Locos, a corrupt cop, city councilman Roger Perez and the pedophilic school teacher Thomas Wright. This activity made Ghost Rider a feared symbol in Los Angeles, with his story being told and his image being spray-painted on walls.[1]
Questioning Gang Member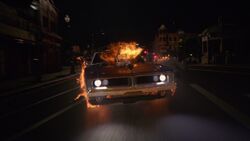 Having discovered that members of the Aryan Brotherhood had stolen a crate containing some mysterious cargo, Reyes chased them down in his Hell Charger. He found the men in a confrontation with Quake, and sped the car towards their truck before R. Moore fired a rocket launcher at it. The explosion briefly launched the car into the air and engulfed it in flames, but this only caused him to transform into Ghost Rider and attack the gunmen, smashing the Hell Charger into them and killing D. Anderson upon impact with the side of the car.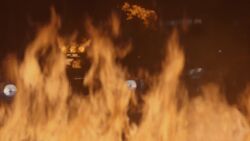 Creating a ring of fire around their vehicles, Ghost Rider trapped the criminals and unknowingly prevented Quake's intervention. He burnt M. Scott's soul before brutally killing two more of the gang members by bashing in their heads to break their skulls and ripping out one man's spine. Grabbing T. Mitchell, Ghost Rider knocked him out and stuffed him in the back of the Hell Charger, intending to question him further before getting back into his car and driving away before the police could stop him, giving Quake a brief look at his burning skull as he stepped into the Hell Charger and left.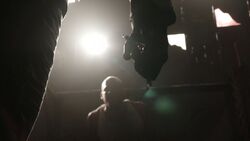 Back at El Monte Junk and Salvage, Reyes chained T. Mitchell up and demanded to know why he had stolen a lorry, flicking his keys in his hand as a way of unnerving the prisoner. Mitchell claimed that he was working for the Chinatown Crew under Chen's orders, but Reyes did not believe his tale as he thought the Aryan Brotherhood would never work for the Chinese due to their own racist views and resorted to hitting him repeatedly in the head, although Mitchell insisted that he was telling the truth. Reyes then noted that he would soon have to confess to Ghost Rider, who would know if he was guilty.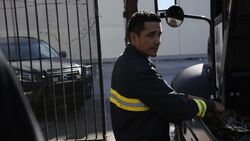 Once Mitchell gave him its location, Reyes located the truck and disguised himself as a member of the same company to get close to it. Eventually, Reyes overheard a conversation between Phil Coulson and Alphonso Mackenzie, who had come to investigate its disappearance as finding it could help them locate Quake. Instead of seeing a deal going down to sell the crate to Chen, Reyes watched as S.H.I.E.L.D. agents found two corpses who had torn each other apart due to having come into contact with Lucy Bauer's ghostly form and been driven mad.
Having learned all he could from his captive, Reyes decided that the best move was to kill Mitchell, who was clearly guilty and did not know anything else that could help him. Returning to El Monte Junk and Salvage, Reyes explained that he had seen nothing there that Mitchell had promised and got into his car. Mitchell realized that Reyes was going to kill him and made a desperate plea for mercy, but Reyes dismissed him and drove the burning Hell Charger straight into Mitchell, crushing his body and killing him, with Reyes showing absolutely no sympathy to the terrified criminal.[1]
Discovered by Quake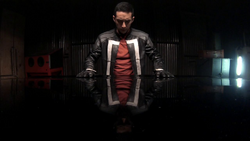 While preparing to hunt down the Chinatown Crew and kill them all in order to regain the crate which contained Lucy Bauer, Reyes got his Hell Charger ready and then stepped outside of El Monte Junk and Salvage, only to find himself greeted by Quake, who claimed she wanted to locate a car of the same model as the Hell Charger. Reyes greeted her with a smile and claimed to not be able to help as he only worked nights and recommended she come back in the morning to speak to Canelo, which she said she would do while she thanked Reyes.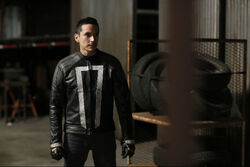 However, Reyes recognized Quake from the night when Ghost Rider had attacked the Aryan Brotherhood and sensed her as a threat, he later decided to take her out of the situation and invited her into the office to check the records to look for the car, planning on subduing her during this time. As they walked, Reyes joked about the poor state of the repair shop and pointed out the office and asked if she lived in Los Angeles and she claimed to only be visiting, with Reyes noting that this was not a nice neighborhood to spend a holiday, all which flicking his keys in his hand which caught Quake's attention as he had been doing it the other night.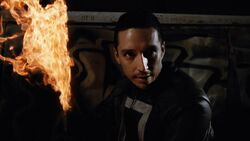 When Reyes attempted to attack her, Quake used her Inhuman powers to send a shockwave which threw Reyes backwards into a van. Taking a steel pool and igniting it in flame, Reyes noted that Quake had the devil inside her too before attacking her. As they fought, Quake pushed her hand onto Reyes' chest and tried to break his bones while she confronted Reyes over the deaths of Roger Perez and Thomas Wright, although Reyes claimed that they deserved to die as each were killers and pedophiles, noting that their deaths were vengeance.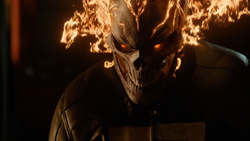 Quake told Reyes that he did not get to decide who lived and who died, but Reyes informed her that it was not him who decided. With this Reyes underwent his transformation, burning the flesh off his skin until he reached the bone, turning into Ghost Rider. Using various steel beams left around in Canelo's Auto and Body shop, Ghost Rider created new burning weapons for himself to then attack Quake, only for her to use her own shockwave powers to disarm him and keep the Rider at bay, as she knew a single burn from him would prove to be fatal.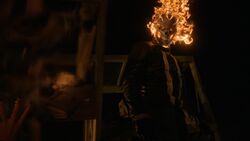 Knocking Quake to the ground with a single punch, Ghost Rider drops a large steel cart on her, only for Quake to keep it from falling with a shockwave. As she laid defenseless on the ground, Quake asked Ghost Rider to kill her, as she was still remorseful for her part in the tragic death of her fellow S.H.I.E.L.D. agent and boyfriend Lincoln Campbell months before. Despite her request to die as she felt she deserved it, Ghost Rider looked inside her soul and decided that she did not deserve to die, and instead walked away from her as she continued to hold up the cabinet with her powers.[1]
Helping Gabe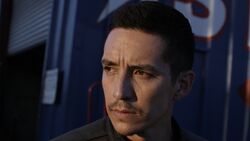 The next day, Reyes waited on the side of the street in Los Angeles to collect his brother, Gabe Reyes, while considering what had occurred the night before. Once Gabe finally arrived, Reyes collected Gabe's wheelchair from the back of the car and lifted his brother into it, thanking Janet for giving him a ride as the bus had apparently broken down.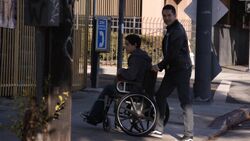 He then pushed the chair down the street while teasing his brother about trying to get a date with their friend Janet's little sister, while Gabe joked that he had been helping Reyes' boss Canelo do Reyes' paperwork for him, as Reyes struggled with the paperwork due to failing to finish high school, only getting as far as the eleventh grade. While the brothers talked and joked with one another, they were secretly being watched by Quake who was attempting to learn Reyes' emotional weakness, which was clearly his love for his brother, who he remained highly protective of no matter what.[1]
Questioned by Quake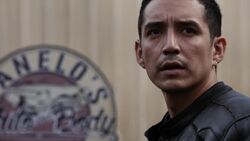 Leaving his home, Reyes got into his Hell Charger and drove through Los Angeles to get to work at Canelo's Auto and Body. Once Reyes arrived he was invited to join a debate between Canelo and another work colleague about the football game that had been on television the night before, but Reyes explained that he had missed the game as he had been out while it was on. While Canelo teased Reyes about meeting a mystery girl, Reyes claimed that he was only interested in vehicles.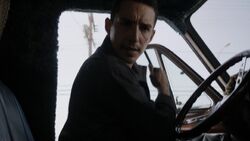 Continuing his work, Reyes helped a woman fill out her paperwork for the car he had just repaired for her and told her that she could pay inside, while he became distracted by Daisy Johnson's Van, which had pulled up outside and had not moved in several hours. Becoming suspicious, Reyes took a crowbar and walked over to the van to see who exactly was following him. Reyes opened the van door and charged inside, crowbar at the ready, only to discover it was empty, allowing him to relax once again and put his weapon away as he planned on continuing his day by working.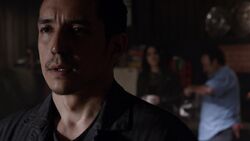 Walking back inside, Reyes found Daisy Johnson was having a talk with Canelo, claiming that she and Reyes had gone to Garfield High School together. Johnson mockingly claimed that she was there because her Van had mysteriously burst into flames the night before, clearly commenting on what she had seen Reyes do during their previous fight. She noted that Canelo had told her that Reyes was an expert with this sort of thing and he agreed to work on her van in order to keep his secret away from Canelo and the other people he worked with so that he could keep them all safe.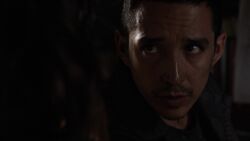 As they continued working on the van together, Johnson questioned Reyes about the danger of something catching fire and being a problem, but Reyes strongly hinted that she should leave it alone before she got hurt. Johnson questioned Reyes about if his victims really deserved to die but Reyes told her she should not have come. Canelo joined the conversation as they joked about Reyes' past and personality. Once Canelo had gone he warned her to leave now but Johnson used her Inhuman power to damage her van so he had to stay longer while he continued to repair the damage.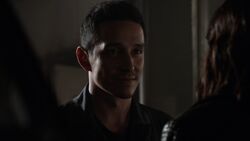 Johnson continued to question Reyes about his killings, with Reyes insisting that they deserved to die and his killings were vengeance. Johnson noted that there was a group called the Watchdogs who were hunting Inhumans, but Reyes corrected her that he was not an Inhuman, telling her he had sold his soul to the devil, a statement that Johnson found very hard to believe. Reyes told Johnson that he was willing to have another fight against her as he had nothing to lose, but Johnson noted that his brother would be saddened to lose him, which greatly angered Reyes.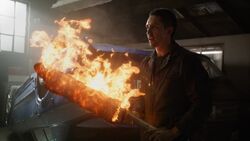 Just at that moment, Canelo told Reyes that he was leaving and wanted him to lock up the garage while he was gone. Once his friend had left, Reyes grabbed a wrench and set it aflame, telling Johnson she should not have mentioned his brother. Johnson used her powers to throw a car at Reyes, but he dodged the falling vehicle and kept moving toward her with his eyes burning, grabbing a piece of the engine and setting it on fire as a new weapon. The fight was very brief as Reyes fractured Johnson's arm which was weakened by her repeated use of her power before knocking her out.[2]
Searching for Guilt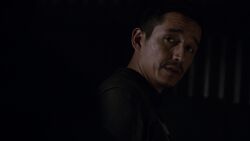 Reyes tied up Daisy Johnson in Canelo's office as he began going through the possessions which he had stolen from inside her van. Once Johnson awoke, Reyes informed her that this was the first caught anybody had caught him and he was still deciding on what to do next. Reyes noted how Johnson clearly had a death wish and before he could kill her, he needed to find some kind of proof that she deserved to die which he was unsure really existed.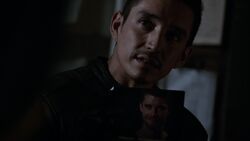 The pair began to discuss each other's motives for what they were doing, with Reyes noting there was something in her past that was haunting her, while Johnson joked that this was coming from a man convinced he was possessed by the devil. Eventually, Reyes found a photograph of Lincoln Campbell and concluded that Johnson felt guilt for somebody who had died due to her and she felt that this was her fault entirely. Johnson asked why he had hunted down the Aryan Brotherhood members, noting they were working with the Chinatown Crew who were supplying them with new weapons.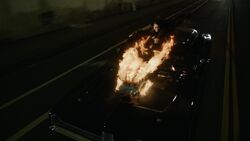 When Johnson noted that they had stolen some kind of a weapon from the Pasadena Momentum Laboratory within Pasadena, Reyes taped up Johnson's mouth and running to the Hell Charger. Just as Reyes drove down the road, Johnson broke free and managed to leap onto the roof of the car as Reyes sped through Los Angeles. To shake her off, Reyes summoned the power of Ghost Rider, roaring as he did so, and caused flames to burst out of the car which forced Johnson to jump off while he continued to drive through the roads and towards the lab as fast as he could.[2]
Hunting Ghosts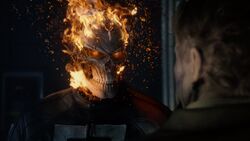 Arriving at Momentum Labs, Reyes found Frederick who was close to killing Leo Fitz, having locked Alphonso Mackenzie inside a radiation reactor core. Just as Reyes pulled Frederick away from Fitz in time and bypassed his intangibility, Frederick looked at him straight in the eyes, with his own eyes burning red with fire. Just as Frederick questioned what Reyes was, he gave out a roar and transformed himself into Ghost Rider, much to Fitz's horror as he looked upon Ghost Rider's completely terrifying burning skull and yellow eyes.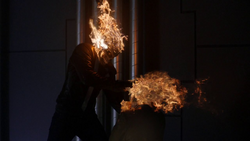 While Fitz focused his efforts on trying to free his S.H.I.E.L.D. ally, Ghost Rider continued to hold onto Frederick, transforming his hand into flame and started burning him which completely killed him. While Daisy Johnson arrived and used her Inhuman powers to free Mackenzie and Fitz shut down the core before it overloaded, Ghost Rider found an image of the scientists from Momentum Labs, including Lucy Bauer, and stole it before leaving, with Johnson telling Mackenzie not to follow him or even try and engage him in a fight, knowing how dangerous Ghost Rider was.[2]
Working with Quake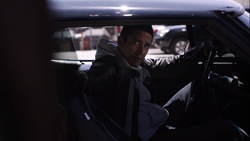 While driving the Hell Charger, Reyes came across Daisy Johnson, whose van had stopped working altogether. Reyes asked if she was working with S.H.I.E.L.D. and she assured him that she was not now; Reyes then asked if she wanted to know what was connecting the Watchdogs, Aryan Brotherhood, Chinatown Crew and Momentum Labs, claiming he might be the connecting piece himself. Reyes then allowed her to enter his car as they drove away to continue their investigation.[2]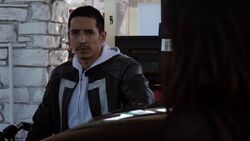 Reyes and Johnson drove down the street until Reyes decided to pull over to get some petrol at a Roxxon Gas Station, all the while with Johnson attempting to make small talk with him. They overheard on another car's radio that the Inhumans had seemingly caused a blackout in Miami, with Reyes noting that he feared for his brother's safety if they were affected. They were then also caught in the EMP Strike that hit Los Angeles. Fortunately, Reyes' Hell Charger was unaffected by the attack, since had been made a few years before electronics were put in cars, allowing them to drive to Gabe's location.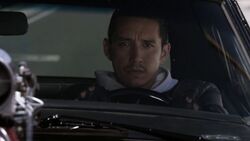 Driving through the roads which were not filled with cars that had all been knocked out by the blackout, they swiftly hurried to find Reyes' brother, Gabe Reyes, who has been left stranded in the middle of the city. While they were looking for him, Reyes mentioned that his uncle Elias Morrow worked for Momentum Energy. Johnson revealed that she knew his uncle was in jail for attempted murder, but Reyes said his uncle had a reason for attacking that person. Reyes then discussed what his power was, with Johnson questioning his story of selling his soul to the devil, which did not bother Reyes.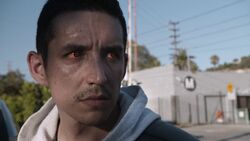 Reyes and Johnson eventually found Gabe getting harassed by some punks who were joking about stealing his wheelchair. When a Pistol Punk placed his hands on Reyes' car, despite being warned against it, Reyes turned the Hell Charger red hot, burning his hands. They proceeded to fight the bullies without using their powers, but Johnson was forced to use her own Inhuman power to save Gabe, shattering the bones in her arm in the process. Eventually, Reyes and Johnson beat up all the punks using their bare hands before putting Gabe in the car and quickly driving away to safety.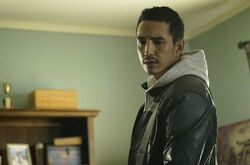 Returning to the Reyes Residence for their own safety, Reyes lit some candles while recommending that Johnson take her fractured arm to the hospital for treatment, while noting that he never got hurt since transforming into Ghost Rider healed all his injuries. That night, Reyes returned to Canelo's Auto and Body to make sure the place made it through the blackout; however, just before he left, he informed Johnson that Gabe was unaware of his powers and asked her not to reveal his secret. Back in Los Angeles by the next morning, Reyes returned home and asked his brother where Johnson was only to be told that she had disappeared during the night.[3]
Working with S.H.I.E.L.D.
Hell Charger vs Lola
As Reyes pulled up to South Ridge Penitentiary to visit his uncle Eli Morrow, he spotted two S.H.I.E.L.D. agents who were just leaving, however Reyes locked eyes with Alphonso Mackenzie who then recognized him from their earlier encounter when Reyes had killed the ghostly Frederick at Momentum Labs. Reyes took off driving the Hell Charger when he and Mackenzie recognized each other, with the two S.H.I.E.L.D. agents giving chase as Reyes drove through the streets of Los Angeles in a desperate attempt to escape.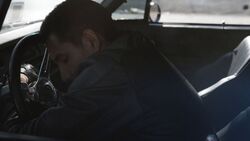 As Mackenzie and Phil Coulson chased down the escaping Reyes in their own car Lola, they drove through traffic as Reyes attempted to lose them however he could, eventually ending up driving through the Los Angeles River where the open stretch gave Reyes' car the clear advantage. Before long, Reyes was able to roar far ahead from Lola due to the Charger's impressive power. However, before he could escape from the S.H.I.E.L.D. agents, Reyes is knocked unconscious when he crashed into a camouflaged Quinjet which was there waiting for him, with Coulson questioning if now he owned Reyes' car.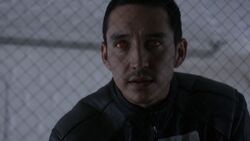 S.H.I.E.L.D. took Reyes and his car into their custody, locking him inside the Containment Module to protect them from his deadly powers, although Reyes questioned if it really could contain him. Coulson questioned Reyes, noting that he knew about his past at Garfield High School before he had begun working at Canelo's Auto and Body before asking about his murders, which Reyes insisted were justified as he only killed those he deserved to die. When Coulson asked if he was an Inhuman, Reyes insisted he was not and had sold his soul to the actual devil himself.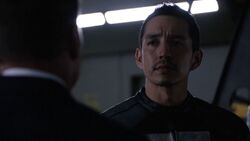 Taking a risk, Coulson decided his best option was to let Reyes out of the Containment Module and work together. Reyes commented on the foolishness of this concept, noting that he could cause Zephyr One to crash if he turned himself into flame. Coulson noted that Reyes had saved Leo Fitz from Frederick and they were likely on the same side, both looking for answers. Coulson asked that Reyes speak to his uncle about what was going on and help them find answers, but not before threatening to throw him out the plane if he refused to help them in their current mission.
Reyes was taken back to the jail where he was able to speak to Eli Morrow on S.H.I.E.L.D.'s behalf. Once he was convinced that S.H.I.E.L.D. only wanted to help, Morrow revealed that Momentum Labs and Doctor Lucy Bauer were working on a machine that defied the laws of physics. The machine blew up, "killing" everyone except for Morrow and Bauer's husband Joseph Bauer, who Morrow put into a coma because he blamed him for what happened. Morrow told Reyes that if Bauer was still alive somehow, she would now be going after "the book" which could hold the answers to not only what happened to them but how to also fix them again.[4]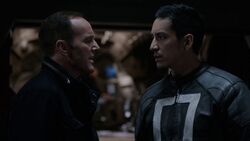 Reyes was given a ride in a Quinjet as he returned to Zephyr One to find Phil Coulson and Alphonso Mackenzie getting their weapons ready. Reyes questioned if they were going after the book, noting that it had taken him a while to catch up with their plane, but they then explained that something else had come up. Despite holding up his end of their dead, Reyes chose to go with Coulson and Mackenzie when they get an alert about an Inhuman asset who was currently in danger.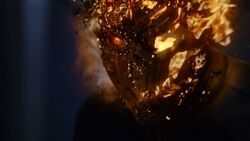 Reyes joined S.H.I.E.L.D. as they traveled to a storage unit where Daisy Johnson and Jemma Simmons were being attacked by Hellfire, who had betrayed them to join the Watchdogs. Before James could kill the pair, Reyes stole his Hellfire Chain and ordered Johnson and Simmons to escape. James attempted to fight Reyes, throwing an exploding ball at his head but was shocked when his powers seem to have no effect on him, with Reyes telling James that it was time to pay for his sins before then transforming into Ghost Rider, much to Hellfire's utter horror.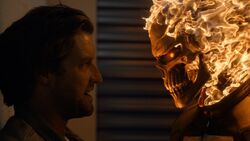 Using his own Hellfire Chain against him, Ghost Rider tied James up and pins him against a wall, preparing to rip his body apart. However, James remained determined to be the last of the Inhumans to die during the massacre he was planning with the Watchdogs, and instead used his powers to break the wall apart behind him. The two burning enemies then fell backwards into the Primed and Ready Fireworks's storage warehouse. Their combined powers of causing fire then starting a chain reaction where all of the fireworks in the store go off together causing a massive explosion.
As the fireworks continued to explode from inside the building, it was eventually practically completely destroyed just right after Coulson, Mackenzie, Johnson, and Simmons had gotten out of there and watched the display from the safety of the car park. Once the explosions settled down, Reyes walked up to them while dragging an unconscious James whose body and clothing were still smoking from the intense heat, noting that Coulson had requested that Hellfire be kept alive despite what Ghost Rider intended. Reyes then left Hellfire with Simmons for medical treatment before returning to the Quinjet, keeping the Hellfire Chain for himself.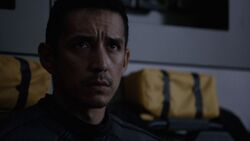 With Johnson and Reyes in S.H.I.E.L.D. custody, Coulson convinces the two vigilantes to put their fight with the Watchdogs aside and focus on the greater threat - the Darkhold, an ancient grimoire that had been hunted by the Red Skull, Daniel Whitehall and even Nick Fury, and now Lucy Bauer was also currently searching for it. Fortunately for them, the person who could help them find it, Joseph Bauer, just came out of his coma before telling them that right now S.H.I.E.L.D. needed their help in order to finally stop Bauer's plans with the dangerous book.[4]
Frustration with S.H.I.E.L.D.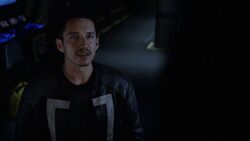 Reyes listened as Phil Coulson discussed the power of the Darkhold with Alphonso Mackenzie and Melinda May, with Coulson noting that they could not trust Jeffrey Mace with this information, but felt Reyes could be useful to their new investigation. Coulson suggested their next move would be to speak with Eli Morrow although Reyes insisted his uncle would not speak with S.H.I.E.L.D., although Coulson explained he planned on bringing Marrow out of prison.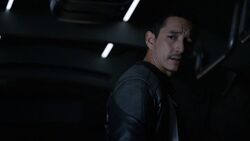 Although Reyes insisted that he should join any mission involving his family, Coulson refused ordered him to stay on the plane. Furious about this, Reyes stormed off to an isolated part of Zephyr One where he found Daisy Johnson, who explained that if he was to leave he would be stuck in Utah. Reyes and Johnson argued about his methods before she revealed that she was trying to keep her distance from her former comrades out of fear of getting close to them, which she had been since Lincoln Campbell's death, with Reyes noting he could see why.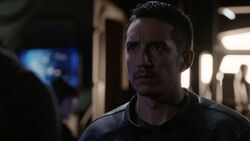 Before long Coulson contacted Zephyr One requesting help from Mackenzie as Lucy Bauer and the other ghosts were already at South Ridge Penitentiary and were likely looking for Morrow as he had put Joseph Bauer into a coma. Although at first, Mackenzie was reluctant to bring Reyes on the mission, noting that everyone in the prison desired to die so Ghost Rider could not be trusted. Johnson, however, argued that Reyes was their only advantage as he could kill the ghosts while the other agents could not even touch them so Mackenzie agreed.[8]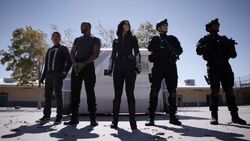 Once Leo Fitz had arrived on Zephyr One and provided the agents with the Ghost Infection Antidote, they loaded into the Containment Module which took them to the ground where split up into two teams, Daisy Johnson and two S.H.I.E.L.D. agents went to find Phil Coulson while Mackenzie and Reyes searched for Eli Morrow, who they assumed the ghosts were targeting, noting that the guards would likely be infected.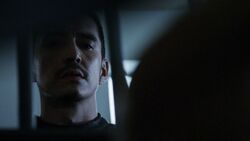 Once inside, Reyes struggled to contain Ghost Rider upon seeing so many criminals and murderers in their cell. When Reyes then recognized Santino Noguera as a member of the Fifth Street Locos, stepping over to Noguera, Reyes almost lost control upon seeing a member of the gang that had once almost killed himself and his brother. Mackenzie pulled him away and promised Reyes that he'll put him down if he loses control of his powers, but Reyes assured him he would not be using his power and he needed to keep his secret hidden from his uncle.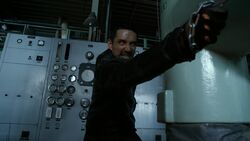 As they stepped into the boiler room, Mackenzie and Reyes were both cornered by the two ghosts following Bauer, with Mackenzie then shooting Vincent with his Shotgun-Axe with no effect. Reyes armed himself with a chain and ripped Vincent in half, dropping it as it now burned red hot. However, Hugo then appeared and infected Mackenzie with the psychosis by walking through him and smiling at the effect, only for Reyes to use his own powers to burn Hugo and destroy him. Mackenzie gave himself the antidote as he saw Reyes' face distort into a terrifying demonic shape.
As the situation within the prison deteriorated into a riot, Reyes and Mackenzie found Morrow and explained that they were breaking him out of prison. Mackenzie used the Pick-Lock Device to break open his door and they made their way out, despite Morrow being unhappy at S.H.I.E.L.D.'s involvement under it was explained that Bauer had gained powers and was in possession of the Darkhold. With the situation getting worse, Mackenzie ordered Reyes and Morrow to go on without him so he could help some trapped members of the prison staff.[8]
Murder of Santino Noguera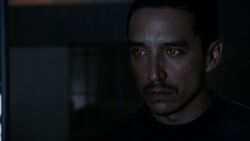 As they made their way through the prison, Reyes once again saw Santino Noguera, and told Eli Morrow to get out of there so he could finish something. With his uncle gone, Reyes confronted Noguera, who was simply reading a Stephen King book in his cell rather than rioting. Reyes asked Noguera if he knew anything about a drive-by the Fifth Street Locos conducted on a pair of kids cruising through Los Angeles that ended with the gang shooting them and even lighting the Hell Charger on fire.
Noguera revealed the drive-by was actually a hit that had failed to kill the kids but Reyes revealed that one of them was now paralyzed. Noguera was unable to reveal who had ordered the hit as he was already in prison at the time everyone who could have known was already dead, having been brutally burned alive. Reyes then noted that there was still one Fifth Street member still alive and turned into Ghost Rider before he incinerated the terrified Noguera, finishing off the Locos once and for all. The rioting prisoners saw this and returned to their cells, terrified of Ghost Rider.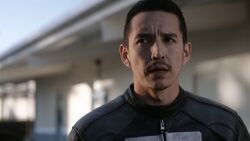 With Noguera now dead, Ghost Rider transformed himself back into Reyes and made his way outside, finding Alphonso Mackenzie with Daisy Johnson and Phil Coulson. When Reyes questioned where his uncle was, Mackenzie made it clear that he did not know, noting that he had left them alone together. To Reyes' horror, it was discovered that Lucy Bauer had found and kidnapped Morrow during the chaos of the riot and they had no idea where they had gone. Returning to Zephyr One, Reyes took time alone to hate himself for his foolish mistake in leaving his uncle alone during the riot.[8]
Explaining the Truth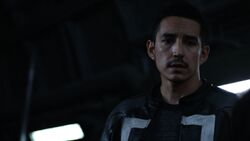 Fearing for his safety in the wake of Eli Morrow's kidnapping, Reyes requested that Gabe Reyes be brought onto Zephyr One. Once Gabe arrived, Reyes had greeted him and was questioned about what was happening, with Gabe believing that Reyes was a S.H.I.E.L.D. agent which would have explained several strange things as Daisy Johnson claimed this was the truth, which had made Reyes somewhat uncomfortable. As Gabe questioned why he was being told, Johnson explained it was for his protection since Morrow was kidnapped.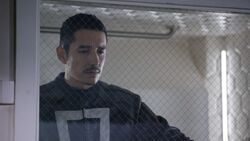 However, shortly after Gabe arrived, news came in that Jeffrey Mace was arriving in a Quinjet looking to arrest Reyes and Johnson, so they moved into the Containment Module which Alphonso Mackenzie hid underneath the Zephyr. While they waited, Johnson claimed they were being hunted because of her, but when Gabe questioned why they had to hide with her, Reyes had enough and decided it was time to tell his brother the truth. He then reminded Gabe of the time they drove the Hell Charger and were attacked by the Fifth Street Locos in the night.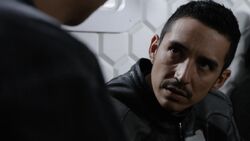 Reyes explained that when the car crashed, he had felt incredible guilt for getting Gabe killed and begged for a way to save him before being violently killed upon impact with the ground. Although Gabe remembered a Good Samaritan who had come to their aid and saved them, Reyes explained that it was not a good samaritan, but was in fact Johnny Blaze pulled up on his Hell Cycle and had infected him with Ghost Rider, bringing him back to life and cursing him with the need to bring justice to those doing evil, although Gabe was now furious that Reyes used him as an excuse for murder.[5]
Conflict with Jeffrey Mace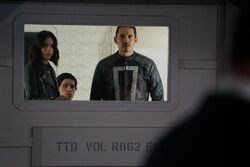 However, before long, Jeffrey Mace discovered their location and attempted to have them all put into his custody due to the damage that could be done to S.H.I.E.L.D.'s reputation if it was discovered that they were aided a known fugitive and murderer. Reyes confronted Mace about if he could find Eli Morrow, but Mace was not interested in that mission anymore despite Phil Coulson and Leo Fitz's objections.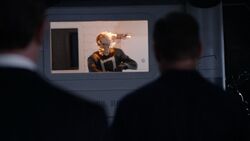 Reyes, however, refused to be locked in the Containment Module any longer and began pounding on the doors to try and break free while Daisy Johnson insisted it was impossible to escape. However, Reyes became more enraged and eventually transformed himself into Ghost Rider and continued to pound on the door with all his might, much to Gabe Reyes' horror. Despite Fitz's insistence to Director Mace that he could not escape, Ghost Rider quickly proved them all wrong by smashing the doors apart and stepping outside in a now furious rage.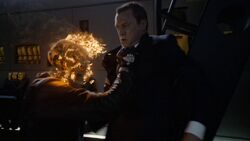 Targeting the man keeping him from vengeance, Ghost Rider then attacked Director Mace, only to discover the Director had incredible strength and durability. Ghost Rider was launched across Zephyr One but continued fighting against the Director, who insisted upon being the one to battle him. Before long, Ghost Rider managed to pin Mace against a staircase and began hitting him repeatedly, attempting to beat him to death and refusing to stop even when Coulson tried to pull him away, throwing Coulson back in his fury for vengeance against Director Mace.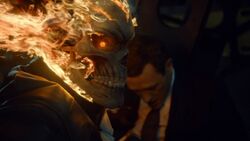 Although Coulson begged Ghost Rider to stop, promising him that they would find his uncle, Ghost Rider's rage could seemingly not be stopped as he continued to beat Mace into submission. However, it was Gabe Reyes who eventually managed to reach him, begging his brother to stop what he was doing, this did reach Reyes who snuffed out Ghost Rider's fire and transformed back into human form, with his skin soon healing from the burns that the transformation inflicted upon his body while Gabe still looked on his horror, much to Reyes' great shame.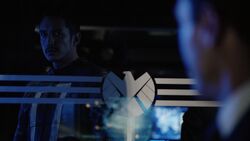 Despite the incident, Coulson was eventually able to convince Director Mace to work with Reyes in order to stop Lucy Bauer from using the Darkhold to unleash some kind of terror upon the world. They soon tracked Bauer to a disused Roxxon Power Plant and Reyes joined the other S.H.I.E.L.D. agents on the mission. When Melinda May questioned why Reyes had been brought on the mission, Coulson explained they had the same goal and he was the only one who could kill Bauer. Meanwhile, Daisy Johnson explained she could not hack into the Plant.[5]
Destroying Lucy Bauer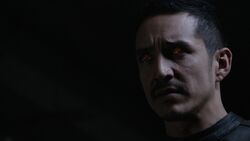 As Reyes made his way through the Roxxon Power Plant with Phil Coulson and Melinda May, they discovered that they could not communicate with Zephyr One from inside the base due to losing signal. As they continued forward, they were soon confronted by Lucy Bauer, with Reyes promising that he would deal with her. Reyes told Bauer that his uncle was Eli Morrow, noting that he was Robbie not Gabe Reyes as his eyes burned red.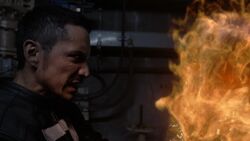 Bauer explained that Joseph Bauer had hired the Fifth Street Locos to kill Morrow and the Reyes brothers should not have been harmed, explaining that Morrow had transformed her into this ghostly monster during his attempts to play god, although Reyes refused to believe her stories. Although Bauer attempted to infect Reyes by walking through him, he was unaffected and grabbed her arm, promising to make her pay. As Bauer noted he had the same fire in him that Morrow had, Reyes promised that his fire was worse before engulfing Bauer in flames as she screamed in agony.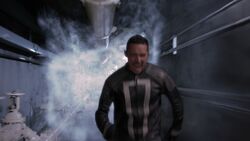 With Bauer finally dead and the threat she posed against the world seemingly over, Reyes attempted to return to the Quinjet while Coulson and May found and rescued his uncle and reclaimed the Darkhold. However, as Reyes ran through the Power Plant's hallways to freedom, he was chased down by a blast of incredible energy from the center of the plant, which soon engulfed not only Reyes but also Coulson and Leo Fitz before they could escape, seemingly destroying all evidence of them as the Power Plant disappeared of all life, leaving only silence remaining.[5]
A New Deal
Trapped Between Realms
In the wake of the blast, Reyes explored the corridors until he finally came across Eli Morrow; however, when Reyes attempted to attack Morrow for lying about Lucy Bauer, he discovered he passed straight through his body and that Morrow was now unable to hear his voice. Reyes then witnessed Morrow using his own newly found powers to massacre an entire S.H.I.E.L.D. unit by impaling all of them with his carbon shards before calmly walking away, leaving a solid wall of carbon behind him to ensure no other agents could follow him as he escaped.
Reyes then witnessed Alphonso Mackenzie and Melinda May arriving on the scene and tried to explain that he was unable to stop Morrow from killing the agents despite his best efforts, only to quickly realize that they could not see or hear him either, without any explanation as to why this was happening to him alone or how he could possibly communicate with anybody ever again. However, while Reyes was considering his current terrible situation, Phil Coulson and Leo Fitz arrived and explained they were in the same situation and could see him. Being helped back onto his feet, Reyes questioned exactly what Morrow had done to them and how they could fix it.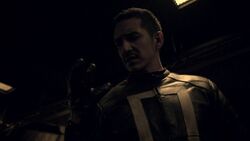 Following the agents onto Zephyr One, Reyes watched the footage of their attack with the other trapped agents while noting that he did not believe they were actually dead but that the lights were darker and he had a pain in his stomach. Looking at their situation, Fitz was able to figure out that what had happened was they were currently being sucked down into the Multiverse, much to Reyes' confusion. Listening to the conversations, Reyes soon worked out that Morrow was working with the Chinatown Crew but was frustrated as he could not communicate with them to try and help locate Morrow.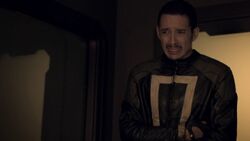 Reyes went with Fitz to listen in as Jeffrey Mace contacted Jemma Simmons to inform her of Fitz's situation. While Reyes complained of serious pain in his stomach getting worse, Fitz listened to Mace's conversation and realized Mace and Burrows had sent Simmons on a secret mission with Ellen Nadeer and was now unable to reach her. While Fitz worried about Simmons and threatened to hit Mace when he was able to get back to Earth's dimension, Reyes collapsed in agony as he experienced unbearable cold, claiming he needed to get sunlight or some kind of warmth as he was currently dying.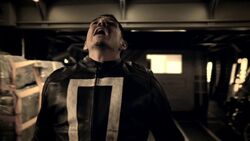 Still in agony, Reyes told Fitz and Coulson that he was being dragged down to Hell. Despite all of his best efforts to fight it, the Spirit of Vengeance then launched out of Reyes' body, lifting him high in the air before dropping Reyes back down to the ground hard. No longer in agony, Reyes realized what had happened as he saw Mackenzie attack agent James Davis and use his motorbike to drive off the plane to find Morrow, despite all Daisy Johnson's best efforts to stop him. Seeing Johnson was taking his Hell Charger, Reyes got in the car in order to confront Mackenzie's new Ghost Rider.[10]
Meeting the Spirit of Vengeance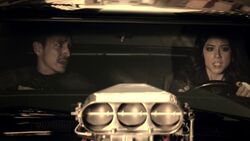 With Daisy Johnson now driving the Hell Charger down the streets on Los Angeles to catch up with Alphonso Mackenzie, Reyes concerned himself with not only catching Mackenzie, but keeping his car safe from harm, as Johnson scrapped the side of it. Reyes tried to yell at Johnson despite her being unable to hear him, although he was able to send a message using the Hell Charger's indicator to tell Johnson where to go.
Having arrived at a warehouse belonging to the Chinatown Crew, Reyes was forced to leave Johnson to fight off the criminals on her own while he went looking for his target. Before long, Reyes came across Mackenzie holding one of the gang members, Zhi and called out to him to stop what he was doing. Mackenzie noticed Reyes and revealed that the Spirit of Vengeance had complete control over his body who then proceeded to throw the gang member into a nearby wall and addressed Reyes directly, with Reyes claiming that although he had wanted the Spirit gone from his body for years, their work was not yet done and so he needed to return to him.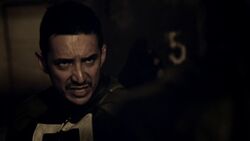 Reyes commanded the Spirit of Vengeance to release Mackenzie as he was truly a good man not capable of Vengeance and to possess him instead as Reyes had not gained his vengeance on Eli Morrow. The Spirit of Vengeance told Reyes that Mackenzie was a man without hope who was in pain from the loss of his own daughter and that the Spirit could live of that pain for years. The effects of the alternate dimension began to take their toll on Reyes once again and the Spirit acknowledged that it had escaped where he was being dragged down to and it was never going back there.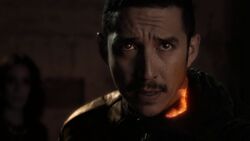 At this point, Daisy Johnson found the possessed Mackenzie who then transformed into Ghost Rider and prepared to attack her. Seeing no other choice to save himself, Mackenzie and Johnson from a fate seemingly worse than death, Reyes made a new deal with the Spirit of Vengeance; it would give him his vengeance on Marrow and in return Reyes would satisfy the spirits lust for blood. The Spirit of Vengeance accepted the deal and merged with Reyes once again and left Mackenzie's body, dragging Reyes down into Hell in order to complete this deal Reyes had now made with him.
Having quickly completed his deal with the Spirit, Reyes was able to use the Inter-Dimensional Gate that had been created by Holden Radcliffe and Aida to return to the Playground. There Reyes found Mackenzie sitting alone in the room while he was looking at a photograph of Hope Mackenzie as he fell through the Multiverse gateway and collapsed from exhaustion before slowly getting back onto his feet. Despite being clearly fearful of Reyes now he had the Spirit back, Mackenzie agreed to help settle Reyes' final score by finding and getting vengeance on Morrow.[10]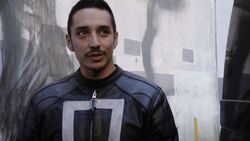 Having now finally tracked down Eli Morrow to the Chinatown Crew Headquarters, Reyes joined all the other S.H.I.E.L.D. agents as they prepared to storm it and take on Morrow and his men. As they prepared for the mission, Reyes spoke with Alphonso Mackenzie as he refused to wear a mask for the mission despite Jeffrey Mace wanting him to keep a low profile. Reyes and Mackenzie then briefly discussed the Spirit of Vengeance and their hope of him leaving them both for good once this mission to stop all of Morrow's devastating plans had been completed.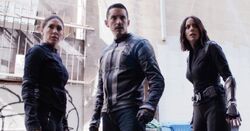 Having been joined by Quake and Yo-Yo Rodriguez, Reyes prepared to storm the building through the back door under the orders of Phil Coulson. Opening the doors and seeing that the hallway was now seemingly empty but completely dark, Quake sent in Rodriguez to use her Inhuman powers to run and the corridor and check that it was safe. However, this set off a bomb Morrow had left, nearly killing Rodriguez who barely escaped before she would have been engulfed in flames. Upon seeing this, Reyes walked in on his own.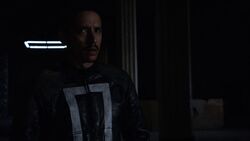 As Reyes made his way through the base, he was soon attacked by several members of the Chinatown Crew who were attempting to defend Morrow, however, Reyes was able to easily fight them all off and continued on with his own mission, despite losing contact with S.H.I.E.L.D. along the way. Eventually, Reyes located a massive version of the Quantum Batteries that Morrow had built which held a Demon Core. Just as Reyes stepped inside the device, however, he was called out by Morrow who tried to convince his nephew to walk away from the base and return back to the safety of home.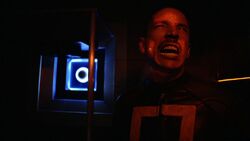 Reyes, however, refused to leave and began to transform into Ghost Rider, forcing Morrow to impale Reyes with a shard of carbon, stopping his transformation. Morrow realized that Reyes had been hiding his secret of being Ghost Rider, noting he had heard stories of him while in South Ridge Penitentiary. Reyes explained he gained the power during the drive by shooting while Morrow still blamed Joseph and Lucy Bauer. When Reyes asked why Morrow had done it, he was told all Morrow had wanted was respect from all of his co-workers who had all looked down at him.
Despite Reyes still trying to get through to his uncle by reminding him of Gabe Reyes' view of him and how he had gained himself a Ph.D. and a job at Momentum Labs, Morrow refused to listen. As Morrow ranted about how his newfound powers were making him a god, Reyes threatened him by claiming that now the devil was coming for him. At this moment, Reyes attempted to become Ghost Rider yet again, only for Morrow to impale him with another shard of carbon through the gut before then cruelly telling him whatever happened to him next was his own fault and walking away from Reyes.[6]
Self-Sacrifice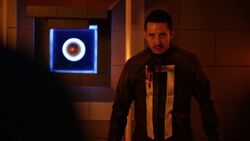 With Reyes impaled on the carbon spikes, Eli Morrow demonstrated his powers by creating water out of nothing, which failed to impress Reyes, despite Morrow claiming it would allow him to create life. However just as they were speaking, Phil Coulson arrived having been captured, telling Morrow that he was not a god, just a petty thief. Reyes watched Coulson explain that Morrow had been stealing compounds from the Multiverse.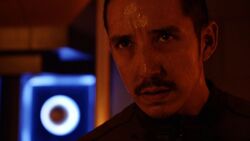 As Coulson checked on Reyes' condition, Reyes explained that he was still standing but he could feel the Spirit of Vengeance being dragged down to Hell again. Coulson continued to try and convince Morrow of his mistake and the risks involved, with Reyes telling him to listen, but Morrow refused to accept the truth due to what the Darkhold had told him. Seeing that Morrow could not be stopped by simply talking him into surrender, Coulson called on his team to attack and ordered Reyes to fight, Reyes called upon the Spirit of Vengeance and began his transformation once again.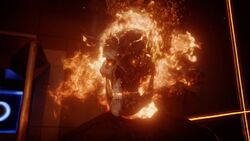 Reyes then watched as both Melinda May and Alphonso Mackenzie stormed into the room and attacked the Chinatown Crew, followed closely behind by Patriot who then used his own incredible strength to send the men flying back with a single punch. In order to ensure they had the advantage throughout, the team were then assisted by Yo-Yo Rodriguez who put the team in better positions in the blink of an eye before striking Morrow with a Neodymium Magnet, knocking him back in the Quantum Battery next to Reyes who had completed his own transformation back into Ghost Rider.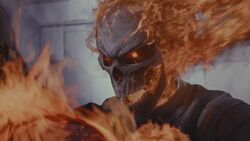 With Morrow trapped and the Chinatown Crew defeated, Coulson tried to pull Ghost Rider to safety with the Hellfire Chain, however, Ghost Rider so noticed that Morrow had managed to break himself free and was trying to escape. Dropping the chain, Ghost Rider grabbed a hold of Morrow and set his entire body on fire, causing Morrow to scream in agony as he painfully burned to death. Ghost Rider made no attempt to escape as a final earthquake caused the box to then fall through the Inter-Dimensional Gate and disappear into the Multiverse, vanishing for several weeks.[6]
The Return
Through the Gateway
After falling through the Hellmouth, Reyes was once again trapped in Hell for several weeks, doing the bidding of the Spirit of Vengeance in the wake of the deal he had made. While in Hell, the Spirit of Vengeance was in full control of Reyes' body and throughout the duration of their time in Hell all they did was fight and kill other beings that resided in Hell.[7] Reyes entered in possession of a mystical weapon called "Hellfire chain".[11]
Reyes finally discovered a way to return to Earth when a tear ruptured in the dark dimension when Aida used the power of the Darkhold to create a human body for herself. As S.H.I.E.L.D. prepared to make a plan to stop Aida, who had also given herself Inhuman powers and was planning a world-changing disaster, Ghost Rider emerged through the Inter-Dimensional Gate where he wrapped his new acquired chain around himself and went to assist his allies to destroy Aida once and for all.[12]
Attacking Aida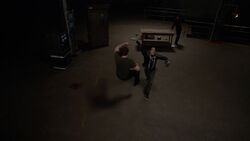 Following his return to the Earthly Plane, Reyes retrieved the Hell Charger and immediately drove it towards both Aida and the Darkhold, feeling like he was drawn to them. When he claimed that he had come to get the Book of Sins back, he was attacked by Life-Model Decoys of Anton Ivanov and Sergei Mishkin.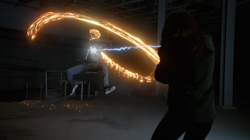 Ghost Rider quickly defeated both of them thanks to his superhuman strength and his Hellfire chain to decapitate Mishkin and also managed to burn Aida's arm. In a rage, Aida attacked Ghost Rider with electricity, causing his transformation. The Rider charged at her, filling Aida with fear and teleporting away, taking the Darkhold with her. Upon figuring out that she had disappeared, Ghost Rider roared in anger.[7]
Reunited with S.H.I.E.L.D.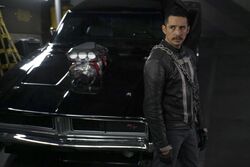 Afterwards, Reyes was found by Daisy Johnson, who brought him aboard the Zephyr One after he told her about his fight against the LMDs. Phil Coulson asked Reyes how he managed to get out and find Aida, to which he answered that the Spirit of Vengeance felt drawn to anything made of dark matter, which included not only the Darkhold but Aida as well, since she had used the powers of the Book of Sins to create her body. Coulson and Johnson quickly understood that Ghost Rider was S.H.I.E.L.D.'s best chance of killing Aida.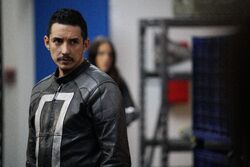 When Aida attacked an International Inquiry Committee with her LMDs, Reyes joined an assault team made of Johnson, Coulson and Melinda May in order to stop them. Successfully teaming up with Johnson, Reyes managed to destroy all the LMDs and, although Aida fled once again, they retrieved the Darkhold. Reyes returned to the Zephyr One with the others and told them that he would bring the book to Hell. However, Coulson asked him not to do it immediately, since they could use it as bait to lure Aida into a trap.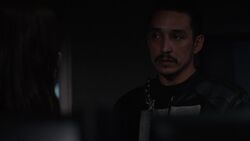 While all the other S.H.I.E.L.D. agents were confronting Aida at the Playground, Reyes stayed with Johnson on the Zephyr One, telling her about his experience in Hell and helping her monitoring the vitals of Alphonso Mackenzie and Elena Rodriguez, who were still trapped in the Framework. Though Mackenzie and Rodriguez were almost wiped out of the Framework, they escaped in time and were greeted in the real world by Reyes and Johnson.[7]
Return to Hell
Meanwhile, at the Playground, Aida confronted Coulson. Unbeknownst to her, the Spirit of Vengeance had made a deal with Coulson and Reyes, which included temporarily using Coulson's body as a vessel. Coulson then used his Ghost Rider powers to destroy Aida's body once and for all despite all Aida's efforts to resist him using her Inhuman powers. The battle against Aida being over, the Spirit of Vengeance returned into Reyes' body. Reyes then took the Darkhold and used his powers to open an Inter-Dimensional Gate towards Hell, once again leaving the Earthly Plane after exchanging a friendly look with Johnson.[7]
Personality
Robbie Reyes is a tough and street-smart young man due to his upbringing in Los Angeles. He showed a great level of responsibility and selflessness when he dropped out of high school during the eleventh grade because there wasn't enough money and caring for Gabe when he was injured. Despite dropping out of his education, Reyes displays intelligence, ingenuity and that he is smart but still prefers to work on cars. He is also very caring and protective over his paraplegic younger brother, Gabe, as he would act as his nurse, help support him with a job as a mechanic, and even attacked and restrained Daisy Johnson when she mentioned him since he felt she was a threat to him. When they were attacked he told anyone who would listen to save his brother rather than himself.
However, upon becoming Ghost Rider, he was turned into a ruthless and merciless killer. His targets are anyone who is guilty of a crime and is unpunished for it, especially when it is a violent crime. Therefore, if a person is not guilty of a crime, he will not kill them even if they consider themselves deserving of death for whatever reason, though he could also judge for himself if he felt they should die and would look for proof. However, it is implied that Reyes is not in full control of his actions and behavior as Ghost Rider. He has stated that he is not the one who decides his victims and threatened Quake to leave him alone since he would become angry enough that he would forget what he would do to her. Being possessed by the Spirit of Vengeance drives Ghost Rider into a hatred towards any being made of dark matter: as such, when Aida, who had acquired a biological body thanks to the Darkhold, escaped from him by teleporting away, Ghost Rider roared in rage and resorted to do anything to bring Aida back to where he thought she belonged, Hell.
Even in and out of his state as Ghost Rider, Reyes still has enough control and morality to judge people on his own, such as when he spared Quake. He then looked through her belongings to see if Quake was truly worth killing and even seemed to want to find something so that he could justify killing her. He demonstrated the capacity to fight someone without killing them, even as Ghost Rider, as seen where he spared the thugs who harassed him, Gabe and Quake, and later on, spared Hellfire during their fight, having been told that he was wanted alive. While he is displayed as cruel and ruthless to criminals, he believes that atoning for his uncle's attack on Momentum Labs, which created ghosts like Lucy Bauer, will pay his debt to the Devil, and rid him of Ghost Rider and the curse of having to kill the guilty. He uses the powers given to him by the Devil to fulfill his personal vengeance against the gang that ran over him and Gabe, leading to Gabe's paraplegia.
Powers and Abilities
Powers
Demonic Empowerment: Johnny Blaze transferred the Spirit of Vengeance into Robbie Reyes, granting him incredible supernatural powers at his disposal. Reyes is able to channel his powers to a degree in his human form, but his powers are greatly amplified while the Spirit assumes control.

Transformation:

One of Reyes' most prominent and visible ability is to transform into a skeletal humanoid engulfed in flames, with his flesh burning off to ashes. In this form, the Spirit of Vengeance is seen and takes control of the body. Even before transforming, a fiery orange glow can be seen in Reyes' eyes when he uses his powers or at times when he is killing his victims. Whenever transforming or using Ghost Rider's powers, he sometimes lets out a monstrous roar. If angered or stressed enough Reyes can lose control and transform without meaning to and even seemingly feel pain from it.

Superhuman Strength:

Reyes displayed a certain degree of superhuman strength, being able to overpower thugs, and massacring them without any effort, notably breaking men's skulls while bashing in their heads, even ripping another man's spine out. He also was shown dragging another across the floor with one hand, knocking out T. Mitchell with one hit and then both dragging and lifting him into his car with one hand. While transformed, Reyes could tear the bumper of a car with his bare hands, was able to instantly knock Quake to the floor with a punch to the torso, and pull down an entire shelf on her with one hand. However, he may have a certain amount of superhuman strength, while in human form, being able to tear off a car's engine piece with his bare hands and knock out Quake with just one strike. In addition, while fighting street thugs with Daisy, he overpowered most of them by himself, as well as charging into one and lifting him up to slam him into a wall. Ghost Rider was the first person to break out of a Containment Module, which held other super-powered beings, through brute force, an act that Leo Fitz claimed to be impossible. He was also able to overpower the super-strong Jeffrey Mace and beat him close to death, even after being thrown across a room by the former, and he managed to destroy a Life-Model Decoy of Anton Ivanov by throwing it several meters up in the air and smashing it against a column.
Superhuman Durability: Reyes has enhanced durability in his human form. He can still be physically damaged in his human form, as he gained a cut on his face while fighting Quake untransformed, but he is still beyond capable of fighting when injured. In his human form, he was able to withstand Quake's attacks, being undamaged when she used her powers to smash him into a van and then into several barrels. The former case was particularly evident when Quake was visibly shocked after seeing Reyes unfazed after getting smashed on the side of a van. When Hellfire threw a fireball at him, Reyes was only slightly fazed, despite the burning hole it left in his cheek. When the Spirit of Vengeance assumes control, he is almost invulnerable to harm or damage. He survived a firework factory explosion and remained conscious, unlike Hellfire who also survived but was knocked out. Also, when transformed, he was immune to I.C.E.R. shots, which merely bounced off him with no effect. Ghost Rider also resisted Aida's electrokinesis powers, being little if not affected by her energy blasts. His durability seems to be strongest when he is fully aware of his surroundings and transformed; when he was trying to escape Coulson and was unaware of the cloaked Quinjet that was in the path of his car, he was knocked unconscious by the crash and was captured.
Regenerative Healing Factor: The supernatural energies that empower Robbie provide full recovery from any damage done to him. Though he received a cut on his face while battling Quake, these injuries disappeared the next day without even a scar. After getting a burnt hole in his face due to Hellfire's attacks and then transforming into Ghost Rider, he emerged afterward in his human form without any sign of being damaged at all. This means that transforming into Ghost Rider and then back to his human form can allow him to recover completely from damage instantly. Reyes has described himself as nearly impossible to kill. However, the cracks in his skull, which he sustained when he was thrown out of Hell Charger and hit the street, never healed and are visible when he transforms.
Infection Immunity: Ghost Rider is immune to dangerous physical conditions that normal humans couldn't withstand. When Lucy Bauer attempted to infect Ghost Rider, he was completely unaffected, not even reacting to her passing through him.
Hell-Fire Manipulation:

Reyes is able to control and generate fire. As Ghost Rider, he is resistant to fire and seemingly no flames are capable of burning either him or his clothing. He is able to imbue a metal object he touches with fire, using the object as a melee weapon, which he has done to objects such as pipes, tools, car parts, and even chains. He can do so even without transforming into Ghost Rider. His control over fire allowed him to form a ring of fire around the car he crashed into with his own flaming vehicle. He also caused his car to catch fire to make Quake fall off it as she pursued him, with his eyes glowing bright orange and him letting out a monstrous roar. He even made his car heat up at will, burning the hand of a thug that put his hand on it. Additionally, he also caused an entire room to be engulfed in the fire to burn Santino Noguera to death. It is confirmed that his fire is mystical in nature, such as when he burned AIDA's arm and she couldn't heal from the burn throughout the remainder of her lifespan, despite possessing Jiaying's healing factor.

Incineration:

Reyes is able to channel his fire to incinerate beings into ashes. He was able to set his entire hand ablaze while transformed to incinerate Frederick by touching him, which he did again to other ghosts, even in his human form and once with his flaming chain.
Heat Generation: A sub-power to his manipulation of fire and enchantment, Robbie is capable of applying heat to anything he touches. He can set any object in a high-temperature state causing anyone to feel a burning sensation without infusing fire. He has demonstrated this ability when fighting against street thugs along with Quake, causing his car to heat up when a thug touched it, burning him.
Heat Immunity: Because of the Ghost Rider's physiology, he is immune to heat and burning.

Dark Matter Detection: The Spirit of Vengeance possesses an extrasensory ability that is made to sense and track the presence of objects and beings made of Dark Matter, such as Aida or the Darkhold.
Empathy: Ghost Rider can look into someone's eyes and see into their heart and soul, to see what kind of person they truly are. He can examine their mental and emotional characteristics and qualities to determine if they are evil and in need of punishment, such as a corrupt cop or a teacher who was secretly a pedophile. While this ability is usually how Ghost Rider is able to find his targets, he can also rule a good person out as a target, bypassing that person's opinion of himself or herself. This was demonstrated by him having the opportunity to kill Quake, while she was even telling him to, only for him to see that she was a penitent woman who was trying to be good.[13]
Transdimensional Interaction: Unlike ordinary humans, Ghost Rider can touch non-corporeal entities or at least individuals whose bodies are out of phase with the Earth realm. If the situation requires, he can hold them and completely incinerate them with his fire. He was able to grab Frederick by the arm and neck in his human form before transforming and burning Frederick into embers with his blazing hand, he was able to burn Vincent to embers with the Hellfire Chain, and he was able to do the same to Hugo with his touch, though in the latter events, he was able to do so without even transforming.
Power Imbuing:

Ghost Rider has the ability to imbue his power into inanimate objects, such as weapons, vehicles, etc.: He has used this power to make his car the Hell Charger become nearly indestructible. R. Moore fired a rocket launcher straight at the hood, all the rocket did was launch the car into the air and engulf it in flames, but neither the explosion, the fire, or crashing from several stories up had any effect on the car. It has crashed into other cars and even had a head-on collision with an invisible Quinjet at full speed, without any harm such as scratches or dents. Reyes can also project his fire through the car without damaging it. He had the car emit fire from the hood, to knock off Quake, who was on top of the roof trying to stop Reyes. However, the enchantment is not permanent. When Reyes is not bonded to the Spirit of Vengeance, Hell Charger loses its capabilities and becomes a regular car. His clothes are also completely immune to fire and seemingly indestructible, as Hellfire's explosive ball and being inside an exploding building did nothing to them. Normally weapons would pass right through Vincent in his ghostly state, but Reyes was able to enchant a chain so it would wrap around Vincent and he could not escape.
Dimensional Travel:

Ghost Rider acquired the ability to generate portals to alternate universes and different dimensions during his time in a Hell dimension. By simply swirling his Hellfire Chain in a fashion similar to a Sling Ring, he creates a vortex that is enough to open the inter-dimensional gate.
Abilities
Expert Combatant:

Reyes was able to hold his own against Quake, an Inhuman former S.H.I.E.L.D. agent highly trained in combat, though her use of her powers left him to resort to transforming into Ghost Rider to defeat her. The second time he fought her, he did manage to defeat her without transforming by fracturing her arm with a car engine and knocking her out, showing he was more willing to injure her since she mentioned his brother. Also, her arm was weakened by her repeated use of her powers, with the subsequent pain from it allowing him to beat her easier. In addition, he overpowered multiple thugs unarmed, with him saying that it was him and not Ghost Rider that was doing the fighting. He even body slammed one of them, charging into him and lifting him up to slam him into a wall.
Chain Mastery:

Reyes took a liking to the Hellfire Chain and quickly learned how to wield it, using it against Hellfire himself, but also other opponents he quickly defeated or forced to retreat, like the Life-Model Decoys or Aida.
Engineer: As a mechanic, Reyes had knowledge in automobile mechanics.
Bilingualism: Reyes is fluent in his native English, as well as Spanish.
Equipment
Weapons
Hellfire Chain: During his battle with the Inhuman Hellfire, Ghost Rider took his flaming chain as his own, successfully using the improvised weapon against its former owner. He could imbue it with fire and swing it like a lasso.
Ghost Rider's Chain:

While trapped in the obscure region known as Hell, Ghost Rider obtained a mystical weapon capable of conducting the Rider's demonic flame. It was later shown to function as a Sling Ring for transport between dimensions in the Multiverse.
Other Equipment
Inter-Dimensional Gate: Reyes used an Inter-Dimensional Gate for the first time to return to the Earthly Plane after being trapped between dimensions and nearly being dragged into Hell. He was eventually sent into Hell along with Eli Morrow's bomb to protect Los Angeles but eventually managed to return through an Inter-Dimensional Gate which was opened when Aida created a body out of dark matter. Ghost Rider lost use for the Inter-Dimensional Gates, however, since he had acquired the ability to open portals of his own with his mystical chain.
Vehicles
Hell Charger: The Hell Charger is a 1969 Dodge Charger owned by Reyes. When he acts as Ghost Rider, the car is able to emit flames from the engine and wheels, superheating its surface at will, and is seemingly indestructible.
Facilities
Relationships
Appearances
Appearances for Robbie Reyes
In chronological order:
Trivia
Behind the Scenes
References
External Links