George Ashland is a Callisto Aerospace high-ranking employee who used to work with Louise Fisher before dismissing her.
Biography
Loss of a Rover
George Ashland managed a Callisto Aerospace team which was in charge of a Moon rover piloted by Louise Fisher. When the rover was destroyed by what looked like a hoof, Ashland ordered Fisher to find out precisely what had caused the destruction so he could justify the loss of millions of dollars worth of equipment.[1]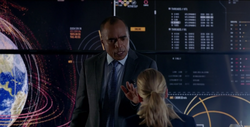 Ashland asked Fisher whether she had found the cause of the rover's destruction. Fisher replied that she had identified four energy spikes coming from the exact same spot where the rover had been damaged and directed towards the Earth. Ashland listened incredulously as Fisher explained her theory: according to her, four creatures had been transported from the Moon to Earth. Feeling that Fisher was talking nonsense, Ashland decided to take her off the Callisto Aerospace Rover mission.[2]
Evacuation of Attilan
Ashland was contacted by Louise Fisher to help plan the evacuation of Attilan. He met with Fisher and Medusa but openly expressed his doubts about what Fisher was saying, calling her a lunatic. However, Medusa asked her sister Crystal to teleport from the Moon with Lockjaw, which convinced Ashland that Fisher had been right all along.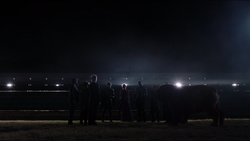 Therefore, Ashland agreed to talk to his superior to arrange the evacuation of the Inhuman city. Afterwards, Ashland was present when all the population had been evacuated and listened to Medusa's speech opening a new chapter of Attilan's history.[3]
Relationships
Allies
References
Community content is available under
CC-BY-SA
unless otherwise noted.