The Fake Infinity Gauntlet was a recreation of the true Infinity Gauntlet that was kept inside Odin's Vault.
History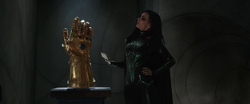 A right-handed replica of the Infinity Gauntlet, complete with replicas of the Infinity Stones, was kept in Odin's Vault, guarded by the Destroyer.[1] During her takeover of Asgard, Hela came across the Gauntlet and declared it to be a fake, knocking it off its pedestal. The Gauntlet was destroyed along with Asgard during Ragnarök.[2]
Trivia
The white and dark blue stones in the gauntlet that are there instead of the yellow and orange stones could be references to the dark blue and white stones from the Marvel Ultimate Comics.
Gallery
References
Community content is available under
CC-BY-SA
unless otherwise noted.