Jurassic World: Dominion Dominates Fandom Wikis - The Loop
Play Sound
The Eternal Flame was a mystical, inextinguishable fire from which the Fire Demon Surtur drew his power.
History
Over 5,000 years ago, Odin battled Surtur in an attempt to prevent him initiating Ragnarök, the fated destruction of Asgard. Odin successfully incapacitated Surtur, banishing him to Muspelheim and bringing the Eternal Flame back to Asgard, sealing it in his vault, where it was guarded by the Destroyer.[1]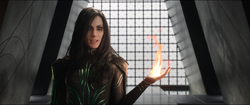 During the confrontation between Thor and Surtur, the latter explained that Ragnarök would occur when his crown would be merged with the Eternal Flame. Later, Hela resurrected her army of Berserkers and Fenris by using a handful of the Eternal Flame. As Thor and his Revengers were fighting Hela's army in Asgard, Thor understood that in order to defeat her, Asgard, Hela's power source, must be destroyed. Loki dropped the Crown of Surtur in the Eternal Flame, resurrecting Surtur and unleashing Ragnarök.[2]
Capabilities
The Eternal Flame is the source of Surtur's power. By placing Surtur's crown into the Flame, Surtur can be summoned and, if he has already been killed, even resurrected, restored to full power, enabling him to unleash Ragnarök.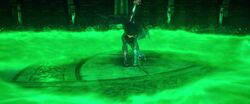 The Eternal Flame can resurrect others as well, as demonstrated when Hela used the Flame to revive Fenris and her army.
The Flame's power was so great that it was the only thing Hela bothered to retrieve from Odin's Vault, dismissing even the Tesseract as being merely "not bad" in comparison.
Trivia
References
External Links