"Is that a roomba?"
―Emily Deville
Emily Deville was a potential buyer of Chitauri metal that contacted Vanchat to acquire one of the pieces left behind during the Battle of New York.
Biography
Criminal Deal
Meeting with Vanchat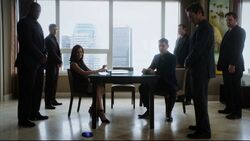 Emily Deville was meeting with international criminal Vanchat to acquire a piece of Chitauri metal when a S.H.I.E.L.D. team under the direction of Agent Victoria Hand appeared to apprehend Vanchat.[1]
Relationships
Allies
Enemies
References