Jurassic World: Dominion Dominates Fandom Wikis - The Loop
Play Sound
The Devil's Anus is the largest and most destructive Magnetar wormhole located in the atmosphere of Sakaar.
History
"We are going through the big one."
"The Devil's Anus?"
"Anus? Whose anus?"
"For the record, I didn't know it was called that when I picked it."
―Thor, Valkyrie, and Bruce Banner[src]
Above Sakaar City, people could find myriad portals made of singularities with a wide range of diameters. These portals continually dropped debris, garbage and diverse objects coming from all across the galaxy. The Devil's Anus was the largest of these portals and unlike the others, it was bathing in red light.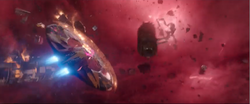 Whilst stuck on the planet Sakaar, Thor and the Revengers used the Devil's Anus to escape the planet, flying the Commodore through the numerous and gigantic debris transported by the portal. Although the journey through the Devil's Anus knocked them unconscious, they eventually exited the gateway and arrived on Asgard.[1]
Trivia
In the comics, the Great Portal is a giant portal that opens randomly in different parts of the universe, that accidentally brought Hulk on Sakaar during his space exile.
In-universe, the name likely comes from the dangerous nature of the wormhole and all the "crap" that falls out of it.
Gallery
References
External Links