Wiki Targeted (Entertainment)
Play Sound
The Destruction of the Museum of Natural History was a successful operation by Sarge's Squad to ensure that Sarge arrived on Earth safely.
Background
As soon as Jaco arrived on Earth, he searched for the place where Sarge would come through and discovered a Museum of Natural History built there. Jaco waited for his teammates to arrive and informed them about the situation. Pax suggested they blow up the museum and the three mercenaries traveled to the location.[2]
Destruction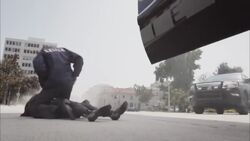 Pax, Jaco, and Snowflake arrived at the Museum of Natural History. As they were unpacking explosives, several S.H.I.E.L.D. agents showed up. Pax asked Snowflake to stall them for a while, and she proceeded to make a scar on her head with her knife. Snowflake rushed out of the museum, pretending that her child was kidnapped warning the people around not to enter the building. Fox took her to safety, only for her to smile at him and tell him that he would become a butterfly. She then took cover, as the bombs detonated, completely destroying the museum.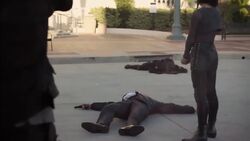 A thick smoke remained long after the explosion, inside which a portal opened. Sarge drove his truck at high speed through the portal and crashed into several S.H.I.E.L.D. SUVs. As Snowflake was making her escape, Fox grabbed her and put handcuffs on her. Sarge got out of the truck and approached Fox, telling him to let Snowflake go. However, Fox mistook him for Phil Coulson and hesitated. Sarge then shot him and he and Snowflake got in the truck and drove away.[2]
Aftermath
To be added
References