We're Getting Mutants in the MCU - The Loop
Play Sound
"Don't shoot. I'm just a messenger."
―Dennis[src]
"Dennis" is a pizza delivery man living in Westview, New Jersey. Following the Westview Anomaly, he handled mail delivery in the fictional reality orchestrated by Wanda Maximoff.
Biography
Brainwashed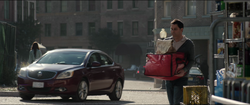 "Dennis" was one of the citizens of Westview. One day, while doing his job delivering pizza, he was enthralled and trapped by Wanda Maximoff in the Hex, forced into a sitcom reality.
Westview Anomaly
Presto Mail Man
"Dennis" waved to Wanda Maximoff and Vision as they enter the neighborhood in Westview as newlyweds.[2]
He passed Agnes outside of the Vision Residence, and she jokingly shot finger guns as him after he joked about simply being a messenger.[1]
When Maximoff and her sons, Billy and Tommy Maximoff, went out looking for their dog, "Dennis" passed them and told them not to worry, as their mother would not let him get far.[3]
Later, "Dennis" and the other Westview residents paused to witness Maximoff using her powers in broad daylight against Monica Rambeau. He and the others then resumed going about their business once Maximoff was taken away by Agnes.[4]
Back to Normal Life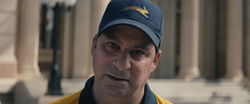 Later, he passed Maximoff in the town square and told her not to shoot as he was just a messenger. After Agatha Harkness removed the spell, he and the citizens confronted Maximoff about her actions and how they felt.
She eventually took down the Hex, freeing "Dennis" and all of the citizens. When she returned to the town square, he and the citizens glared at her.[5]
Relationships
Appearances
Gallery
Screenshots
Behind the Scenes
References