Lieutenant Decker is an officer of the United States Air Force.
Biography
Lieutenant Decker listened to General Glenn Talbot rant about rideable lawn mowers, before answering the phone from the security desk. Senior Airman Campbell alerted her that Talbot's "wife" (who was actually Agent 33 in disguise) left her ID Card at home, and needed to get up to Talbot's office. She relayed the message to the general, who granted access for this "wife" to come up.
After Talbot learned of the spy in the facility, he remembered the Photostatic Veil. He told Decker, "If you see me somewhere I'm not supposed to be... I'm not there." This left Decker very confused. Talbot had the lieutenant gather all the female employees, in an attempt to find the spy. The spy was not found among them.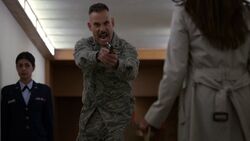 Decker witnessed when Glenn Talbot drew his weapon on the real Carla Talbot when she arrived.[1]
Relationships
Allies
References
Community content is available under
CC-BY-SA
unless otherwise noted.