The Darkforce Dimension, also referred as the Zero Matter Dimension or the Loa Dimension, is a dimension located in the Multiverse where the Darkforce originated. It is the abode of loas.
History
Inter-Dimensional Rift
"It was freezing. The type of cold that kills. And there was a blackness, a dark beyond dark."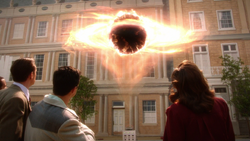 During the 1940s, scientists began experimenting with nuclear energy; during one such experiment performed by Isodyne Energy, a rift was created where a substance dubbed Zero Matter entered this dimension. Eventually, Whitney Frost and Jason Wilkes became infected with the substance.[1] Frost actively sought more of the Zero Matter and reopened the rift; however Wilkes entered the opening.[2] Upon his return, he described his experience in this dimension as indescribably cold and dark.[3]
Cloak's Powers
Tyrone Johnson was exposed to an explosion of energy as a child. This incident created a connection between him and the Darkforce Dimension and gave him superhuman abilities.[4] Andre Deschaine, another person who was exposed to the energy, also acquired a connection with the dimension.[5] Amongst other minor abilities, Johnson became able to teleport through the Darkforce Dimension to travel instantly on Earth.[4] Additionally, he was able to use himself as a gateway to the Darkforce Dimension and banish enemies into it. James Connors was the first person to be sent to the place by Johnson.[6]
Appearances
Appearances for the Darkforce Dimension
In chronological order:
Trivia
In the comics, the Loa/Vodu reside in Orun, a pocket dimension adjacent to Earth.
References
External Links
Community content is available under
CC-BY-SA
unless otherwise noted.