The Dark Aster was a three mile wide Accuser Warship that served as a flagship under Ronan the Accuser's command.
History
Used by Ronan
As an Accuser, Ronan was given an Accuser Warship for his personal use.[1] Upon rejecting the treaty between the Kree Empire and Nova Empire, Ronan embarked on a campaign to destroy Xandar, traveling the galaxy and butchering many Xandarians. Shortly after, Ronan struck a deal with the Mad Titan Thanos, who offered to destroy Xandar if Ronan located and retrieved an object known as the Orb.[2] Upon locating the Orb on Morag, Ronan informed Thanos, who in turn dispatched his daughters Gamora and Nebula on to the Dark Aster to provide Ronan assistance.[3]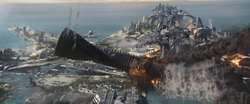 Ronan, in possession of the Power Stone, attacked Xandar in order to destroy the planet, using the Dark Aster to arrive down towards the planets surface. In a fierce battle involving the Nova Corps and Yondu Ravager Clan, the ship was trapped by an energy field created by the ships of the Nova Corps, in an attempt to block Ronan from reaching the surface. However, Ronan used the power stones raw energy to destroy many of the ships, and using the Dark Aster, pressed forwards into the resting, crushing them and collapsing the barrier they created. In the insuing battle aboard the ship between the Guardians of the Galaxy and Ronans forces, Korath was killed and in the fray, the Dark Aster was severely damaged, causing it to plummet towards the surface of Xandar, where it was destroyed.[2]
References
Community content is available under
CC-BY-SA
unless otherwise noted.