Spider-Man: No Way Home Trailer Dropped - The Loop
Play Sound
Cut Man is the second episode of the first season of the Netflix exclusive television series Daredevil.
Synopsis
Murdock makes a near-fatal error while trying to save a kidnapped boy, and finds an unlikely ally when he needs saving himself.
Plot
Years ago, before Matt Murdock was blinded, he watched his father Battlin' Jack Murdock box on television. When Jack got home after the fight, Matt would wait up for him, discuss the fight and stitch his father's wounds. Jack got paid well, whether he won or lost.
After Matt was blinded, he would stay in Fogwell's Gym as his father practiced. One day, two thugs came into the gym and spoke with Jack; Roscoe Sweeney wanted him to take a fall during the match against Carl Creel. Not knowing that Matt was listening, Jack originally refused, but when his son's life was threatened, Jack told them that he would lose. On the night of the fight, Jack beat Creel. He was later found dead in an alley.
Two days ago, Matt Murdock heard the screams of a boy abducted from his father's truck. Murdock attempted to rescue the boy and was beaten terribly.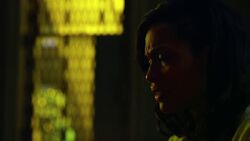 Santino finds Murdock in a dumpster outside his apartment building and tells Claire Temple, who saves Murdock's life. When a Russian thug comes looking for Murdock, he gets captured and interrogated for the location of the boy. Temple is told to relocate because the Russians who beat Murdock for upsetting their schemes in the sex slave trade will come for her. Temple tells the man she calls "Mike" where she will be in case she must stitch more of his wounds.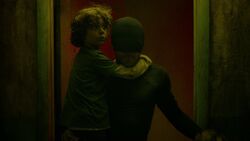 Meanwhile, Foggy Nelson and Karen Page get drunk to ease Page's fears about New York City. Murdock goes to the hideout of the Russian thugs and fights relentlessly. Nine gangsters fall against Murdock's skill. Murdock then frees the boy and carries him to his father.
Cast
Main Cast:
Guest Stars:
Appearances
Locations
Events
Items
Vehicles
To be added
Creatures
Organizations
Mentioned
Morris

Rance (indirectly)
Music
Trivia
References
External Links