Cosmo is a dog and a resident of the Knowhere mining colony.
Biography
Inside the Collector's Museum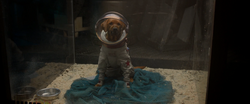 Cosmo was a specimen from a U.S.S.R. space program and was brought to Taneleer Tivan's museum as a part of his obsession with collecting. When the Guardians of the Galaxy brought the Orb to Tivan, Rocket and Cosmo growled at each other as Carina told them about Tivan's collection.
When Carina unleashed the Orb's power, destroying much of the museum, Cosmo managed to survive the catastrophe and escaped but didn't leave the museum.[1]
Freedom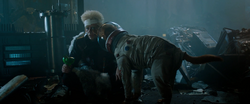 Shortly afterwards, while Tivan, who also managed to survive, sat in the ruins of his museum, Cosmo returned to lick his face, as Howard the Duck commented that it was gross.[2]
Relationships
Allies
Enemies
Trivia
References
External Links