Corporate Advertising is used to improve the image of corporation. This page shows the advertisements and marketing campaigns of companies who use creations of the Marvel Cinematic Universe to promote their products or brand. These promotions are in cooperation with Marvel Studios, which help to promote Marvel's own products.
Acura
For the TV series Agents of S.H.I.E.L.D., Marvel and Acura signed a partnership, making Acura vehicles the official vehicle for S.H.I.E.L.D. agents. Acura cars were also featured in Captain America: The First Avenger, Thor and The Avengers. Next to product placement, a commercial video was released as well as two promotional websites. One of the websites also has promotional videos for the webpage itself.
Commercial: Acura TL
For the film Thor, The Destroyer is seen attacking a few S.H.I.E.L.D agents and then attacking the Acura TL which survives the attack.
Commercial: Acura RDX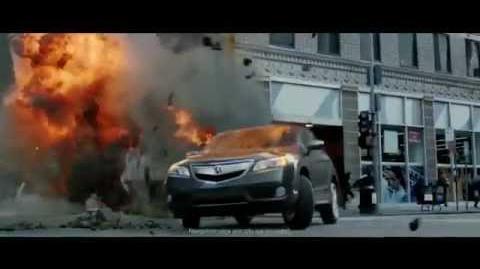 During the Battle of New York a couple is driving through the city in a Acura RDX, evading obstacles and explosions. The navigation system guides them safely through the city, instructing them to go left at a flying car, make a right after an explosion and to evade a lightning bolt from Thor. When the couple comes in a street with a Leviathan, the navigation system instructs them to make a u-turn, which they heavily agree with.
Join S.H.I.E.L.D
Join S.H.I.E.L.D is one of the promotional websites released by Marvel/Acura. Users could create an official ID badge and climb ranks within the organization.[1]
S.H.I.E.L.D. ops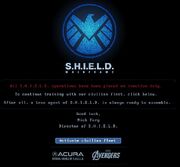 S.H.I.E.L.D. ops is one of the promotional websites released by Marvel/Acura. Introduced by Agent Jasper Sitwell, players could win a 1:43 scale Acura car or even a 'Tony Stark Experience' trip to New York city.[2] In the first video Sitwell calls in to all agents with a priority message, showing video footage of the Avengers and ordering to report at SHIELDops.com and await orders. In the second video he once again tells that all agents are instructed to report and ordered to debrief. Showing footage of Loki and reporting that global security is in danger.
Alaska Airlines
To promote Captain Marvel, Alaska Airlines introduced a special livery on their Boeing 737-800 (tail no. N531AS) featuring an image of Carol Danvers on the fuselage and Goose on the wing tips.[3]
Alcatel
In Iron Man 3, a reporter records Tony Stark's speech on an Alcatel One Touch Idol before Stark grabs the phone and throws it to a column.
Altoids
In Ant-Man and the Wasp, Hank Pym has an Altoids tin that contains a group of ants that enlarge once they are released.
Audi
Since the first Iron Man a partnership between Audi and Marvel was created. During the various Iron Man installments Audi has featured multiple vehicles to the screen: Audi R8, Audi R8 Spyder, Audi R8 e-tron, Audi A8L, Audi S7 Sportback, Audi S5 Coupe and the Audi Q7. An exclusive Audi Iron Man 2: Fist of Iron comic was released as well. With the release of Avengers: Age of Ultron even more models where introduced, featuring: Audi R8 V10 Plus (2016), Audi TTS (2015) and the Audi A3 Cabriolet (2015). In the same year for Ant-Man an Audi A3 Saloon (2015) made a brief cameo. The following year with the release of Captain America: Civil War the Audi R8 V10 Plus (2016) returned, Audi A4 (2016), Audi A8 (2016), Audi Concept Prologue and the Audi SQ7 (2016) which was featured in a car chase.
Commercial: Audi - The Chase
With Audi's and Marvel's current partnership, Audi shows a extended scene of Black Panther chasing the Winter Soldier prior to the release of Captain America: Civil War. In the midst of the chase a family is taking a drive in an red Audi SQ7. Captain America jumps with his shield on a chasing Audi SQ7 to stop the car and to take over the wheel. In the family car, the kid in the back is playing with a toy of Captain America, when suddenly the Winter Soldier overhauls them by foot. The family then also gets taken in by Captain America with the Black Panther hanging on the back of the car. With all the surrounding chasing cars of agents, the mother of the family decides to take a short cut. With the release of this video, Audi also released a custom comic: Avengers: King of the Road.
Commercial: Cameo School
To promote the Audi S8, an unique video was made with Stan Lee as a teacher in a Cameo School. The video was directed by Kevin Smith and featured Tara Reid, Michael Rooker, Lou Ferrigno and Jason Mewes. During Stan Lee his lecture, Lou Ferrigno enters the class looking for the anger management class, Stan Lee politely tells him this isn't the anger management class. After the class Stan Lee finds out that the driver of his pickup is actually himself. He then compliments the driver by saying "Heey, now that's a cameo!" Ironically the real cameo in this video was the Audi S8.
The Tony Stark Innovation Challenge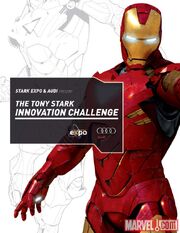 The Tony Stark Innovation Challenge was designed by Marvel and Audi to mirror Tony Stark's desire to take Stark Industries in a new direction, using vast intellect and resources to eradicate problems through technology. Participants submitted videos with their concepts, and users rated the ideas.
The Winner received: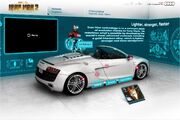 Four-day trip for two to California, including;

A day at the Audi Sports Car Experience driving an Audi R8
A VIP day with the ICON Aircraft team, joining them in flight and water testing of the innovative ICON A5 aircraft (one of Tony Stark's toys)
Helicopter tour of L.A.
Transportation in the latest innovation from Audi, the 2011 A8
Spa treatments, tailored cocktail attire, and grooming to perfect his/her Stark style
Tour of Audi Design Center in Santa Monica Airport
Experience documented and featured on AudiUSA.com
The executives at Audi of America would judge the video on the following criteria:
1. Make the world a better place by solving a problem or improving an existing solution (20%)
2. Articulate and demonstrate expertise of the "better living through technology" philosophy (20%)
3. Have the scalability and adoptability to potentially change the way we live (20%)
4. Showcase innovation, adventure, and intelligence worthy of Audi and Tony Stark (20%)
5. Entice the social network; viewer ratings will help determine top entries (20%)
MIT Graduate Student Natan Linder won the challenge with his invention of the LuminAR. This functions as a digital bulb with built-in Internet technology that can project web content onto any surface. Unfortunately the website of the Tony Stark challenge is no longer working. Making it hard to find other submitted video's than the one of the winner.[4]
Peter Parker (Tom Holland) attends a driving lesson where he is observed by an instructor (J.B. Smoove). Parker drives a prototype given to him by Tony Stark and annoys the instructor with his reckless antics, such as driving without the use of his hands and going too fast. Once Parker successfully parallel parks the car, he notices a pair of criminals running out of a nearby bank with bags of money. He exits the car, puts on his Spider-Man Suit and apprehends the thieves. During his absence, the instructor lectures him on his reckless driving, failing to notice that he has left the vehicle. Once he finally notices that Parker is not there, he sees the thugs webbed up on the steps of the bank. Parker, having returned to the car, gives him a fright by asking if he passed which the instructor confirms later. For the film itself several Audi vehicles were featured including the Audi Q7 (2016), Audi A8 (2018), Audi R8 Spyder (2017) driven by Stark and the Audi TTS Roadster (2017) which Parker stole from high school bully Flash Thompson, before pursuing Adrian Toomes, with help from Ned Leeds.
Captain Marvel (Brie Larson) is back to help the Avengers battle for the fate of the universe. However, she first needs to get a debrief in what she missed—from a few fads, such as food and tech, including the fully-electric Audi e-tron SUV. Audi also provided several vehicles for the film itself, such as the E-Tron GT, driven by Stark and the Q4 E Tron, driven by Rogers.
Peter Parker and Ned Leeds attend a high school fair, with an electric motor but are shocked to learn that the rest of the high school students have made far more impressive technological pieces. While Leeds gives up, Parker makes a call to an agent of S.H.I.E.L.D. who agreed to assist if he appears as Spider-Man for his son's birthday. Parker left Leeds at the fair and heads in his Spider-Man Suit to a locked vault where inside, he finds the Audi E-Tron GT. Eventually, Parker arrived at the fair surprising the Judges and Leeds who then both give a tour of their own electric motor before showing them specials features inside the E-Tron GT. When asked about the range, they state it to be far and wide. Despite this, they earn Second place with First Place going to a Potato Arc Reactor. For the film itself, Audi provided several vehicles including the E-Tron SUV and the Q5.
Baskin-Robbins
In Ant-Man, Scott Lang gets a job at a Baskin-Robbins store before he is fired when his boss discovers his past criminal record.
Ben & Jerry's
In Avengers: Infinity War, Wong mentions "Hunka-Hulka Burning Fudge" as a Ben & Jerry's ice cream flavor. In Avengers: Endgame, Bruce Banner is seen eating a gallon of the ice cream.
Blockbuster Video
In Captain Marvel, Carol Danvers crashes into a Blockbuster Video branch in Los Angeles in 1995.
Brisk
Marvel studios partnered with Brisk tea to promote Black Panther with the limited edition "Wakanda Forever" package that consists of a display stage with a 3D-printed can shaped like Black Panther's helmet, a Samsung tablet containing exclusive features, Brisk cans featuring the supporting cast, a Black Panther Prelude mini comic book, a behind-the-scenes booklet, and a bracelet of Kimoyo Beads.[5]
Build-A-Bear Workshop
Build-A-Bear Workshop offers teddy bears themed after different Marvel Cinematic Universe characters, as well as characters from other Marvel franchises.[6] In Avengers: Endgame, Tony Stark mistakes Rocket Raccoon for a Build-A-Bear.
Burger King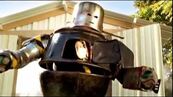 In Iron Man, upon returning to the U.S. after escaping from the Ten Rings hideout in Afghanistan, Tony Stark eats a Burger King cheeseburger on his way to his impromptu press conference.[7] In an interview, Robert Downey, Jr. credited Burger King for helping him kick his drug addiction.[8]
Chevrolet
For Captain America: The Winter Soldier, it was announced that Chevrolet had signed a deal to promote several of their vehicles within the film including a 2014 Corvette Stingray driven by Romanoff, a 2014 Tahoe driven by Nick Fury and a 2014 Silverado used by Rogers. A commercial promoting the 2014 Traverse was also aired.
Coca-Cola

During the 2016 Super Bowl, Marvel and Coca-Cola started a joined promotion to promote a product of Coca-Cola using characters from the MCU.
Commercial: Coca-Cola Mini
Two thirsty heroes. Only one Coca-Cola Mini. Witness an epic chase between Marvel's biggest and smallest Super Heroes: the Incredible Hulk and Astonishing Ant-Man. Despite their differences in size, Hulk and Ant-Man both know what it's like to get thirsty. But when there's just one #CokeMini left in the fridge, who will prevail?
A Coca-Cola sponsored fireplace
With Christmas 2016, Marvel introduced 5 MCU themed fireplaces; Captain America, Iron Man, Ms. Marvel, Thor and Guardians of the Galaxy. These video's would play for an hour, with the suiting sounds of fire on the background. You could also pick a panoramic view to see the whole room instead of mostly the fireplace. Some of the rooms also have a song or some other sound within the theme. At the Guardians of the Galaxy fireplace, they show an glowing orb instead of a fire.[9]
Dairy Queen
While Dairy Queen was featured in Guardians of the Galaxy Vol. 2 in both the 1980 flashback and in a scene set in 2014, they were not product placement and was chosen specifically by director James Gunn.[10] In 2017, DQ released the limited edition Guardians Awesome Mix Blizzard to promote the second film.
Dr Pepper
Dr Pepper uses material out of the Marvel Cinematic Universe to promote their products, creating a early bond with the young consumers.[11]
Dr Pepper cans
During the Stark Expo promo, Dr Pepper had a pavilion at the Expo and a link to their website where you could suit up and play as Iron Man. At the same time you could find Dr Pepper cans with characters from Iron Man 2 in the shelfs of a supermarket. It seems to be succesfull marketing campaign, as this was repeated for The Avengers and for Avengers: Age of Ultron.
Commercial: Vending Machine
A employee of Stark Industries is doing some cleaning in Tony Stark's Mansion and J.A.R.V.I.S. accidentally recognizes him as Tony Stark. The employee then orders J.A.R.V.I.S. to suit him up, and the machines start suiting him up into a Dr. Pepper vending machine. At first the employee isn't happy but when he finds a Dr. Pepper can, he is quite content about it. A secondary employee of Stark Industries is seen as well, and appears to be Stan Lee.
Captain America: The First Avenger
The Dr Pepper Snapple Group released limited edition cans of 7 Up, Canada Dry, A&W Root Beer, and Sunkist to promote Captain America: The First Avenger.
Dunkin' Donuts
To promote Captain America: The First Avenger, Dunkin' Donuts released the limited edition "Stars & Stripes donut" and the "First Avenger Tri-Cup" Coolatta.[12]
Ford Motor Company
In the same day with the premiere of Guardians of the Galaxy Vol. 2, Ford Motor Company released a commercial video of Ford EcoSport on their Youtube channel.
Marvel also created a page on their website that allows visitors to create customized Guardian, watch videos including the commercial, submit to a promotion to win prizes.[13] An exclusive comic named Guardians of the Galaxy: EcoSport Adventure was released online.
General Mills
Yoplait and General Mills Cereals have been promoting a few films in the Marvel Cinematic Universe such as Avengers: Age of Ultron, Guardians of the Galaxy Vol. 2, Spider-Man: Homecoming, Avengers: Infinity War and Avengers: Endgame in prior to their releases.
Gillette
Before the release of Avengers: Age of Ultron, Gillette introduced Marvel Razors. With these Razors they introduced the Fusion ProGlide Razor and promoted Avengers: Age of Ultron. The Razors weren't for sale. [14]
During this promotion they had a special webpage, they also used a commercial and it was possible to win a complete prototype Avengers Razor set signed by Stan Lee. They staged a Stark Industries takeover of the Gillette Shave Headquarters in Boston. At the event, Stark Industries scientists unveiled the prototype razors to the media along with an obligatory cameo by Stan Lee. An exclusive Gillette The Avengers: Cutting Edge comic was introduced as well.[15]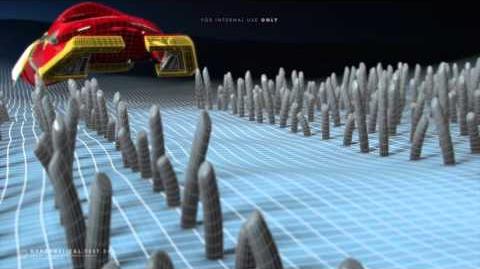 Harley-Davidson
In Captain America: The First Avenger, Steve Rogers' motorcycle was a 1942 Harley-Davidson WLA "Liberator". In The Avengers, Rogers rode a 2012 Harley-Davidson Softtail Slim after parting ways with Tony Stark.
For Captain America: The Winter Soldier, Harley-Davidson provided the film with a Street 750 as Rogers' motorcycle.[16]
Hasbro: Hero Gear
Closing on to the release date of Captain America: Civil War, Hasbro introduces Civil War Hero Gear. Each hero pack comes with a mask and a part which covers a hand.
HTC
In Captain America: The Winter Soldier, Nick Fury uses an HTC One M7 while being ambushed by HYDRA agents on the streets of Washington, D.C. Alexander Pierce is seen using an HTC One X Plus while holding Natasha Romanoff hostage.
Huawei
In Doctor Strange, Stephen Strange is seen using a Huawei Honor 8 smartphone before his car accident.
Hyundai
For Ant-Man and the Wasp as well as Marvel's Netflix series several cars from Hyundai were promoted and used in stunts. Most notable is a heavily modified Hyundai Veloster in Ant-Man and the Wasp. The car is painted purple with flame graphics and fitted with side exhaust pipes and drag racing wheels to give it a Hot Wheels appearance.[17]
In 2019, Hyundai released the Hyundai Kona Iron Man Edition.[18]
iPhone
In Ant-Man (film), Scott Lang and Darren Cross activate an iPhone 6's Siri app while fighting inside a briefcase.
Infiniti
Marvel Studios partnered with Infiniti to promote Avengers: Infinity War and the 2019 Infinity QX50. The SUV is seen in the film's post-credits scene when Nick Fury and Maria Hill witness the Snap before they themselves vanish.[19]
Jollibee
In the Philippines, Jollibee promoted The Avengers with a limited edition comic book written by Joe Casey and illustrated by Mike Kolins. In the comic book, the Avengers battle Mole Man in the Philippines with the help of a Jollibee store manager named Jose.[20]
Kellogg's
Kellogg's has various products with items from the Marvel Cinematic Universe or promotions where you can collect codes to get a free movie ticket or a bobblehead.[21]
Lamborghini
For Doctor Strange, Marvel partnered with Lamborghini to promote the film, with Stephen Strange driving a Huracán in the beginning of the film.
LEGO
LEGO® is a line of toys featuring plastic bricks, gears, minifigures (also called minifigs and figs) in a variety of colors, and other pieces which can be assembled to create models of almost anything imaginable. It has a lot of toys based on the Marvel Cinematic Universe movies like The Avengers, Iron Man 3, Guardians of the Galaxy, Avengers: Age of Ultron, Ant-Man, Captain America: Civil War, Guardians of the Galaxy Vol. 2, Spider-Man: Homecoming, Thor: Ragnarok, Black Panther, Avengers: Infinity War, Ant-Man and the Wasp, and Captain Marvel. However they only advertised The Avengers, Guardians of the Galaxy, Avengers: Age of Ultron, and Guardians of the Galaxy Vol. 2.
Lexus
During the filming of Black Panther, Lexus announced that they would sponsor the film, providing several cars including the high performance, Lexus LC500 as well as the GS-F. The LC500 became so popular that it was published in the Black Panther Comic, "Soul of a Machine" and Lexus themselves made two one off Black Panther inspired LC's. A SuperBowl Commercial was later released showing off the Lexus LS500 Luxury Saloon. Lexus former CEO stated they'd hope Black Panther to make them as iconic as Iron Man made Audi.
LG
In The Avengers, Natasha Romanoff uses an LG Lotus Elite LX610 during her interrogation of a corrupt Russian general when Phil Coulson calls her to abort her mission and head to India to meet Bruce Banner.
M&M's
Marvel Studios partnered with M&M's to promote Guardians of the Galaxy Vol. 2.[22]
Mercedes-Benz
In Ant-Man and the Wasp, Hank Pym and Janet van Dyne use a Mercedes-Benz Sprinter van as their main form of transportation.[23]
Microsoft
In Guardians of the Galaxy Vol. 2, during Yondu Udonta's funeral, Kraglin Obfonteri gives Peter Quill a Zune, saying Yondu found it in a junker shop and meant to give it to Quill if he returned to the Ravagers. The Zune serves as a replacement for Quill's Walkman that was destroyed by Ego.
Milo
In Captain America: Civil War, a billboard of the Nestlé chocolate drink Milo is seen in the background during the battle between Captain America and Crossbones in Lagos, Nigeria.
Mountain Dew
In India, Pepsico partnered with Marvel Studios to promote Avengers: Age of Ultron with limited edition Mountain Dew can designs.[24]
Nerf
In Captain Marvel, during the fight scene in Mar-Vell's Laboratory, Minn-Erva grabs a gun and points it at Carol Danvers, but it fires a foam dart and she realizes the weapon is a Nerf blaster.
Nesquik
To show the power of breakfast, consumers could send their superhero poses to Nesquick, who would place them on their Nesquik can.[25]
Conor "The Notorious" McGregor vs. Stan "The Iron Fist" Verrett
To coincide with the release of the first season of Iron Fist, Netflix produced a commercial which featured ESPN and ESPNews anchor Stan Verrett watching the series before bumping into UFC champion Conor McGregor and challenging him to a fight. Many people do not take Verrett's claim that he can beat McGregor seriously and the two trash-talk each other at a press conference and in interviews. Verrett sends McGregor a video in which he summons the 'iron fist' used by Danny Rand in the series and punches through a wall, causing McGregor to call off the fight. It is then revealed that everything that happened after Verrett bumped into McGregor was simply a daydream by the former.[26]
Oppo
For the Asian release of Avengers: Endgame, Chinese smartphone company Oppo released an Avengers edition of their F11 Pro.[27]
Pepsi
In Hong Kong, Pepsico partnered with Sony Pictures and Marvel Studios to promote Spider-Man: Homecoming with a limited edition Pepsi can design.[28]
Petron Corporation
In the Philippines, Petron Corporation has been a long-time promotional partner with the Avengers films.[29]
Pez
In 2018, Pez released an Ant-Man dispenser to promote Ant-Man and the Wasp[30] In the film, Hope van Dyne throws and enlarges Luis' Hello Kitty Pez dispenser to knock down two of Sonny Burch's motorcycle thugs during a car chase in San Francisco.
Pizza Hut
To promote the release of Captain America: Civil War, Pizza Hut launched a website with exclusive photos and videos of the film itself. To unlock the videos, visitors have to play a little game first. The pizzas are also delivered in a Captain America or Iron Man Pizza box.
RadioShack
In Captain Marvel, Carol Danvers breaks into a RadioShack to steal some equipment to rig a payphone and contact Yon-Rogg.
Reese's
During the Stark Expo promo, Reese's had a pavilion at the Expo and a link to their website where it was possible to win a role in a Marvel movie.[31]
Renault
To present your new car, Renault Kwid, Renault made an exclusive commercial for Brazil. The video brings Hulk saving the city center of São Paulo from a mass destruction that would be caused by a satellite. Meanwhile a man driving a Kwid follows his path to save victims in a building, and undergoing several difficult obstacles that the car can handle. Hulk jumps from the Banespa Building and manages to blow up the satelite, the man also saves them. But in the end it was all the man's imagination that went through a Hulk leaflet as he drove. This was the first commercial shot in Brazil in partnership with Marvel Studios.[32]
Rimowa
Rimowa suitcases have been featured in various Marvel Cinematic Universe films - most notably the Topas attaché case used to carry the Tesseract in The Avengers. In 2012, Rimowa sued Marvel Studios and Buena Vista Home Video for copying the Topas attaché case design for the Marvel Cinematic Universe: Phase One -- Avengers Assembled Box Set.[33]
Royal Purple
During the Stark Expo promo, Royal Purple had a pavilion at the Expo to promote their Hydro Lube. Royal Purple also sponsored the Stark Motor Racing Team, on their website a custom comic was released involving Iron Man and behind the scene footage of the Stark Motor Racing Team.[34]
Samsung
To promote the new Mobile Samsung Galaxy S6, the biggest Avengers fans were being called to ranks and fans with similar characteristics as The Avengers were recruited by Maria Hill. The selected fans had a training where they needed to learn how to work as a team, using the Samsung Galaxy S6 and the Gear VR. In addition Samsung produced a limited series of the Galaxy S6 with a special cover of one of The Avengers.[35]
Sony
In Guardians of the Galaxy and Guardians of the Galaxy Vol. 2, Peter Quill carries a Sony Walkman TPS-L2.
Sony Xperia smartphones are prominently used in Spider-Man: Homecoming.
Subway
During a promotion of Subway it was possible to win subs for life, or a movie ticket to Avengers: Age of Ultron. A short TV spot was released as well, closing of with the oneliner: 'Subway, where Superheroes eat. [36]'
Target
Target has released video's, promoting Marvel films and their company. They also released a custom comic: Iron Man 2: Security Breach.
TCL
Marvel Studios partnered with Chinese electronics company TCL to promote Iron Man 3. TCL also has the current naming rights to the Chinese Theatre in Hollywood, one of the film's locations.[37]
Thums Up
In India, Coca-Cola partnered with Marvel Studios to promote Avengers: Infinity War with limited edition Thums Up Charged No Sugar can designs.[38]
Triumph Motorcycles
Marvel Studios partnered with Triumph Motorcycles for Ant-Man and the Wasp, with the film featuring several of Sonny Burch's thugs riding Triumph Thruxton R motorcycles during the San Francisco chase.[39]
Under Armour
Academy Award-winning costume designer Alexandra Byrne worked with Under Armour to create some of the costumes in Avengers: Age of Ultron, which are now for sale. They designed (under)shirts for:
United Airlines
United Airlines served as a promotional partner for Spider-Man: Far From Home.[40]
Verizon
In Iron Man, Tony Stark uses a Verizon LG VX9400 phone to video conference with Obadiah Stane in Afghanistan and later uses it in an attempt to call for help when his convoy is ambushed by the Ten Rings.
Vivo
Marvel Studios partnered with Vivo to promote Captain America: Civil War, with Tony Stark using a Vivo-branded smartphone throughout the film.
Watch the Game
Watch the Game is a four-part commercial tying in Spider-Man: Homecoming with the 2017 NBA Finals.
Parts
The Invite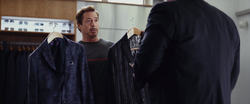 In Avengers Tower, Tony Stark is deciding what to wear for the NBA Finals with the aid of Happy Hogan. Hogan asks Stark for his approval on the guest list for the party that will be held at the tower for the NBA Finals and Stark advises him to keep it sophisticated. He then instructs Hogan to invite Peter Parker, which Hogan is reluctant to do out of fear that he will be stuck babysitting him. Stark insists upon it and Hogan agrees to invite Parker. He then asks if he can shave off his goatee and Stark refuses, reminding Hogan that he now has to look like him due to the fact that his team lost. Stark asks Hogan which jacket he should wear and Hogan advises that he go for a third option, prompting Stark to order him to leave.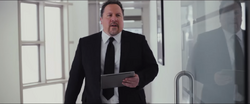 Hogan tells F.R.I.D.A.Y. to update the guest list for the party and she asks if they should invite Steve Rogers. He tells her that it is too soon and she sends out the approved invitations. Spider-Man receives his invitation on his phone and is overjoyed that he will be watching the game with Stark. A criminal whom he has just webbed up asks if he will let him go, to which Spider-Man laughs and replies "Nice try, buddy!" before departing.[41]
Peter Arrives
One week later, Peter Parker arrives at Avengers Tower for the party. Hogan tells him to go downtown and get some snacks for Tim Duncan. Parker complains that the game is about to start and Hogan assures him that he will get there faster with his Web-Shooters. Hogan gives Parker some money and orders him to bring the change back.
As Parker changes into his Spider-Man Suit in an alleyway, he hears an alarm go off and rushes towards it. He discovers two criminals stealing a television from an electronics store and webs both of them up. He sees the game in progress on a television in the window and rushes down the street. As he goes, a man sees him and declares "I think I know that guy!".[42]
The Bodega
As Spider-Man reaches a bodega, he receives a call from Happy Hogan demanding to know what is taking so long. He runs in and grabs the crackers, insisting that he will be back at the tower soon. He joins the queue and begins to ask the man in front of him if he can skip ahead of him, only to discover that it is DJ Khaled. They are both starstruck to meet each other and Khaled reveals that he is also on the way to Tony Stark's party. Two female customers approach them and ask for a picture, and to the surprise of both of them they want a picture with Spider-Man rather than DJ Khaled, which Khaled admits has never happened before. Khaled takes three pictures of them together before Spider-Man notices the game on a nearby television. He informs them that he needs to leave and gives the clerk the money, telling him to keep the change despite Hogan's order that he bring it back.[43]
The Party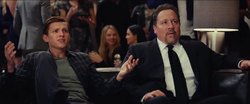 Peter Parker returns to Avengers Tower, removing his mask in the elevator. He is amazed when he enters the party area and is starstruck to meet Magic Johnson. Johnson notices the crackers he is carrying and points him to the couch where Tim Duncan is sitting watching the game with Happy Hogan. Parker pushes his way through the crowd and joins them on the couch, giving the crackers to Duncan. To his disbelief, he sees Tony Stark on the screen and discovers that he is watching the game at the arena rather than in the tower. Hogan asks Parker if he has his change, to which Parker shakes his head. Duncan then offers some crackers to Hogan, who accepts them.[44]
Gallery
Video
Xbox
A commercial tie-in for The Falcon and The Winter Soldier, where Sam Wilson (Anthony Mackie) visits the store where Aaron (D.C. Pierson) works, who reveals himself as NoobMaster69.
Yakult
Marvel Studios partnered with Japanese probiotic drink Yakult to promote Ant-Man.[45]
External Links
Community content is available under
CC-BY-SA
unless otherwise noted.