Cincinnati is the third largest city in the state of Ohio.
History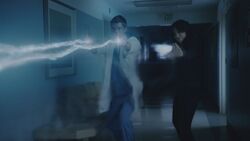 Lincoln Campbell studied medicine in Cincinnati at the Cincinnati Memorial Hospital in hopes of being a doctor.[1] After a few years, he returned to his studies and began work in a hospital.Daisy Johnson and Alphonso Mackenzie reached the hospital and confronted Campbell in one of the rooms, and tried to convince him to return to S.H.I.E.L.D.. As the conversation between Campbell and Mackenzie heated up, the hospital lights started flickering. Daisy Johnson thought Campbell was causing it and told him to calm down. Campbell told her it was not him. The lights then went out, caused by the monstrous Inhuman known as Lash. After he killed a security guard at the hospital wing's entrance, he asked a nurse where to find Campbell, before seeing him down a hallway.
The battle started when Johnson and Campbell attempted to stop Lash, but only continued to escalate. Lash was slowed down by the combined attacks of Campbell and Johnson, but it did not completely stop him. Lash blasted a hole in the wall and tried to escape, but Johnson, Campbell, and Mackenzie eventually found him. Shortly after, Lash was forced to retreat after Johnson blasted a hole in the floor, by which he fell through and escaped.[2]
Appearances
In chronological order:
References
External Links