"Powdered eggs again. What am I paying for?"
―Carol
Carol is a nurse and Peggy Carter's neighbor at the Griffith Hotel.
Biography
Breakfast at the Griffith Hotel
At the Griffith Hotel, where room and board is provided, Carol complained that the "board" was not to her liking; the powdered eggs that was served at breakfast was happening too frequently.
Eating breakfast with the other tenants, Carol asked Molly Bowden about why she was late for the meal. Bowden hinted at the exploits she had from the previous night, though male company in the individual bedrooms was prohibited.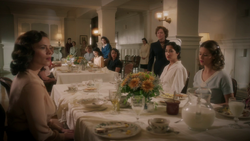 Carol also asked Peggy Carter if she had a boyfriend, but she explained that she was married to her job for the moment. Their conversation was interrupted by Miriam Fry, who gave a speech referencing Harry Houdini's visit to the Griffith before evicting Bowden for breaking the rules.[1]
Food Smuggling
Carol was with the other tenants at supper when Angie Martinelli caught Peggy Carter putting rolls into her purse; she overheard Carter tell Martinelli that that would not be a regular occurrence. Martinelli tried to ease Carter's embarrassment by telling her the food smuggling secrets of other tenants; she said that Carol once fit a whole chicken down her sweater. Carol told them her mother knit a special chicken pocket.[2]
Relationships
Family
Allies
References
Community content is available under
CC-BY-SA
unless otherwise noted.