"Carlo, I pardon you."
"Oh, thank you!"
"You're officially pardoned... from life!"
―Grandmaster to Carlo[src]
Carlo was the cousin of the Grandmaster, who publicly executed him for committing high treason.
Biography
"We've located your cousin."
"Uh?... Oh good! Yeah, come on, I think you're gonna like this! There he is. Hey cuz... We almost couldn't find you. What, have you been hiding?"
―Topaz and Grandmaster[src]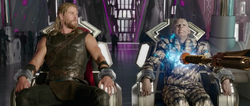 Guilty of having interfered with the Grandmaster's power, Carlo tried to escape from Sakaar but was found and captured by the Sakaaran Guards. He was brought before his cousin in his palace, where Carlo desperately begged for forgiveness. The Grandmaster, who was introducing his newest slave gladiator, Thor to his new life, solemnly announced that he would pardon him. He then executed him with the Melt Stick, stating he was pardoning him "from life." In his last moments, Carlo screamed and called to Thor for help, before melting in a puddle of organic matter, much to the latter's disgust and horror.[1]
Relationships
Trivia
Gallery
References
Community content is available under
CC-BY-SA
unless otherwise noted.