A list of trivia related to Captain America: Civil War.
References to Marvel Comics
While he was talking about F.R.I.D.A.Y., Tony Stark mentioned that he pictured her as a redhead (although he admitted that he was probably thinking of someone else). This is a reference her latest holographic appearances in the comics.
The working title that was used to create the film was "Sputnik". In the comics, "Sputnik" used to trigger the Winter Soldier's mind control, much like the sequence ""Longing, Rusted, Seventeen, Daybreak, Furnace, Nine, Benign, Homecoming, One, Freight Car" for his cinematic counterpart.
The Flughafen Leipzig-Halle airport is an interesting allusion to Baron Zemo's original birth place.
Parallelisms with the Civil War comic book storyline
References to Disney
References to the Russo Brothers and their Other Works
Unorganized Trivia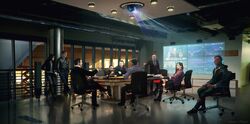 References
Community content is available under
CC-BY-SA
unless otherwise noted.