Wiki Targeted (Entertainment)
Play Sound
Steve Rogers' Notebook was a notebook that contained a list of items, people and events which Steve Rogers made note of in order to become better acquainted with the modern world. The book was later given to Bucky Barnes as a way to help him cope with his time as the Winter Soldier, creating a list of amends.
History
Steve Rogers' To-Do List
In 2014, Steve Rogers told Sam Wilson the day they met while jogging in Washington, D.C. that he had difficulty getting caught up with the modern world. Wilson recommended Marvin Gaye's Trouble Man soundtrack from 1972, stating that it was everything that Rogers had missed while he was frozen jammed into one album. Rogers promptly put it on his list.[1]
In 2024, Bucky Barnes, Rogers' best friend, repurposed the book, writing within it a list of people he wronged during his time as the Winter Soldier with whom he would like to make amends, as well as a list of people that he helped while under HYDRA coercion.[2] While on Helmut Zemo's private jet, Zemo got a hold of the book and looked at it, with Wilson remembering it as once belonging to Rogers.[3] Zemo later told Barnes that he had taken the liberty to cross his name off in Barnes' book. [4] After completing all of his amends, Barnes delivered the book with all of the names crossed off to his court-mandated therapist, Christina Raynor, leaving the book with her.[5]
Appearances
Variations
Different versions of the list are featured in the various international releases of Captain America: The Winter Soldier:
Trivia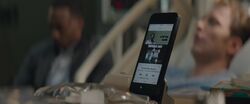 References