Jurassic World: Dominion Dominates Fandom Wikis - The Loop
Play Sound
A Bulletproof Vest is a personal armor worn on the torso that helps absorb the impact from firearm projectiles and shrapnel from explosions.
History
To be added
To be added
To be added
Having been recruited to join the SSR on a mission into Russia, the Howling Commandos met with Peggy Carter and Jack Thompson. While they were exploring the Red Room Academy, Dum Dum Dugan had encountered Eva, who he lowered his defences to, only for Eva to stab him in the chest. However, Dugan survived the attack, due to his bulletproof vest taking the majority of the damage, while Eva killed Junior Juniper and escaped.[1]
Protecting Howard Stark
Peggy Carter presented Howard Stark with a Bulletproof Vest to protect him during his mock press conference from the advances of Johann Fennhoff; he called it garbage. He went into the laboratory of the New York Bell Company Office of the Strategic Scientific Reserve and located a vest of his own creation.[2]
Stark Industries Model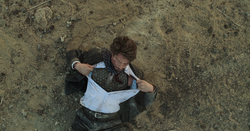 Tony Stark went in a business trip to Afghanistan to demonstrate Stark Industries' new weapon, the Jericho Missile. As a precaution, he was wearing a Bulletproof Vest under his shirt. When his convoy was attacked, one of his own company's bombs landed near him and exploded, embedding several pieces of shrapnel in his chest despite the protection of the vest.[3]
S.H.I.E.L.D. Field Missions
Phil Coulson was also wearing a S.H.I.E.L.D. model of the Bulletproof Vest while supervising rookie agent Hendricks during his first mission. After being informed that a Ten Rings cell was operative in the vicinity, both Coulson and Hendricks pursued the van used by the terrorists with a pair of Motorcycles, until Coulson was shot and seemingly killed by heavy gunfire.[4]
After Hendricks managed to complete the mission, Coulson approached unharmed revealing his to Bulletproof Vest to tell Hendricks that the whole mission was staged, as a way to know how a new agent would act under pressure.[4]
To be added
To be added
To be added
Director Nick Fury had worn a bulletproof vest while he travelled to the Joint Dark Energy Mission Facility to investigate the Tesseract's activities. When the mission was interrupted by the sudden arrival of Loki, Fury had attempted to escape with the Tesseract, before talking to Loki in order to distract him for long enough for the building that housed Project P.E.G.A.S.U.S. to collapse on top of him. However, Clint Barton, under Loki's thrall, shot Fury, took the Tesseract, and escaped with Loki, as Fury's bulletproof vest saved his life.[5]
To be added
To be added
To be added
To be added
To be added
To be added
To be added
To be added
To be added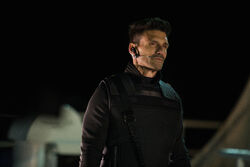 Once S.H.I.E.L.D. had been alerted that the Lemurian Star had been hijacked by Georges Batroc and all his mercenaries, they deployed STRIKE to retake the ship and defeat Batroc. These STRIKE agents wore bulletproof vests, including Brock Rumlow and Jack Rollins, as they briefed Captain America and Black Widow on the mission.
Landing onboard the ship, Rumlow and Rollins led the STRIKE team to rescue all of the hostages, including Jasper Sitwell, while Captain America focused on defeating Batroc, and Black Widow completed a secret mission, that Nick Fury had given her. The mission had been a success, as Rumlow and Rollins saved the hostages, although Batroc escaped.[6]
Once Alexander Pierce had ordered the assassination of Nick Fury, a team of HYDRA agents, disguised as members of the police and SWAT, surrounded Fury's SUV and began firing at it. Since the car could not be damaged with machine gun fire, the SWAT agents, wearing their bulletproof vests, attempted to use the Electronic Battering Ram to get inside the SUV, until Fury was able to engage the SUV's defence systems and escape.[6]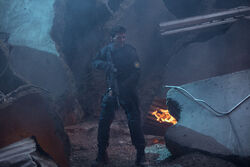 Having become aware that Captain America was coming closer to exposing them, HYDRA ordered his assassination, under the guise that he had become an enemy of S.H.I.E.L.D.. As a result, Brock Rumlow led his STRIKE team to corner Rogers in an elevator, where he pulled a Taser Rod from inside his Bulletproof Vest and he then challenged Rogers in their fight within the Triskelion.
However, Rogers was able to escape, as Rumlow continued to lead the pursuit, which had led them to Camp Lehigh, where Rogers and Natasha Romanoff had found Arnim Zola, only for Alexander Pierce to order the Camp's destruction. Rumlow arrived, wearing his bulletproof vest, but found that Rogers and Romanoff had escaped.
Finally, Rumlow and Jack Rollins were able to capture Rogers, Romanoff and Sam Wilson, following their duel with the Winter Soldier in the streets of Washington, D.C.. Wearing their bulletproof vests, Rumlow and Rollins had cornered Rogers and took him and his allies into custody, only for them to later escape with the assistance of Maria Hill.[6]
To be added
To be added
To be added
To be added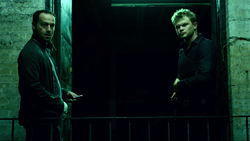 In the wake of Anatoly Ranskahov's brutal murder, Vladimir Ranskahov had prepared to go to war with Wilson Fisk. As Ranskahov and the rest of the Russian Mafia prepared for their conflict against Fisk, Ranskahov was supplied with a bulletproof vest by Sergei, before their hideout was suddenly destroyed by a bombing ordered by Fisk, killing almost everybody inside the building.[7]
Ranskahov survived the explosion, and was then taken for questioning by Daredevil, who had a wound that was killing Ranskahov under his vest, as Daredevil was then forced to cauterize the wound using a flare. Eventually, Ranshahov and Daredevil was found by Fisk's agents and, despite his bulletproof vest, Ranskahov was gunned down and killed.[8]
To be added
To be added
To be added
To be added
To be added
To be added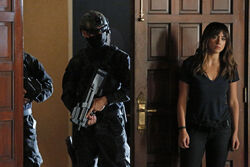 While Grant Ward was working for Daniel Whitehall, he had protected himself with bulletproof vests. Whitehall's HYDRA soldiers also wore bulletproof vests, while they guarded Skye and Calvin Zabo, who still managed to kill them by striking them in the necks with the Obelisk and a scalpel.
Ward's decision to wear protection proved wise, as once his back was turned, he was shot multiple times in the side by Skye, leaving Ward mortally wounded, as Ward survived this because he had a Bulletproof Vest, while Skye walked away to pursue Zabo.
Meanwhile, S.H.I.E.L.D. had infiltrated the Ponce de León Theater, with Phil Coulson wearing a bulletproof vest as he made his way through the building, where he shot and killed Whitehall. However, the death of Whitehall had enraged Zabo, who had intended to kill Whitehall himself, leading to a fight between him and Coulson, with Coulson being protected by his vest, until Skye arrived and ended the fight.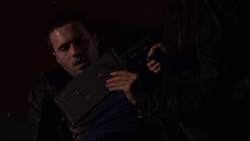 The bleeding Ward was found by Agent 33, who examined the piece of vest that had saved him, before she then assisted Ward to leave the scene.
Coulson attempted to follow Skye and Raina inside the Kree City, where he kept his bulletproof vest on, and was then discovered by the brainwashed Alphonso Mackenzie, who had attempted to stop him, until he was unexpectedly broken out from his mind control, before a sudden earthquake ended the chase.[9]
To be added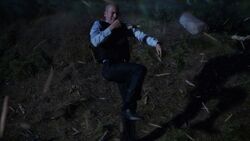 Having been ordered by Robert Gonzales to find and capture Skye, a team of S.H.I.E.L.D. agents, led by Tomas Calderon and Bobbi Morse flew to the Retreat, wearing bulletproof vests, due to them being unclear of the extend of Skye's Inhuman powers. Once Calderon caught up to Skye, he attempted to shoot her, only for Skye to unleash a shockwave that deflected the bullet and obliterated a nearby tree. A shard of this tree impaled Calderon in the shoulder, just to the side of his vest, seriously injuring him.[10]
To be added
To be added
To be added
To be added
As a member of the Sokovian Armed Forces, a bulletproof vest was provided to Helmut Zemo, which he wore while commanding EKO Scorpion. Images of Zemo wearing his bulletproof vest were viewed by Tony Stark, while he investigated Zemo's recent terrorist attacks.[11]
Having learned that Micro had been releasing top secret videos of Cerberus Squad engaging in illegal activities, the Homeland Security agent Carson Wolf was sent by William Rawlins to assassinate him, having identified Micro as David Lieberman. Wolf and his team wore Bulletproof Vests during his chase of Lieberman, who spotted them coming for him and attempted to escape, only to then be cornered by Wolf and shot in the chest.[12]
Nesbitt from Kitchen Irish wore a Bulletproof Vest on meeting with his gang's members. However, vest did not save him and Nesbitt was killed by Punisher, with the round punching straight through the vest and killing him. Once the New York City Police Department arrived on the scene, the homicide detective turned over Nesbitt's corpse and committed on the power of this bullet.[13]
Frank Castle's Trial
To be added
To be added
Following the death of Ray Schoonover, Frank Castle found a secret room within the Schoonover's cabin that contained impressive armory filled with military-grade weapons. Castle obtained a Bulletproof Vest and donning it with a spray painted skull-like symbol.[14]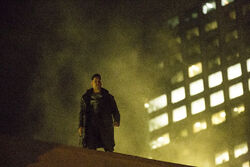 This vest was used by Punisher when he assisted Daredevil in his confrontation with the Hand warriors, as the Punisher shot at Nobu Yoshioka's soldiers, before watching Daredevil defeat Yoshioka himself. Following this, the Punisher then returned to the Castle Residence, which he destroyed.[15]
Later, the Punisher wore his bulletproof vest during his attacks on last remnants of Mexican Cartel, Dogs of Hell, and Kitchen Irish, with Mickey O'Hare reacting in terror to the symbol waited on the vest. Following this, Castle burned his vest, as he attempted to retire from his mission of revenge.[16]
To be added
To be added
To be added
To be added
To be added
To be added
To be added
To be added
To be added
To be added
To be added
To be added
Knowing that he would be going up against Anvil soon, the Punisher painted a skull symbol onto his new bulletproof vest to wear into battle, recreating the original vest that he had burnt.
Punisher wore this skull vest when Micro's Hideout was invaded by a team of Anvil agents, all of whom had woren bulletproof vests. In the ensuing battle, Punisher slaughtered the agents, knocking one back by shooting him repeatedly in the vest, before executing him with a shot to the face, before Jack shot Punisher into the back of his vest, with the vest saving his life. Once the agents were dead, Punisher called Billy Russo to arrange a meeting.[17]
To be added
The Punisher wore his Skull Vest once more, to rescue Curtis Hoyle from being killed by Billy Russo, shooting at Russo before he could kill Hoyle. During the standoff, Punisher and Russo then arranged a duel in Central Park, in exchange for Russo leaving Hoyle alive.
In preparation for the showdown, Russo wore a bulletproof vest for protection, while the Punisher wore his Skull Vest. Upon arriving at Central Park, Russo kidnapped Carl and Hayley to be used as bait, before he and Castle began exchanging fire at one another. While going around the Carousel, Russo managed to shoot Punisher in his vest, knocking him to the ground, while Russo took a bullet to the cheek. Having threatened Carl and Hayley's lives, Russo managed to convince the Punisher to drop his weapons, while Russo kept his gun aimed at the hostages.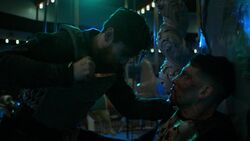 Russo had then proceeded to shoot the Punisher in the vest multiple times, knocking him back, before Dinah Madani arrived on the scene, only for Russo to shoot her in the head. Punisher and Russo then brawled on the carousel, which ended when the Punisher managed to stab Russo in the gut, just under his bulletproof vest. Wounded from the stab wound, Russo was unable to defend himself as the Punisher smashed his face into broken glass, disfiguring his face and causing brain damage.[18]
Ulysses Klaue's Protection
While Pietro and Wanda Maximoff had confronted Ulysses Klaue, under the orders of Ultron, Klaue had been protected by his Mercenary, who wore his bulletproof vest, but was unable to defend Klaue, who had his arm sliced off by Ultron, before being kicked down the stairs, as the Mercenary followed him.[19]
To be added
Griffin Sinclair's Reporting
To be added
To be added
To be added
To be added
To be added
To be added
To be added
To be added
Arrest of Tucker Shockley
To be added
To be added
Testing the Judas Bullet
The Judas Bullet created by Hammer Industries was tested by Ukrainians who shot a man with a prototype. The man, who was wearing a Bulletproof Vest at the time was initially relieved but suddenly exploded when the bullet detonated.[20]
To be added
To be added
To be added
To be added'
To be added
To be added
To be added
Search for Nigel Garrison
To be added
To be added
To be added
To be added
To be added
To be added
Investigating Arthur Walsh
To be added
To be added
To be added
To be added
To be added
To be added
Watching Over Pax
To be added
To be added
Hunting Heroes
To be added
To be added
Tony Stark's Disguise
To be added
To be added
Monica Rambeau's Disappearance
To be added
To be added
To be added
Hunting Flag Smashers
To be added
To be added
Damage Control Investigation
To be added
Attack on Clint Barton
To be added
Appearances
Appearances for Bulletproof Vests
In chronological order:
References
External Links