Doctor Strange in The Multiverse o Madness - The Loop
Play Sound
"My Widows can start and end wars. They can make and break kings."
"You control all of that from here?"
"And with you, an Avenger, under my control, I can finally come out of the shadows using the only natural resource that the world has too much of. Girls."
―Dreykov and Black Widow
Black Widow is a 2021 superhero film, based on the Marvel Comics superheroine of the same name. The film is a sequel to Captain America: Civil War and a prequel to Avengers: Infinity War. It is the twenty-fourth film in the Marvel Cinematic Universe, and the fourth installment of Phase Four. The film was released on July 9, 2021 in theaters and on Disney+ with Premier Access.
The film is directed by Cate Shortland and stars Scarlett Johansson as Natasha Romanoff/Black Widow, Florence Pugh as Yelena Belova, David Harbour as Alexei Shostakov/Red Guardian, O-T Fagbenle as Rick Mason, Olga Kurylenko as Antonia Dreykov/Taskmaster, with William Hurt as Thaddeus Ross, with Ray Winstone as Dreykov, and Rachel Weisz as Melina Vostokoff.
Synopsis
In Marvel Studios' action-packed spy thriller Black Widow, Natasha Romanoff, aka Black Widow, confronts the darker parts of her ledger when a dangerous conspiracy with ties to her past arises. Pursued by a force that will stop at nothing to bring her down, Natasha must deal with her history as a spy and the broken relationships left in her wake long before she became an Avenger.[1]
Plot
In 1995, young Natasha Romanoff and Yelena Belova are whisked away from their home in Ohio by their surrogate parents, Alexei Shostakov (aka Red Guardian, Russia's answer to Captain America) and former Black Widow Melina Vostokoff. The girls are given to Dreykov, who puts them through the Red Room for further training.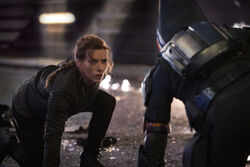 21 years later, following the battle between the Avengers at Leipzig/Halle Airport, Romanoff is a fugitive from the government for violating the Sokovia Accords. She escapes from U.S. Secretary of State Thaddeus Ross, fleeing to a safehouse in Norway, reuniting with her contact Rick Mason. In Morocco, Belova is still working for the Red Room. Belova kills Oksana, a former Black Widow, only to come in contact with a substance called Red Dust, which removes the Red Room's control over her. She sends this antidote to Romanoff's safehouse in the hopes that she will return to help her.
As Romanoff unknowingly drives off with the antidote, she is attacked by Taskmaster, who is after the Red Dust. Romanoff manages to evade Taskmaster and learns that the Dust came from Belova. The two reunite in Budapest, but are attacked by Black Widows. While escaping, Romanoff learns the Red Room is still active and that its leader, Dreykov, is still alive. In order to join S.H.I.E.L.D. years previously, Romanoff's mission had been to kill Dreykov. After detonating a building containing Dreykov and his young daughter Antonia (an act that has haunted Romanoff), both were presumed dead. In the present, Romanoff and Belova evade Taskmaster and meet back up with Mason, who supplies them with an aircraft.
Romanoff and Belova break Shostakov out of prison to learn where Dreykov is. He tells them that they need to speak with Vostokoff, who lives on a farm in Russia using mind control on pigs. Belova reveals that while they were not a real family, she still wanted to believe that they were so. Shostakov and Vostokoff admit that they, too, wished they were a real family. Unfortunately, Vostokoff gives their location to Dreykov. His agents arrive and take them away to the Red Room, located on an aerial base.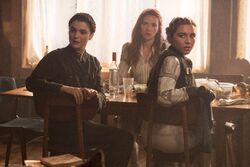 As Dreykov congratulates Vostokoff for finding Romanoff and Belova, it is revealed that Vostokoff and Romanoff used face mask technology to switch places at the farm, having planned their own capture. Romanoff learns that Taskmaster is Dreykov's daughter Antonia, who suffered severe damage from the explosion; Dreykov was forced to put a chip in her head to help her, also turning her into the perfect soldier. Romanoff discovers that she cannot harm Dreykov due to a pheromone lock he installed in every Widow. She notices that Dreykov has been controlling Widows all around the world via his control desk. After goading Dreykov into punching her in the face, Romanoff manages to sever a nerve in her nasal passage to negate the pheromone, allowing herself to attack Dreykov.
Vostokoff attempts to take out the ship's engine. Meanwhile, Shostakov battles Antonia, while Belova searches for the other Widows sent to protect Dreykov. Dreykov escapes as the Widows gang up on Romanoff. However, Belova creates a Red Dust bomb, releasing the Widows from their mind control. Romanoff reaches the control desk and copies the locations of the other Widows worldwide to a portable drive, just as the Red Room begins to explode and fall. Before leaving the control room, Romanoff picks up two vials of Red Dust that survived Belova's bomb. Vostokoff and Shostakov are forced to escape the ship via aircraft just as Belova takes out Dreykov's escape ship, killing him.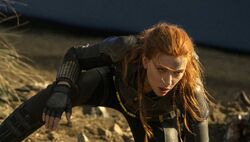 Romanoff gives Belova a parachute as she and Antonia have one final battle through the sky before safely landing on the ground. Romanoff uses one vial of Red Dust on Antonia, freeing her from her mind-control. The rest of the Widows arrive as Belova, Vostokoff, and Shostakov say goodbye to Romanoff. Belova gives Romanoff her vest to remember her by, and Romanoff gives Belova the last Red Dust vial and the portable drive, instructing her to find and free the other Widows. As they leave, along with a recovering Antonia, Romanoff awaits the arrival of Ross and his men. Two weeks later, Romanoff, now sporting blond hair, reunites with Mason, supplying her with a quinjet. She rides off to free the detained Avengers from the Raft.
In a post-credits scene set after Romanoff's death, Belova encounters Contessa Valentina Allegra de Fontaine, now her employer, at Romanoff's grave. Belova receives her next assignment: take down Clint Barton, the man she claims is "responsible" for Romanoff's death.
Cast
Appearances
Locations
Events
Items
Vehicles
Sentient Species
Creatures
Organizations
Mentioned
Production
On February 12, 2014, Marvel Studios President Kevin Feige revealed in an interview with Total Film that some developmental groundwork had been done on a potential film featuring Scarlett Johansson's Black Widow, saying: "We start filming the next Avengers film at the end of March. [Black] Widow's part in that is very big. We learn more about her past and learn more about where she came from and how she became in that film. The notion of exploring that even further in her own film would be great, and we have some development work with that."[2]
In August 2014, Nicole Perlman announced that she had written a "pretty in-depth" treatment for the film in 2010/2011,[3] while British director Neil Marshall told Vanity Fair in an interview that he wanted to direct the film.[4]
While at Fan Expo Canada on August 31, 2014, Stan Lee revealed that the film may be moving forward.[5]
In an interview with Collider, Johansson revealed that she and Feige had discussed a series of standalone Black Widow films for Marvel.[6]
In January 2016, actor Clark Gregg stated that Marvel should make a Black Widow film; meanwhile, Joe and Anthony Russo wanted to direct the film.[7][8][9]
On May 6, 2016, Feige announced to Deadline during a Q/A that Marvel Studios had discussed creating a Black Widow film.[10]
On July 23, 2016, Feige stated that they were committing to do the film and that The Avengers and Avengers: Age of Ultron director Joss Whedon was open to directing the film.[11][12]
In February 2017, Johansson told Total Film Magazine while talking about her film Ghost in the Shell that "timing" was key to making the film a reality.[13]
In October 2017, Taika Waititi told i09 that he would like to direct the film as a comedy.[14]
On January 10, 2018, it was announced that the film was in early development, with Jac Schaeffer being hired to write the script.[15]
In an interview in February 2018, Chris Evans confirmed that the film was in development.[16]
On April 26, 2018, it was reported that Marvel Studios was searching for a director for the film and had been meeting with filmmakers such as Deniz Gamze Ergüven, Chloé Zhao, Amma Asante, Maggie Betts, and Angela Robinson.[17][18]
On May 2, 2018, it was reported that Marvel Studios were still searching for a director for the film and had met with more than 65 directors.[19]
On June 20, 2018, it was reported that Cate Shortland, Amma Asante, and Maggie Betts were being eyed by Marvel Studios to direct the film.[20]
On July 12, 2018, it was reported that Cate Shortland had been chosen to direct the film.[21]
On November 30, 2018, it was reported that filming would start in 2019 for a potential release in 2020.[22]
On December 18, 2018, Rob Hardy was announced as the cinematographer,[23] but he wound up leaving early into production, replaced by long-time Marvel collaborator Gabriel Beristain.[24]
On February 6, 2019, Production Weekly listed that filming was expected to begin in June in the United Kingdom and wrap in September.[25]
On February 15, 2019, Collider reported that Ned Benson had been hired to rewrite the script.[26]
On March 18, 2019, Variety reported that Florence Pugh had entered negotiations to star in the film.[27]
On April 3, 2019, David Harbour and Pugh were cast in the film[28], while Rachel Weisz entered negotiations to star.[29] The same day, it was reported that filming would begin on June 3, 2019, and would last until September.[30] A week later, O-T Fagbenle was cast in an undisclosed leading role.[31]
In May 2019, it was revealed that Johansson would serve as a producer on the film.[32]
On May 28, 2019, it was reported that filming had begun in Norway.[33]
In June 2019, it was announced that Ray Winstone had joined the film.[34]
On July 20, 2019, at San Diego Comic-Con 2019, the cast was revealed and Kevin Feige announced that the film was scheduled to hit theaters on May 1, 2020.[35]
On October 2, 2019, it was reported that William Hurt would reprise his role as Thaddeus Ross in the film.[36]
On October 7, 2019, it was reported that filming had wrapped and post-production had begun.[37]
On February 8, 2020, it was reported that reshoots took place in Los Angeles.[38]
On March 17, 2020, it was announced that the film would no longer be released on May 1, 2020, with its release date being indefinitely postponed as a result of the COVID-19 pandemic.[39]
On March 31, 2020, it was reported that Lorne Balfe had replaced Alexandre Desplat as the film's composer.[40] However, this information was not confirmed by Marvel, with Desplat still credited as the composer in the newest poster.[41] Desplat later confirmed that he was no longer involved with the film, revealing that Marvel Studios had "detached" him from the project and that he had been replaced by Balfe late into post-production.[42]
On April 3, 2020, it was announced that the film's new release date would be November 6, 2020.[43][44]
On September 15, 2020, Variety reported that the film's release date would likely be delayed as a result of the ongoing COVID-19 pandemic.[45]
On September 20, 2020, in an interview with GamesRadar+, Florence Pugh admitted to hoping that fans would like her character. Moreover, she hinted that her role in the future of the Marvel Cinematic Universe may depend on the fan reception of her character.[46]
On September 23, 2020, it was announced that the film had been pushed back from its November 6, 2020 release date to May 7, 2021, more than a year after its initial release date.[47]
On January 10, 2021, Kevin Feige said that he expected that the film would make its May 2021 release date.[48]
On March 9, 2021, Bob Chapek reaffirmed that the film would be released in theaters on May 7, 2021.[49]
On March 23, 2021, it was announced that the film had been pushed back from its May 7, 2021 release date to July 9, 2021 and that it would be released simultaneously in theaters and on Disney+ with Premier Access.[50]
Videos
Trailers
Special Looks
TV Spots
Clips
Featurettes
Other
Music
References
External Links