"Fury always said... a man can accomplish anything when he realizes he's a part of something bigger. A team of people who share that conviction can change the world. So, what do you say? You ready to change the world?"
"No. I'm ready to kick some ass."
"That works, too."
―Phil Coulson and Melinda May
Beginning of the End is the twenty-second and final episode of the first season of the television series Agents of S.H.I.E.L.D.
Synopsis
Dark secrets are revealed as Coulson and his team put everything on the line to stop Garrett and the forces of HYDRA, on the explosive season finale of "Marvel's Agents of S.H.I.E.L.D.".
Plot
A new employee is touring the Cybertek facility in New Mexico when his boss notices Phil Coulson's team's incursion into the Barbershop Headquarters. Both the boss and the new employee had been recruited through HYDRA's incentive program, which involves the kidnapping of family members and using them to force labor.
He issues orders to the Centipede Project soldiers through their eye implants, but the team is able to activate Skye's Trojan, while Agent Melinda May uses the Berserker Staff to demolish the building and cause its collapsing on the soldiers.
Later, at the facility, Ian Quinn begins his presentation of the factory to the US military representatives, but is interrupted by John Garrett, who begins to show signs of insanity, killing General Jacobs. Coulson, Antoine Triplett, May, and Skye conduct an attack on the Cybertek facility, with Skye going to save Ace Peterson, May fighting Grant Ward, and Coulson going after Garrett. During the attack, Quinn and Raina steal the Gravitonium and depart, having no real loyalty to HYDRA.
Meanwhile, at the bottom of the ocean, Leo Fitz discovers a way to save Jemma Simmons from the chamber, believing it would cost him his own life. Simmons is able to drag him to the surface, where they are rescued by Nick Fury. Simmons survives, though Fitz is left in a dire state.
Coulson engages Garrett, but was quickly overwhelmed until Fury arrives for support. Fury provides Coulson with the Destroyer Armor Prototype Gun, with Coulson remarking "I know what it does", after having used it without knowing its purpose against Loki. Coulson and Fury push Garrett back, with Deathlok delivering a supposedly fatal blow once he learns Skye had saved his son. The US Army invades the factory and all the Centipede-enhanced soldiers are defeated and taken into custody.
However, the badly wounded Garrett attempts to transform himself into a new Deathlok, only for Coulson to vaporize him a mere moment later with the 0-8-4 from Peru. In the aftermath, Ward, severely injured from May, and the Centipede soldiers are arrested, and Ace is reunited to his aunt Mindy Peterson.
Mike Peterson, unable to face his son, goes off on his own to redeem himself. Fury appoints Coulson as the new Director of S.H.I.E.L.D., asking him to rebuild it the right way and giving him the Toolbox. This leads Coulson and his team to a secret base run by Agent Billy Koenig, Eric Koenig's twin brother.
Raina delivers a photo of Skye to a mysterious, blood-soaked man, telling him "I found your daughter."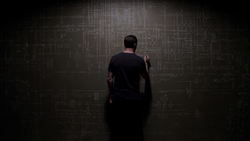 Later, Coulson awakes in the middle of the night and begins exhibiting signs of the same strange mental behavior that Garrett had exhibited, rewriting the same symbols Garrett wrote.
Cast
Main Cast:
Guest Stars:
Appearances
Locations
Events
Items
Vehicles
Organizations
Mentioned
Behind the Scenes
Videos
References
External Links
Community content is available under
CC-BY-SA
unless otherwise noted.