Officer T. Beach is a Honolulu Police Department Officer who met and helped to arrest Black Bolt.
Biography
Arresting Black Bolt
"If he was out of those cuffs and tried again, his luck would run out."
―Beach
When Black Bolt arrived on Earth, he inadvertently caused an accident in downtown Honolulu. Officer Beach arrived on site and saw Black Bolt running away from the place.
Beach and his colleagues caught up on Black Bolt as he had stolen clothes and assaulted another officer. As Black Bolt resisted the arrest, Beach used his taser gun, which caused Black Bolt to grunt and thus release his hypersonic voice, which threw a police car in the air. Black Bolt was ultimately arrested and Beach called him a freak.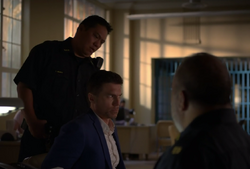 Beach took Black Bolt to the Honolulu Police Station, where the Inhuman remained silent. As Beach noticed that Black Bolt would be less lucky the next time he would breach the law, Black Bolt gently broke out of his handcuffs. All the policemen, including Beach, drew their weapons and threatened Black Bolt, but he slowly put the handcuffs on the desk and cooperated with the policemen.[1]
Equipment
Handgun: As a Honolulu Police Department Officer, Beach is equipped with a standard handgun he drew when Black Bolt got free of his handcuffs.
Taser Gun: Beach used a taser gun to arrest Black Bolt, which caused the latter to release a small fraction of his powers, throwing a police car in the air.
Facilities
Relationships
Allies
Enemies
References
Community content is available under
CC-BY-SA
unless otherwise noted.