Jurassic World: Dominion Dominates Fandom Wikis - The Loop
Play Sound
Lieutenant Colonel Ayla Perez is a Philippine Air Force officer and the Filipino representative of the Global Repatriation Council.
Biography
Early Life
Ayla Perez was born in the Philippines on February 5, 1958. She joined Philippine Air Force and served as Captain between 1989 and 1993. As Lieutenant Colonel, Perez acted between 1993 and 1997.[1]
Global Repatriation Council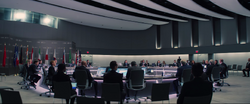 Perez eventually became a member of the Global Repatriation Council, representing the Philippines. She attended a GRC voting assembly in New York City to discuss the ratification of the Patch Act that would enforce relocating millions of refugees back home to their countries of origin. Perez stated that people have to believe in what the Council is doing, so they could continue support them and their goals. The Government Official told the Council that he can get the troops to move the refugees immediately, however, Perez and Lacont opposed his idea.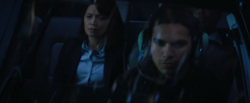 Suddenly, the GRC New York Headquarters was hit by a blackout attack, orchestrated by the Flag Smashers to disrupt the ratification of the Act at all costs.[2] They then used the gas grenades, forcing Perez and other council members to leave the meeting hall where they were confronted by the Flag Smasher. Thankfully, they were saved by Captain America who knocked the Flag Smasher out. Captain America told the Council that evacuation was actually a diversion before engaging in a fight with Georges Batroc. The NYPD SWAT then walked the civilians to the vehicles, while Perez and other council members headed to the helicopter on the roof, not knowing that their pilot was a Flag Smasher.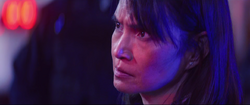 Engaging in an air battle with Diego, Captain America contacted Perez inside the helicopter, saying that he knows about her piloting experience and told her to be ready. When Perez gave a signal, Captain America knocked Diego out of the helicopter, prompting Perez to quickly take control and not let it crash. Perez successfully stabilized the helicopter, saving the Council members. After the Flag Smashers were neutralized, Perez, Lacont, and the Government Official thanked Wilson for saving them, informed him that the Patch Act will proceed as intended. Wilson, however, criticized the Council's decisions, making a public statement about transparency of the government's actions.[1]
Abilities
Expert Pilot: As a Lieutenant Colonel in the Philippine Air Force before becoming a politician, Perez is an experienced pilot, capable of taking control of a helicopter at a few seconds' notice.
Relationships
References